Japan Prime Minister Kishida, China President Xi Agree to Promote Mutually Beneficial Tokyo-Beijing Ties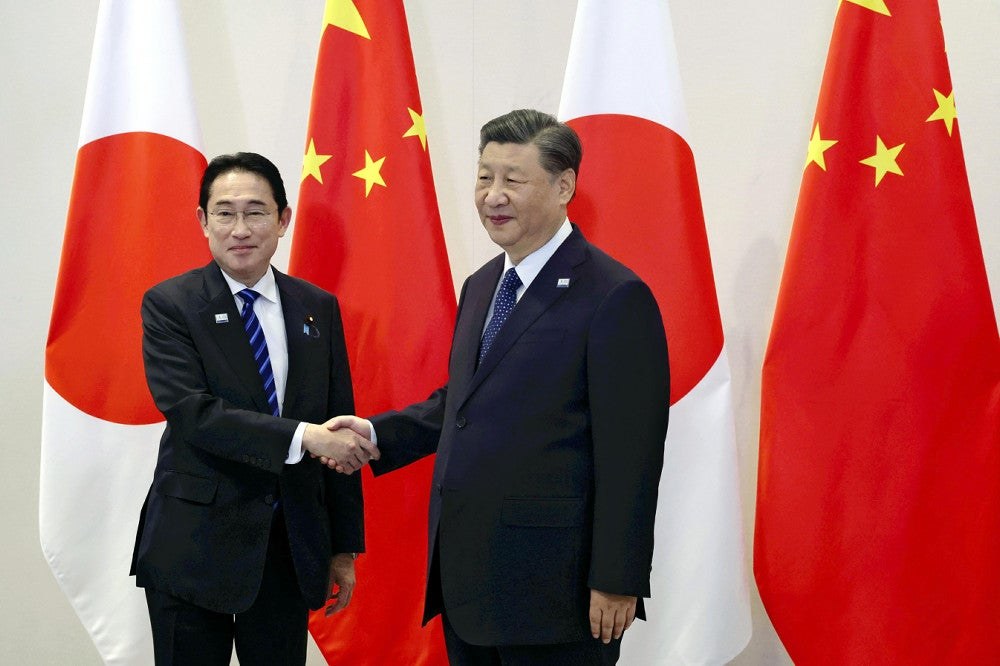 21:00 JST, November 17, 2023
SAN FRANCISCO — Prime Minister Fumio Kishida and Chinese President Xi Jinping on Thursday confirmed their intention to comprehensively promote strategic and mutually beneficial Tokyo-Beijing ties.
The San Francisco meeting marked the first time in about a year for the two leaders to hold bilateral dialogue.
During the talks, Kishida exhorted Xi to immediately lift China's import ban on Japanese marine products, and the nation heads agreed to seek ways to resolve the issue through further discussions.
"I confirmed with President Xi the general direction for building constructive and stable Japan-China relations," Kishida told reporters following what he said was an about 65-minute meeting with the Chinese president.
Kishida and Xi also agreed that their respective nations would communicate closely at all levels.
Touching upon the ocean release of treated water from the Fukushima No. 1 nuclear power plant of Tokyo Electric Power Company Holdings, Inc. — which began in August— Kishida said, "We agreed for Japan and China to adopt a constructive attitude and seek ways to resolve the issue through consultation and dialogue." Kishida said he also proposed that experts from both sides hold consultations to help promote communication between the two countries.
During the meeting, Kishida also called for the early release of Japanese nationals detained by Chinese authorities and demanded the immediate removal of buoys installed by Beijing in Japan's exclusive economic zone off the Senkaku Islands. The Japanese leader also expressed concerns regarding China's increased military activities around Japan, carried out in cooperation with Russia.
Kishida did not elaborate on Xi's response, only saying: "We confirmed the general direction for a sustainable and stable Japan-China relationship. Looking back on the meeting, I feel we made certain advancements."
At the start of the talks, Kishida said, "The international community is at a historic turning point; confrontational and cooperative aspects are becoming intertwined in a complicated manner."
Kishida added, "Japan and China have a responsibility to contribute to world peace in their capacities as leading powers in the region and wider international community."
Xi said, referring to this year's 45th anniversary of the Treaty of Peace and Friendship between Japan and China, bilateral relations have been strained at times, but overall, the bonds have helped both sides maintain developmental momentum and play a proactive role in regional peace, progress and prosperity.
Xi also suggested that both sides focus on common interests and handle differences in an appropriate manner. He further called for boosting efforts to improve the "mutually beneficial relationship based on common strategic interests" agreed by Japan and China in 2006.
Xi said efforts will be made to build a "China-Japan relationship that meets the demands of the new era."
This was the first two-way meeting between the two leaders following talks in Bangkok last November on the sidelines of the Asia-Pacific Economic Cooperation summit.
The Japanese and Chinese governments arranged the San Francisco meeting until the last minute, only announcing the event on Thursday — the day of the meeting.
Add TheJapanNews to your Google News feed.