China Prepares to Shift Approach on Belt and Road Initiative Ten Years After Launch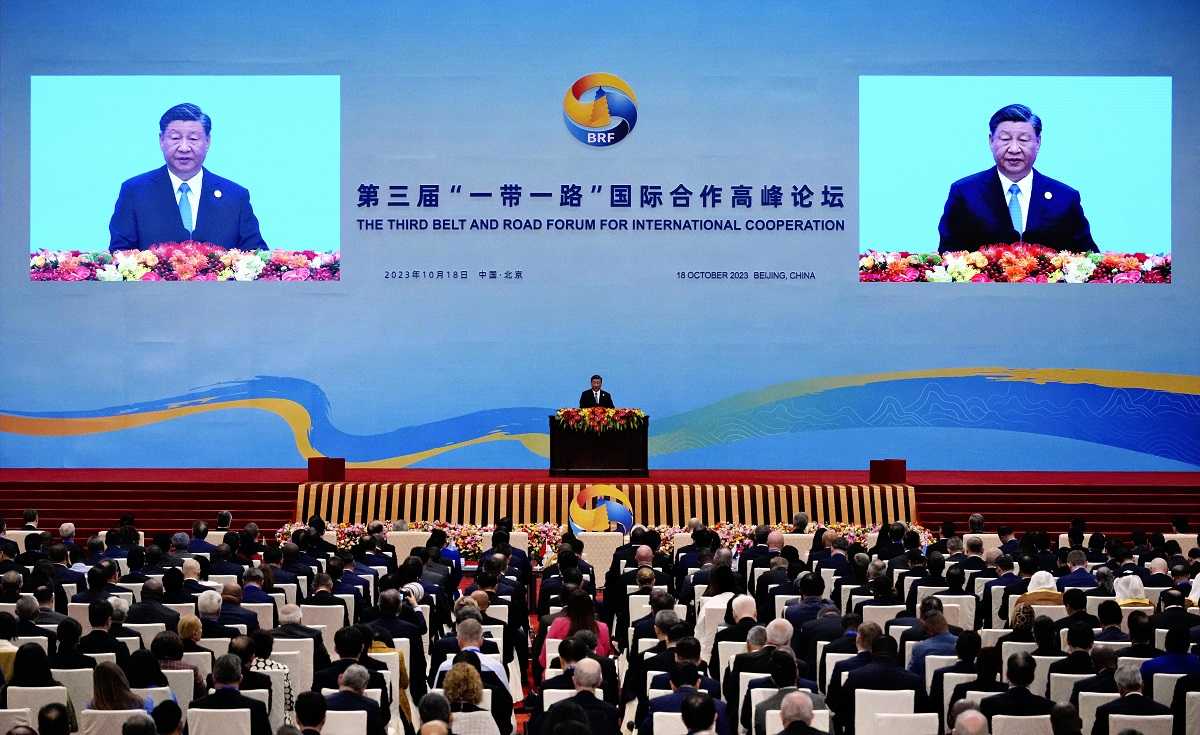 15:19 JST, October 19, 2023
BEIJING — Ten years after its launch, China's massive Belt and Road Initiative is at a crossroads.
Chinese President Xi Jinping, in an address to the Third Belt and Road Forum for International Cooperation in Beijing on Wednesday, said BRI cooperation has progressed from "physical connectivity" to "institutional connectivity."
At a time when there are mounting concerns that conventional investment from China in huge infrastructure projects has left recipient developing nations wallowing in a debt trap, this effectively marks a turning point for the initiative Xi proposed a decade ago.
"High-standard, people-centered and sustainable cooperation" was an important guiding principle for the BRI, Xi said.
Chinese Foreign Minister Wang Yi justified this change in approach. The path toward this new stage of development has been supported by all sides, Wang said at a press conference Wednesday evening.
State-run media in China have dubbed Xi the "chief architect" of the BRI, a nod to the nickname given to former Chinese leader Deng Xiaoping, who led his nation through far-reaching reform and opening-up. Stories about the initiative's successes have been prominent in the media in recent days. This coverage is aimed at portraying the development strategy as a grand accomplishment comparable to the reform and opening-up that ushered in China's rapid economic growth.
The forum was attended by only about 20 heads of state and government, however, mainly from countries in Africa and Southeast Asia. The leaders of Italy, Switzerland and other European nations decided against going to the meeting. The first such forum in 2017 attracted 29 leaders, and 38 attended the second forum in 2019.
It seems Xi, prompted by this drift away from his signature initiative, opted to switch from a focus on investing in huge infrastructure projects such as railway lines and road construction.
At the previous forum, Xi announced a commitment to "high-quality development" and investment that follows "international rules." But this time around, Xi more specifically indicated greater priority would be given to small-scale projects, supporting people-to-people exchanges and promoting green development. The realities of China's economic slowdown also appear to have been a factor behind this change in approach.
The BRI's main purpose initially was to expand China's influence in Europe and Southeast Asia at a time when the administration of then U.S. President Barack Obama was pivoting to place greater emphasis on the Asia-Pacific region. The initiative has over the past decade extended its reach, however, even as far as Central America, South America and island nations in the Indian and Pacific oceans.
As Beijing's confrontation with Washington deepens, the initiative is being transformed into a way for China to create a counterweight to the United States.
Russian President Vladimir Putin's attendance at the forum in Beijing epitomizes this.
The International Criminal Court has issued an arrest warrant for Putin on suspicion of alleged war crimes related to the conflict with Ukraine, but Xi welcomed the Russian president. Both leaders also agreed to deepen their cooperation.
China is attempting to win over the so-called Global South of emerging and developing nations, but some of these countries despise getting drawn into choosing a side between the West on one hand, and China on the other.
Wang mentioned U.S. and European frameworks for infrastructure cooperation for developing nations and warned that they were "evidence" that economic problems are becoming "politicized."
Add TheJapanNews to your Google News feed.