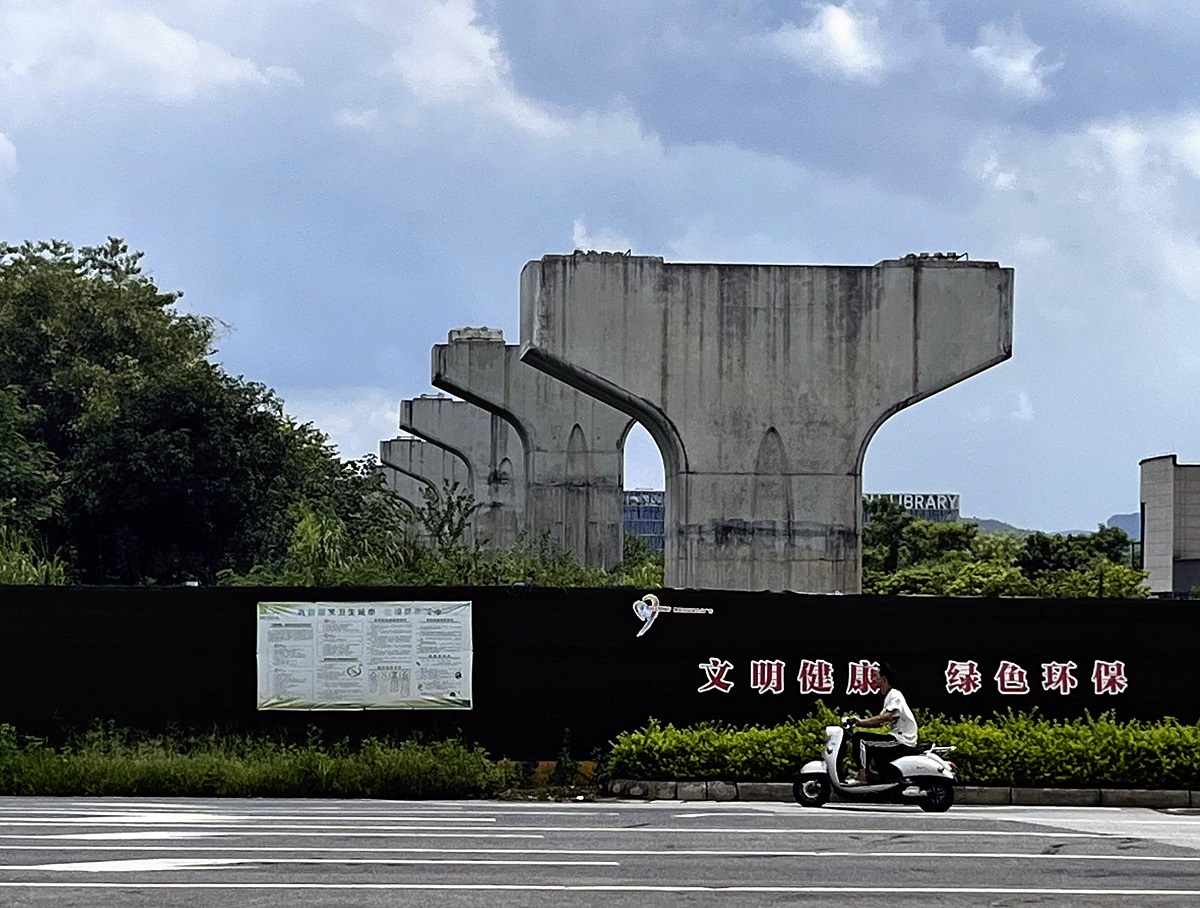 20:00 JST, September 18, 2023
GUANGZHOU/BEIJING — China's local governments are in critical fiscal condition.
Their cumulative debt has topped 100 trillion yuan, or about ¥2,000 trillion, and the Fitch Ratings credit rating agency is warning that one-third of the country's 31 provinces, autonomous regions and direct-administered municipalities are more susceptible to refinancing pressure.
China's economic slowdown, resulting from a slump in its property market, is deepening long-term distortions, and the administration of President Xi Jinping is increasingly concerned about the situation.
At a monorail construction site in Liuzhou, the second largest economic city in the Guangxi Zhuang Autonomous Region in southern China, bridge piers were left standing as construction work has halted. Their concrete surface was stained, and grass was growing around the construction site.
"I hope work will resume. But [the unfinished monorail] is now just obstructing transportation. It's a waste of money," said a taxi driver, 32.
Construction started seven years ago to build two monorail lines extending a total length of 70 kilometers. A test run was conducted in a section where stations were completed.
About 10 billion yuan, or half of the total project costs, has been invested, but construction was suspended due to the financing problems of the city government and other parties leading the project. Some public entities under the city government have failed to pay bonuses to their employees.
Investment firms funded and established by the city played a central role in the monorail construction and real estate development in suburbs. However, the lavish development plan failed to make progress due to the economic slowdown.
Because the project has failed to earn profits as expected, about 10 investment firms established by the city logged debts totaling 260 billion yuan as of June last year.
These debts are said to have "tacit guarantees" from the local government that established the investment firms. The local government has to shoulder the repayments if the banks ask, so they are considered the government's "invisible debt."
In 1995, the central government regulated bond issuance by local governments in an effort to reduce local authorities' fiscal deficits. However, local governments instead established investment firms as a bypath to continue procuring funds. Called "loan platforms," there are over 10,000 such firms across the country.
According to the International Monetary Fund, China's local governments are burdened with about 106 trillion yuan worth of debt. Of this, 66 trillion yuan, or more than 60%, belongs to government-affiliated investment firms.
In July, a record number of 48 investment firms failed to repay their debt.
"This is just the tip of the iceberg," said an economist.
Dire straits
It came to light in 2019 that Dushan County, located in a deprived area in Guizhou Province, had started a development project by borrowing about 40 billion yuan, about 40 times the county's fiscal revenue.
The county's chief, who initiated the construction of infrastructure such as the Shuisi Building, a bizarre-looking piece of wooden architecture that is 99.9 meters tall, was charged with abuse of authority and receiving bribes.
In China, local government leaders had been evaluated based on economic growth figures in their areas. Land under public ownership, such as farmland, was forcefully obtained in exchange for a small amount of compensation, and the right to use it was sold to developers.
Local government leaders then procured funds by issuing bonds and borrowing money from banks via investment companies they had established. With these funds, they built infrastructure such as roads, subways and industrial complexes.
Many projects have been conducted with no thought of profit, endeavors that private companies would hesitate to take on.
Nevertheless, while real estate prices continued rising, it resulted in increased tax revenues and encouraged further investment, and helped local governments' economic growth. Such projects were consistent with the expectations of the Chinese Communist Party, which has prioritized economic growth. Therefore, the existence of "loopholes" was tacitly approved.
However, the economic downturn sent the conventional growth model spinning the other way, exposing numerous problems all at once.
"There are no more ways left to settle debts. We'll face great difficulties from now," the Guiyang city government in Guizhou Province said in a report compiled in May. But the report was immediately removed from the city government's official site.
The proportion of debt to fiscal revenues stands at 1,080% in the city of Tianjin, the worst among 31 provinces, autonomous regions and direct-administered municipalities. The figure is 770% for the city of Chongqing.
These figures are far beyond the 100% that China's finance ministry sees as a warning line for local governments' debt ratio.
Add TheJapanNews to your Google News feed.