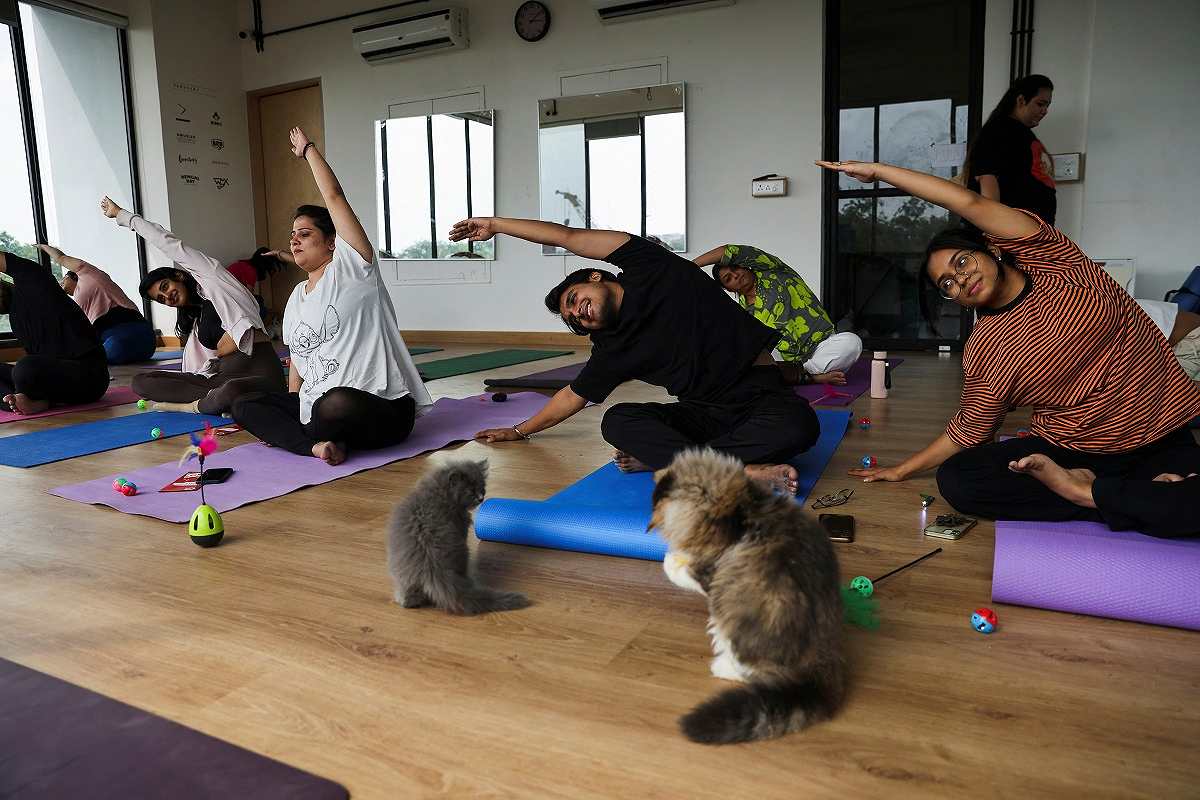 14:20 JST, August 21, 2023
NEW DELHI (Reuters) — Dressed in gym clothing and armed with foam mats, a group of yoga enthusiasts gathered at a studio in the south of the Indian capital for an hour of yoga with a furry twist.
Kittens wandered around the sunlit studio in Vasant Kunj in New Delhi as the session began, some resting on the mats as soft music filled the air, while others stared curiously at the attendees as they switched between yoga poses.
Yoga involving furry companions is a popular trend around the world, with sessions involving goats and dogs usually drawing crowds looking to bust stress.
"We call this distracted yoga," says Mona, who organizes the sessions under the initiative, The Paw Hour. "People sometimes take breaks from offices to attend our sessions and go back to work. They leave these classes with big smiles."
The yoga is self-paced and involves basic stretching to create a relaxed atmosphere to help participants unwind. Kittens weave in and out of the rows of people, sometimes even falling asleep on participants, prompting laughter from the group.
"People walk in stressed and walk out rejuvenated," says co-organizer Noor, who did not want to use her full name.
Chandreyee Sarkar, a participant, says kittens are what drew her to sign up for the session.
"There are a lot of dog yoga events. This is the first time I'm seeing one with cats involved. As a cat person. I simply had to attend."
The Paw Hour has teamed up with individual cat rescuers to help cats find homes and to promote awareness about pet adoption. The organizers say they are inundated with requests and queries about adoption at almost every class.
"This is a class full of smiles that usually ends with happy stories of kittens getting adopted," says yoga teacher Surbhi.
All the kitten yoga sessions held in Delhi this year so far have seen high demand, says Mona, who also only wanted to be identified with one name.
She added that the team is looking to hold similar events in Bengaluru and other Indian cities.
Add TheJapanNews to your Google News feed.