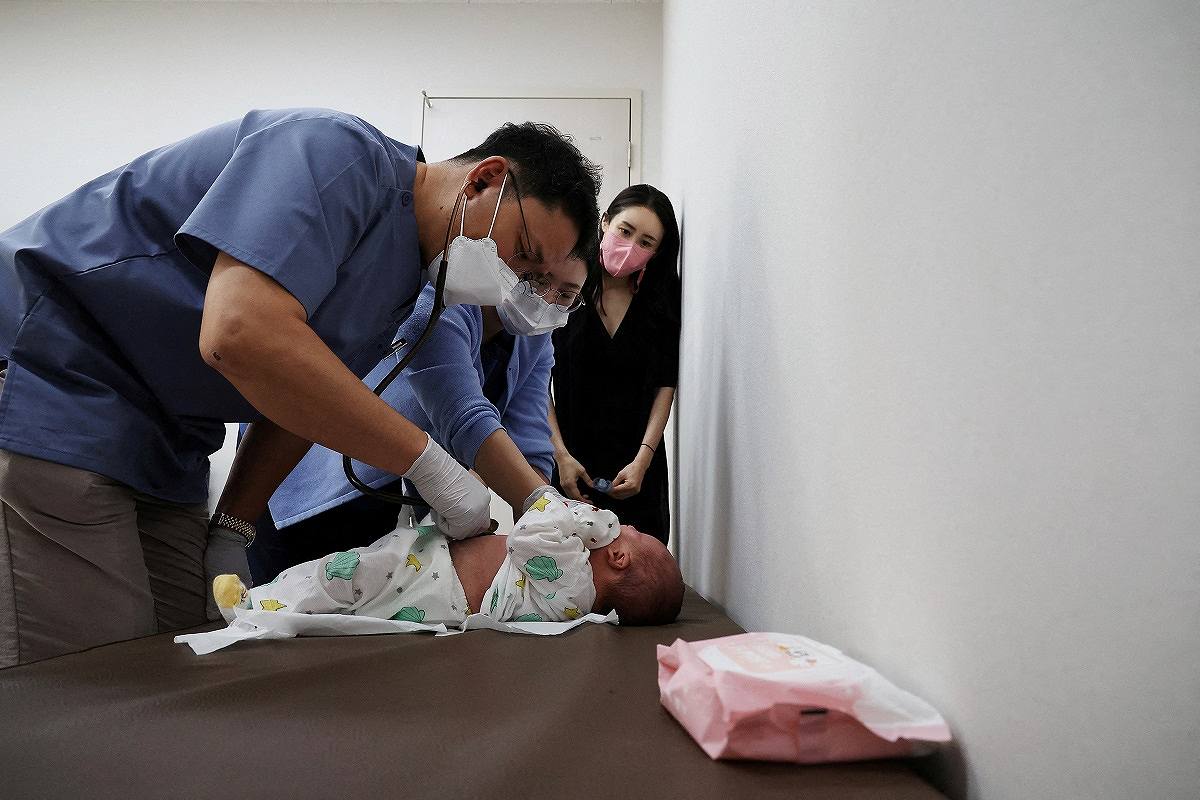 16:41 JST, July 20, 2023
SEOUL (Reuters) — South Korea is suffering from a shortage of pediatricians, partly a result of the world's lowest birth rate and increasingly a factor behind it, leaving hospitals unable to fill posts and raising risks for children's health, doctors say.
The number of pediatric clinics and hospitals in the capital has fallen by 12.5% over the five years to 2022, to about 450. Over the same period, the number of psychiatry clinics increased by 76.8%, while anesthesiology centers saw a 41.2% rise, according to the Seoul Institute, a public administration think tank.
At the root of the problem is a birth rate that fell to 0.78 in 2022 — that's the average number of babies expected per woman — combined with the failure of the insurance system to adapt to it, leaving pediatrics starved of resources and doctors shunning a field they think has no future, seven pediatricians told Reuters.
The Ministry of Health and Welfare acknowledged "limitations" in the system and said measures were being implemented to address them.
According to ministry data, hospitals were only able to secure the services of 16.3% of the pediatricians they sought in the first half of this year, down from 97.4% in 2013.
For parents, the shortage can mean long waits for treatment for sick children.
One recent morning, the waiting room at a hospital in Seoul's outskirts was packed with dozens of children, many on intravenous drips.
"We had to wait two weeks," said Lee Bo-mi, a 35-year-old mother with a sick 3-year-old boy, at the Healthy Children's Hospital.
"I was really scared. It felt like the sky was falling."
Dr. Song Dae-jin at Korea University Guro Hospital said he worried that staff shortages could soon cripple his team's ability to provide emergency care.
"At this rate, we won't be able to last the year," Song said. "It's not a big deal if mild diseases are not seen for a day or two but the consequences of not seeing serious diseases or emergency patients in a timely manner can be devastating."
A 5-year-old boy with a respiratory infection died in May after failing to find a hospital bed, sparking a public outcry.
"Patients dying while bouncing around multiple emergency rooms, dying when it's not a serious disease, it's a travesty," said Dr. Choi Yong-jae, vice president of the Korea Children's Hospital Association.
Doctors say the low fee problem is particular to pediatrics as the insurance system hasn't been revised, to reflect fewer child patients. When more babies were growing up, pediatricians could sustain a low price, high volume model but that doesn't apply now.
"In foreign countries, the government pays enough to maintain the hospital even if you see 20 patients a day," said Dr. Lim Hyun-taek, president of the Korean Pediatric Association, who said fees had not been raised significantly for 30 years.
"But it's about $10 per treatment in Korea so clinics have to see about 80 patients a day."
By comparison, it costs about $335 for an initial standard consultation with an Australian pediatrician, while observation at Nationwide Children's Hospital in the U.S. costs $208 per hour, according to its website.
The health ministry said measures had been introduced this year on fees and insurance compensation to supplement "limitations." It said it had proposed more state-backed centers and requirements for major hospitals to maintain emergency pediatric treatment.
"We understand that there are opinions from doctors saying it is not enough to cope with difficulties in the field. The government plans to steadily implement and continue to supplement the announced measures," it said.
Data from the Health Insurance Review and Assessment Service shows pediatricians are South Korea's lowest-paid doctors, making 57% less than the average doctor's salary.
Hospitals are feeling the crunch.
Sowha Hospital, South Korea's oldest children's hospital, recently suspended Saturday afternoon and Sunday treatment for the first time in 77 years due to a lack of staff.
Some hospitals have reduced night-time treatment and shut children's emergency rooms.
The situation is so alarming that some couples say it is adding to their doubts about having babies despite government efforts to reverse the sliding birth rate with billions of dollars a year on childcare subsidies.
"I'm worried," said Kim Eun-ji, a 34-year-old mother of a baby boy, referring to the prospect of a second child.
"If the number of children's hospitals decreases and the number of doctors falls, it's going to be difficult to get children treated."
Echoing that, Lee Ju-yul, professor of health administration at Namseoul University, said the failure to allocate resources to pediatric care undermined the impact of the "huge" amounts spent on boosting the birth rate.
"We must take some of the budget so parents feel there's going to be no difficulty with healthcare when they give birth," Lee said.
The Korean Pediatric Association recently organized a seminar for hundreds of members looking to switch into new areas including the booming beauty business.
Its president, Lim, said pediatrics was just too much of a gamble given the income prospects.
"Some doctors love to treat children … Now, it's too risky," he said.
Add TheJapanNews to your Google News feed.