Latest N. Korean Missile Launch a Message to U.S. Ahead of Armistice Anniversary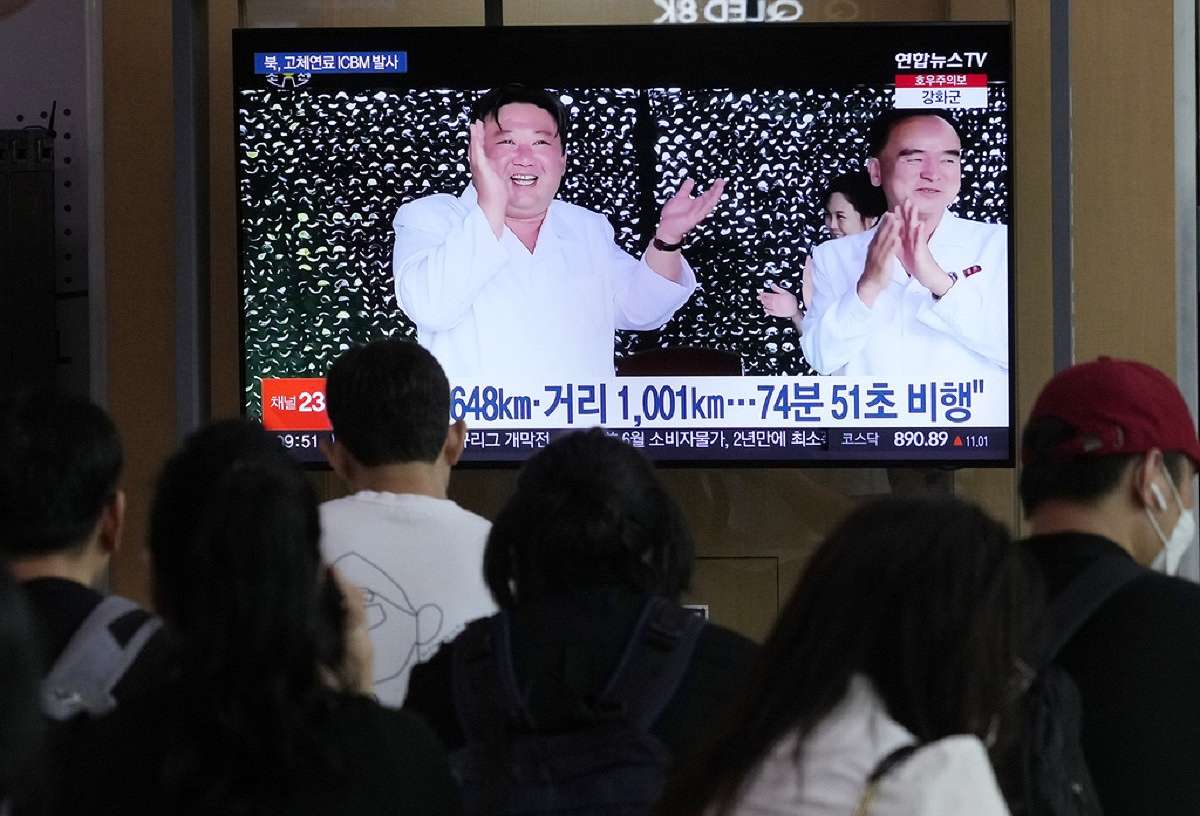 15:56 JST, July 13, 2023
SEOUL — North Korea's launch of a long-range ballistic missile Wednesday appears to have been aimed at showing off technological advancements in its weapons arsenal. It is also thought to have been a provocation ahead of this month's 70th anniversary of the Korean War armistice agreement.
July 27 — the date the armistice was signed to end the 1950-53 war — is commemorated in North Korea as the anniversary of what it calls its victory over the United States.
It is possible Pyongyang will ratchet up military tensions in the coming days.
According to South Korea's Joint Chiefs of Staff and other sources, the North Korean missile was launched on a lofted trajectory.
The missile reached a maximum altitude of more than 6,000 kilometers and covered a distance of about 1,000 kilometers. On a conventional trajectory, the missile might be able to reach the whole of the U.S. mainland.
North Korea's latest launch appears to have been aimed at showing Washington the improved performance of its missile.
South Korean President Yoon Suk Yeol, who was in Vilnius when the missile was launched, called for unity to deter Pyongyang's provocations.
Yoon said North Korea had launched an intercontinental ballistic missile and warned that Pyongyang's missiles are a "real threat" that could hit Paris, Berlin, London and the Lithuanian capital, where the South Korean president was attending the North Atlantic Treaty Organization summit.
On Monday, North Korea began criticizing the United States for what it claimed were intrusions into North Korean territorial airspace and skies above its exclusive economic zone by a U.S. RC-135 reconnaissance aircraft and an RQ-4 Global Hawk reconnaissance drone. It is possible North Korea was attempting to frame U.S. military surveillance flights as a legitimate reason for its own provocations.
Kim Yo Jong, first vice department director of the ruling Korean Workers' Party Central Committee**, issued two statements on Monday and Tuesday in which she warned Pyongyang would take "decisive action" when U.S. reconnaissance aircraft enter airspace over North Korea's "economic water zone."
The South Korean military insisted the U.S. aircraft were conducting regular reconnaissance activities and denied they had done anything illegal.
According to South Korean government sources, large numbers of military vehicles and personnel have been assembling at an airfield near Pyongyang this month. Some observers believe the administration of North Korean leader Kim Jong Un will hold a military parade in Pyongyang on July 27 in a bid to boost national pride.
Add TheJapanNews to your Google News feed.