Expectations on Economic Cooperation, 'Japanese Boom' Behind Improved Sentiment toward Japan-ROK Relations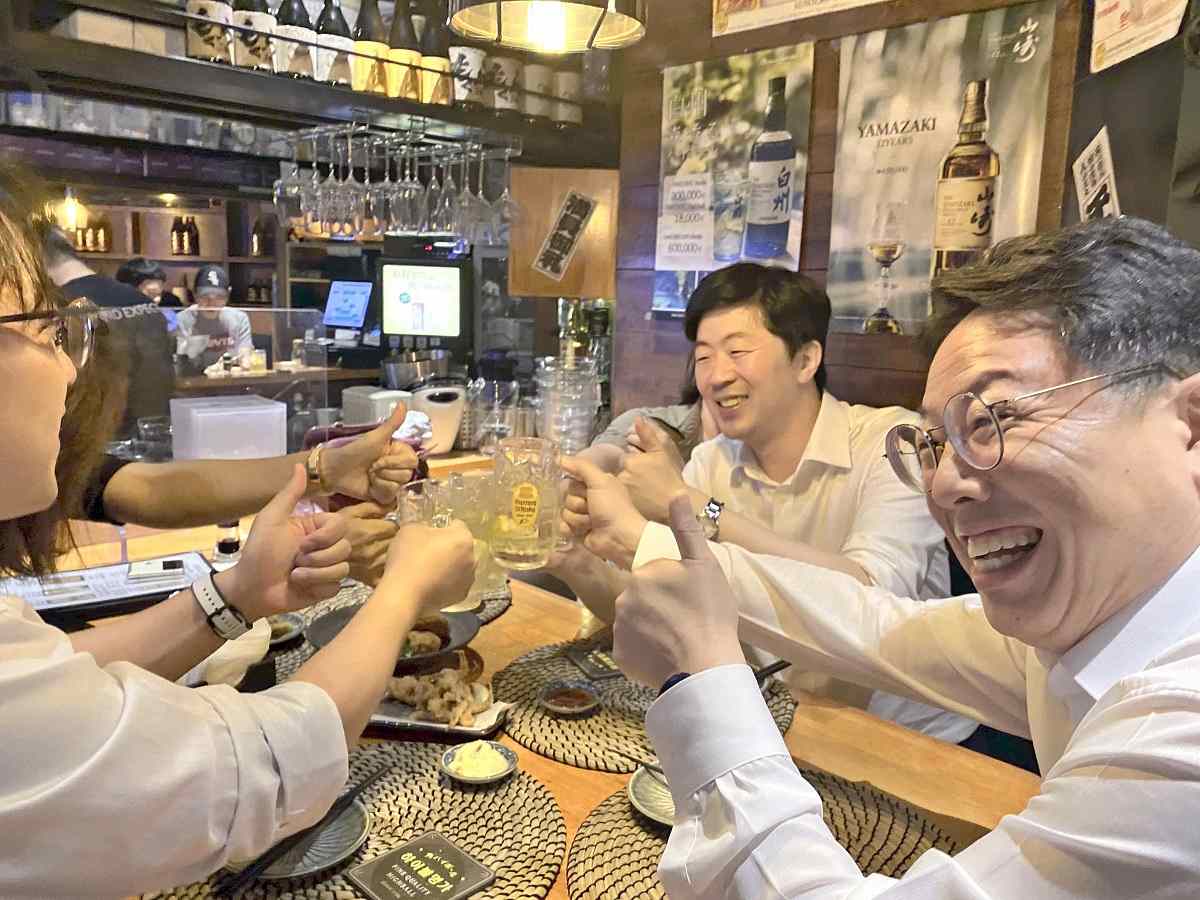 20:00 JST, June 15, 2023
SEOUL —A recent Japan-South Korea opinion poll showing a sharp spike in the number of people who see improvements in Tokyo-Seoul relations reflects rising economic-partnership hopes in Japan and an ongoing "Japan boom" in South Korea. However, the two countries need to bridge differences over historical and other issues if warm ties are to be maintained. The survey was conducted jointly by The Yomiuri Shimbun and the South Korean newspaper Hankook Ilbo.
Imports up
Japanese products were boycotted heavily due to "No Japan" public sentiment from summer 2019 under the previous South Korean administration led by leftist Moon Jae-in, who took harsh stance against Tokyo. Labor unions and industry associations joined the movement, and Japanese beer and sake disappeared from supermarkets and convenience stores. Some South Koreans even refused to enter such Japan-brand stores as Uniqlo.
However, a sharp turnaround was observed after Moon stepped down in May last year, and Yoon Suk Yeol's conservative administration began working to improve bilateral relations. According to the Korea Customs Service, some $9.7 million (about ¥1.4 billion) was spent on Japanese beer imports in the January-April period — about half the amount spent in 2019 prior to the "No Japan" movement.
Nevertheless, this latest figure is about three times higher than that of the same period last year. Imports of Japanese whiskey continue to increase steadily, too.
Travel resumption
These recent winds of change have largely been driven by South Koreans in their 20s and 30s, known in the country as "Generation MZ." "My Instagram is packed with Japan-related topics," said a 20-something Seoul office worker.
Japanese anime and movies are popular social media topics among young South Koreans, many of whom also enjoy dancing to music created by Japanese artists.
Furthermore, travel between Japan and South Korea has resumed fully following the lifting of coronavirus-related travel restrictions.According to Tokyo and Seoul, some 2.06 million South Koreans visited Japan between January and April, while around 480,000 Japanese traveled to South Korea during the same period — easily outstripping the figures for the previous year.
Different perspectives
However, large gaps persist over historical and other issues, and there is no consensus on whether the two nations' respective leaders can rebuild relations effectively. In Japan, more than 80% of survey respondents evaluated the two leaders' efforts positively. However, only 47% of South Koreans felt the same, with 49% holding the opposite view.
There are also lingering concerns over whether the issue of lawsuits regarding former wartime requisitioned workers from the Korean Peninsula can be solved based on the agreement reached by the Japanese and South Korean leaders.
The Japanese government's position is that the issue was solved under the 1965 Agreement on the Settlement of Problems concerning Property and Claims and on Economic Cooperation between Japan and the Republic of Korea. But the South Korean Supreme Court finalized a ruling in 2018 ordering the Japanese companies to pay compensation to the requisitioned workers.
Some experts also have flagged concerns over the release of treated water from the Fukushima No. 1 nuclear power plant of Tokyo Electric Power Company Holdings, Inc., saying related worries are "far greater than those over historical perceptions."
In order to maintain the "mood of friendship" between the two countries, it is essential to carefully explain pending issues and ensure mutual understanding.
"If political problems arise, [South Korea's] 'Japan fever' could cool quickly," opined a Japanese company employee in his 30s.
Add TheJapanNews to your Google News feed.