Japan Supports Indian Roads in Rivalry with China's Belt and Road Initiative
6:00 JST, June 13, 2023
KHOWAI, Tripura — India is currently developing a road in its northeastern region bordering China that links to neighboring Bangladesh, a project for which Japan is providing full support in a bid to counter China's increasing expansion into the region under its Belt and Road Initiative.
Visiting the Khowai district in Tripura, one of India's eight northeastern states, in mid-April, I found a paved, widened national highway stretching eastward. The last time I was there, the road was narrow and in poor condition.
The Japanese government is supporting the construction of the 80-kilometer-long road. It will be completed this summer after retaining walls are built and other work is finished. The new road is expected to halve the travel time to and from the eastern part of Tripura.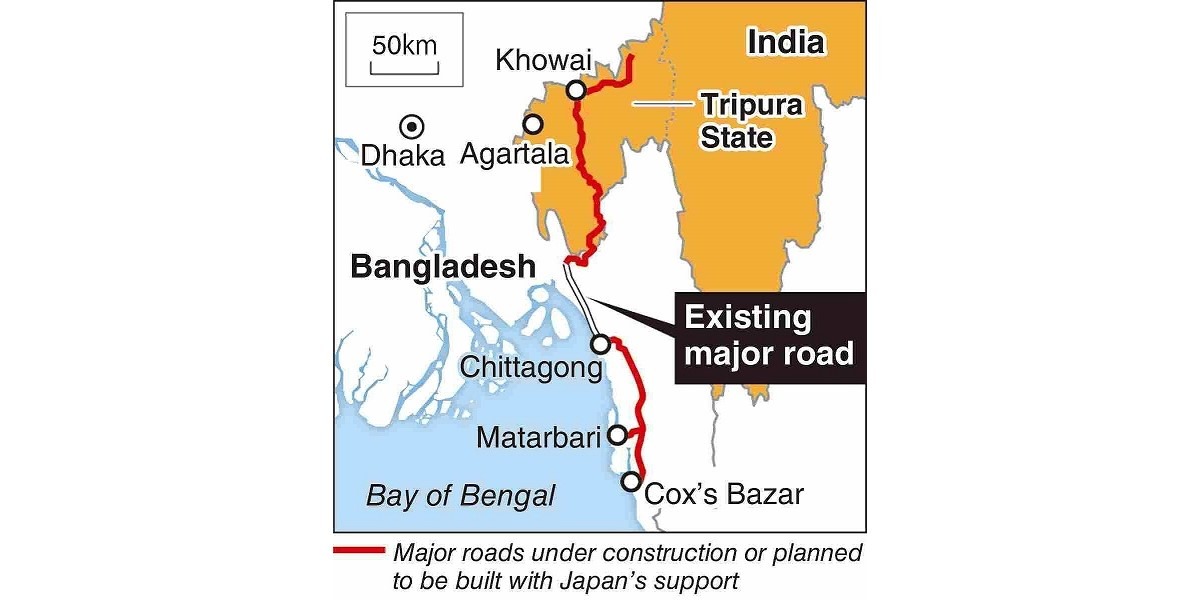 A national highway leading south from Khowai to the border will also be widened this summer.
Tripura State borders Bangladesh for 856 kilometers, or 84% of the state's total circumference. In the Matarbari area in southern Bangladesh, a deep-sea port that can accommodate large vessels is scheduled for completion in 2027 under a Japanese yen-loan-financed project.
A bypass will also be constructed on a national highway connecting the border with the port. Once all of these projects are completed, a major logistics route will be created from India to the Bay of Bengal via an existing major road.
"We'll consider developing delivery routes to and from the northeastern states in anticipation of the completion of Matarbari Port," a senior executive of a major Japanese logistics company operating in both countries told The Yomiuri Shimbun.
¥315 billion in loans
Indian Prime Minister Narendra Modi's administration advocates an "Act East" policy that emphasizes economic partnerships with East and Southeast Asia. India has been seeking Japan's development cooperation in its northeastern states — which are the front line for this policy — and this support has been in full swing since the agreement was reached at a summit meeting in 2014.
Japan provided a total of ¥315 billion in yen loans through June 2022.
At a meeting in 2017 between the Indian government and the Japanese Embassy in India, the Japanese side positioned India's northeastern states as "a strategically and economically critical juncture between India and Southeast Asia."
During his visit to India in March, Prime Minister Fumio Kishida pledged full support for the development of the northeastern states, saying they have "untapped economic potential."
China-India clash
China is the reason why Japan and India attach importance to the northeastern states. Parts of these states border China, where a clash between Chinese and Indian forces occurred in December 2022, and China is reportedly building settlements.
If the China-Myanmar Economic Corridor, which China develops as a part of Belt and Road Initiative, is completed, a route linking southern China and the Indian Ocean will be established.
India's northeastern states are home to militant groups and rebel organizations that claim independence. According to Indian diplomatic sources, some of them are linked to Myanmar, where the national army has taken power, and are believed to be supported by China. The source said China's influence could be curbed if industries and jobs are created by Japan and India to stabilize the security situation there.
Add TheJapanNews to your Google News feed.