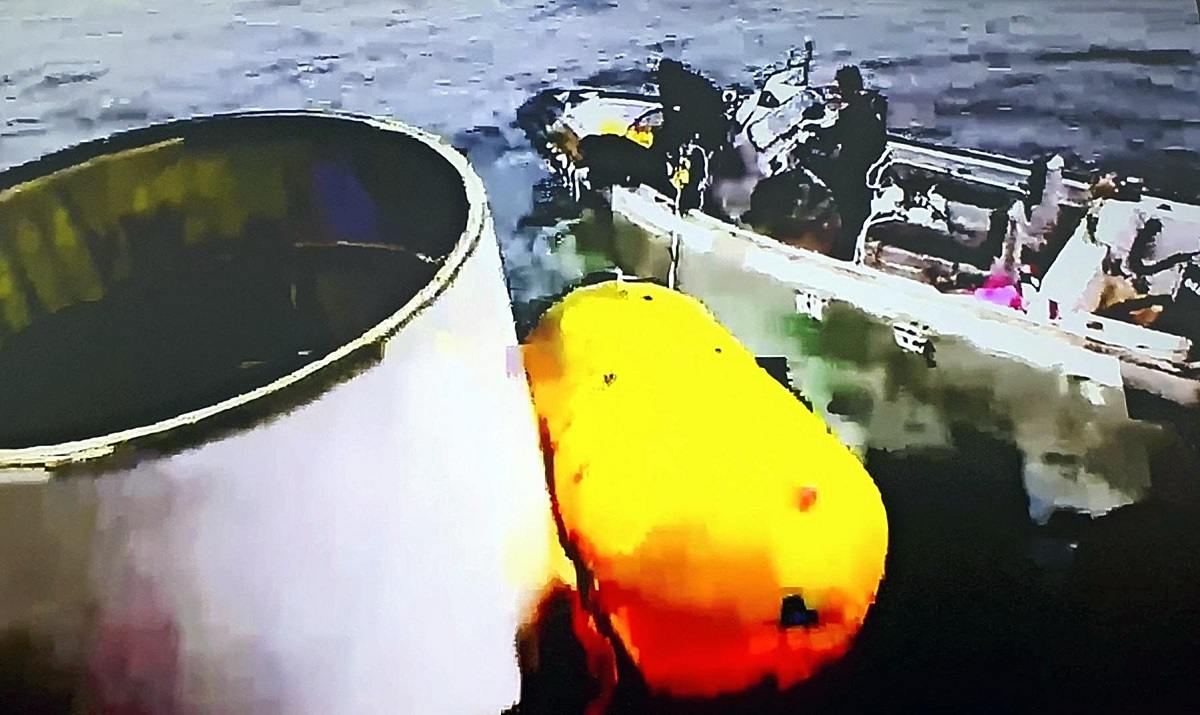 1:00 JST, June 2, 2023
SEOUL — North Korea's launch of a "military reconnaissance satellite" ended in failure Wednesday, but Pyongyang's declaration that it will soon conduct another launch indicates a determination to acquire the ability to better monitor the U.S. and South Korean militaries and also improve its missile capabilities.
About 2½ hours after the launch, North Korea's National Aerospace Development Administration admitted through the Korean Central News Agency that the mission had failed. But the space agency appeared resolved to attempt a second launch.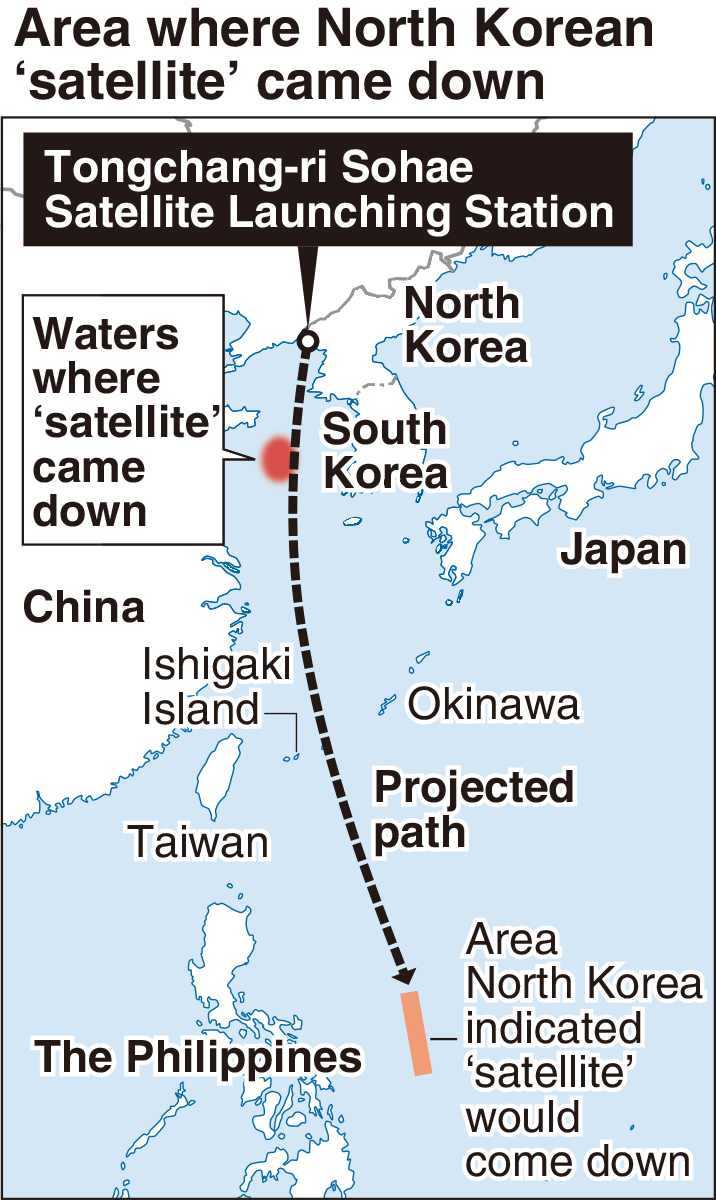 After the rocket's first-stage engine separated, a malfunction reportedly occurred during the ignition of the second-stage engine. Some analysts believe this glitch could have some connection to the launch vehicle's flight path, which was different from previous launches.
North Korea had given Japan advance notice about the area in which parts were projected to splash down. The Chollima-1 carrier rocket was supposed to fly southward after being launched. Initially bearing slightly west, it was supposed to change course and fly more toward the east. This appears to have been an attempt to prevent the rocket from coming down on the Philippines.
South Korea's National Intelligence Service (NIS) reported to the national assembly that a "technical problem" could have occurred during an attempt to excessively change the flight path.
When will North Korea conduct another launch? After Pyongyang's unsuccessful launch of the Kwangmyongsong-3 satellite on April 13, 2012, its next attempt came about eight months later on Dec. 12 that year.
An expert from South Korea's Institute for National Security Strategy pointed out that nations such as Japan, the United States and South Korea would take at least six months after pinpointing the cause of a failure before attempting another launch. However, he predicts North Korea will not wait so long.
"It's highly possible another launch will be conducted soon after completing the bare minimum investigation into the cause," he said. "It's even possible the next launch could occur within a few weeks."
A major reason for this is that North Korean leader Kim Jong Un's prestige is at stake on this project.
North Korea appears to be rushing to conduct a second launch because it has decided that having reconnaissance capabilities will be essential for standing up to the military might of Washington and Seoul. North Korea currently lacks any "eyes" that can monitor the ground from space, leaving it unable to accurately grasp movements at U.S. bases in South Korea.
On Monday, a senior North Korean military official said the satellite would track and monitor military movements of the United States and its "vassal forces" in real time.
According to the NIS, the Malligyong-1 military spy satellite launched Wednesday is considered to be a small, low-orbit Earth observation satellite capable of conducting only elementary reconnaissance missions. The NIS estimated this satellite could distinguish objects about one meter across on the ground. The satellite pales in comparison to the technological levels of U.S. military spy satellites, which reportedly can identify objects even smaller than 10 centimeters across.
Furthermore, a single satellite could cover and monitor only a limited area. The U.S. military is said to have at least 100 military-use satellites operating in orbit. North Korea also has hinted at a plan to broaden the scope of areas that could be monitored to include Japan and Guam, where U.S. military forces are stationed.
Satellite images dated Tuesday and released by 38 North, a U.S. group that researches North Korean issues, showed launch preparations were being undertaken at two sites — including a new launch pad — at the Sohae Satellite Launching Station in Tongchang-ri, northwestern North Korea. This operation apparently would have allowed North Korea to immediately conduct a second test if the first had been successful.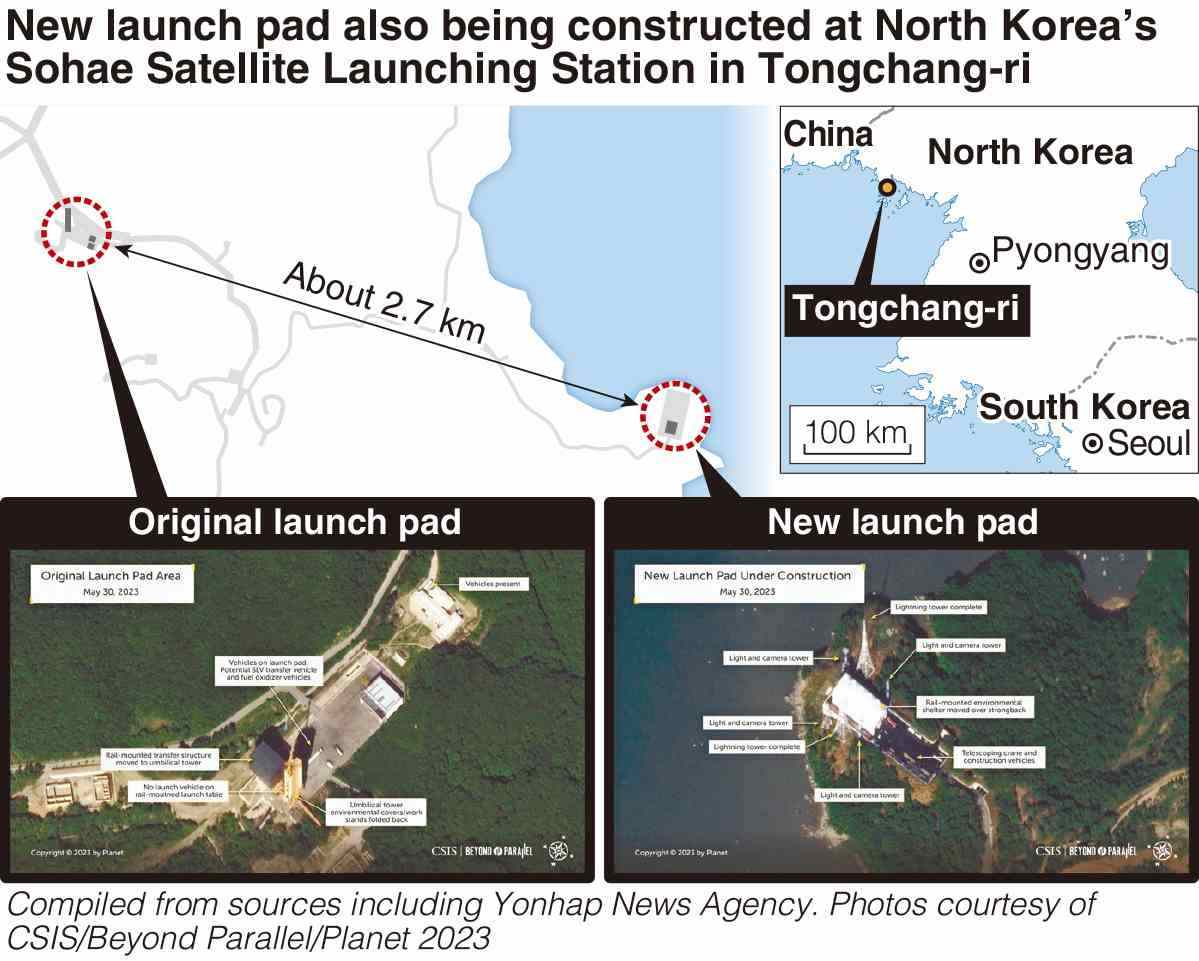 However, it is certain that a considerable length of time will be required before North Korea operates multiple satellites with high-resolution capabilities.
North Korea also appears to be attempting to improve the performance of intercontinental ballistic missiles capable of reaching the U.S. mainland. In a statement issued after the launch, the U.S. National Security Council condemned North Korea's actions and pointed out that they "involved technologies that are directly related to" Pyongyang's intercontinental ballistic missile program.
Cha Du Hyeogn, a principal fellow at the Asan Institute for Policy Studies in South Korea, said: "North Korea is trying to develop powerful engines and build up its technologies for sending satellites into orbit. The ability to put satellites into orbit could also be used for releasing nuclear warheads from an ICBM."
SDF remain on alert
The government is keeping the Self-Defense Forces on alert, in response to North Korea's declaration that it will launch another spy satellite.
Japan intends to further enhance deterrence by strengthening cooperation with the United States and South Korea to immediately share information on North Korean missiles.
"We will work to collect and analyze relevant information and take all possible measures to respond with a sense of urgency," Defense Minister Yasukazu Hamada stressed to reporters regarding North Korea's aim to launch a second missile as soon as possible.
The Defense Ministry has implemented a two-stage interception system in case missile components fall on Japanese territory.
Specifically, Aegis destroyers equipped with Standard Missile-3 (SM-3) interceptor missiles are deployed in the East China Sea to destroy missiles outside the atmosphere. In case that fails, units in charge of Patriot Advanced Capability-3 (PAC-3) surface-to-air guided missiles have been deployed on the Sakishima Islands, including Miyako, Ishigaki and Yonaguni islands in Okinawa Prefecture.
Of these, the PAC-3 unit on Ishigaki Island was not deployed at its planned location on Wednesday morning due to strong winds caused by a typhoon.
Add TheJapanNews to your Google News feed.