China Works to Control Narrative in 15 Years Since Deadly Sichuan Quake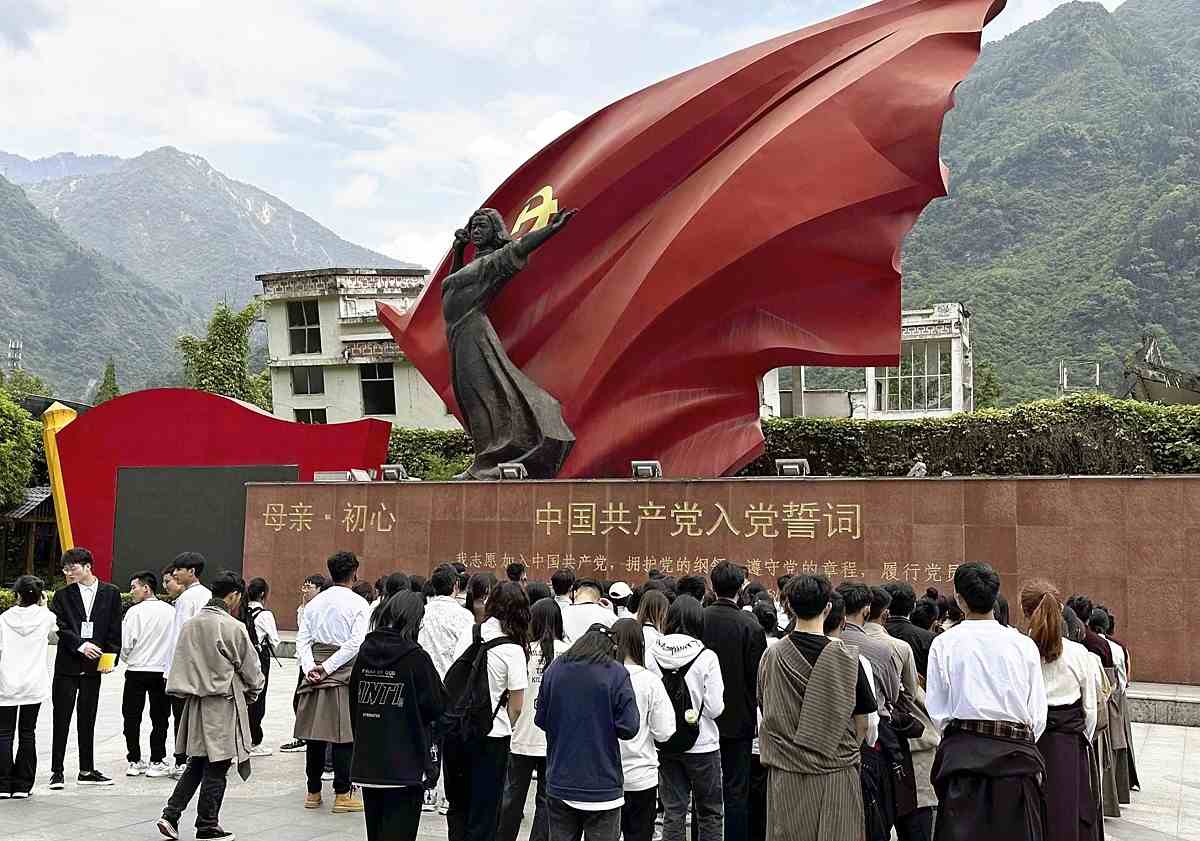 18:39 JST, May 12, 2023
CHENGDU, China — It was 15 years ago that a devastating earthquake left about 87,000 people dead or missing in China's Sichuan Province.
As bereaved families and others attended memorial services for the victims on Friday, the Chinese Communist Party continues to seek to control the narrative by touting its "patriotic" reconstruction efforts while suppressing dissent over the initial response to the devastation.
In 2018, Chinese President Xi Jinping ordered the town of Yingxiu in the province's Wenchuan County, which was the epicenter of the earthquake, to be designated as a "base of national patriotic education."
A junior high school building that collapsed during the disaster was preserved as a "historical site," and now draws a constant stream of large buses of tourist groups and students.
A message inscribed on a stone monument erected at the site states: "After the disaster, the people worked hard together under the guidance of the party." A tour guide's comment that "China came together as one to overcome adversity" elicits a burst of applause from the group.
A disaster memorial hall built next to the school building ruins has become a tourist attraction. Exhibits detail the scale of the rescue and relief operations, and showcase the completed reconstruction projects.
Also on display is a comment Xi made when he visited the area in 2018, which encapsulates the government stance: "These historic achievements showed the powerful leadership of the party and the superiority of our nation's system."
A local high school student who was an infant at the time of the earthquake had mixed emotions. "My heart aches when I think about the victims of the disaster," the 16-year-old girl said, adding, "The development supported by the government since then has been amazing."
A man in his 20s visiting the memorial hall also seemed moved. "Recovery from such catastrophic damage was accomplished by the party," he said.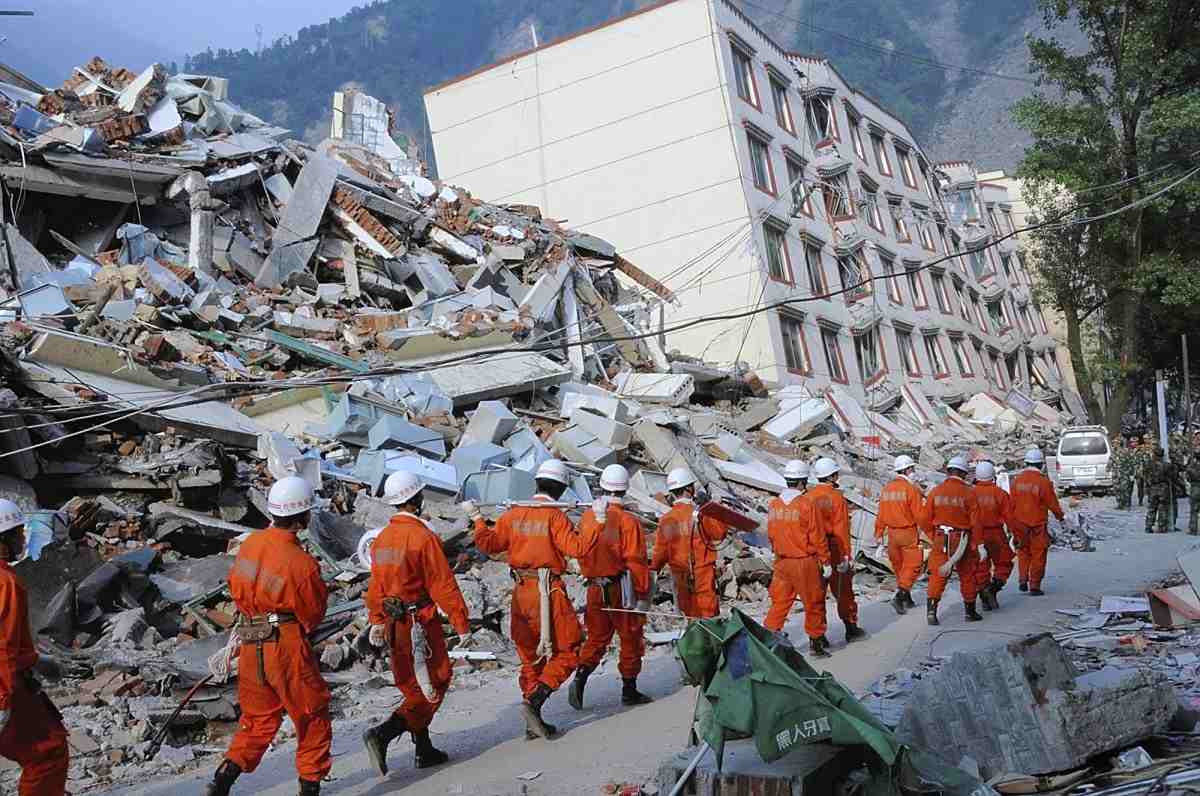 Unfair treatment
Economic loss from the earthquake totaled about 845 billion yuan (about ¥12 trillion at exchange rates at the time), with Sichuan Province accounting for about 90% of the amount.
Wenchuan County has since been designated as a "red tourism site," a label given to destinations that hold significance in CCP history. In 2022, the county attracted about 5.62 million tourists and took in about 5.1 billion yuan (about ¥102 billion) in tourism revenue.
But while steps have been made in recovery, there are still underlying issues left unresolved.
People flagged shortcomings in the region's disaster prevention system and the shoddy construction of buildings, following the earthquake that caused damage over a wide area. Parents and relatives of children who died in elementary and junior high schools that collapsed started seeking answers, and those who attempted to file lawsuits against local governments were dissuaded by strong-arm tactics such as intense monitoring and threats.
One such family member was a woman now in her 40s, whose daughter died when her elementary school building in Xinjian near Chengdu was flattened.
Meeting for an interview in a restaurant, the woman's eyes constantly darted around the room as she spoke in a low voice: "The town has been rebuilt and come back to life. Thanks to the government." She repeated it several times, seemingly fearful that she was being watched or listened to.
It was only when we got into a crowded area and she seemed to determine that she was not under a watchful eye that she revealed her true feelings. "So many things are unfair," she said.
Bereaved families that did not join in the push for lawsuits live in newly built housing arranged by local governments for disaster victims. The woman, who was a central figure in protests, still has not been allowed to move in. She scrapes out a living while raising a daughter who was born after the earthquake and is now in junior high school.
After the disaster, as she struggled with a sense of loss, apprehension about her future and smoldering discontent with the government, the woman started smoking. Now, her hand is never without a cigarette.
According to U.S. government-funded Radio Free Asia, authorities last year blocked an attempt by bereaved families to hold a mass memorial for children who died when a junior high school collapsed in the city of Dujiangyan.
Even now, any actions seen as throwing cold water on the party-led reconstruction are not tolerated.
Memories fading
The site where the Xinjian elementary school was located has since been redeveloped and transformed into an entertainment complex. It is adorned with a large anime-style panda statue.
The site is already becoming an area of shuttered shops and businesses. A fortysomething employee in the only teahouse operating there, and a local woman in her 20s who was walking past, were both astonished to hear that there had once been an elementary school located there where many children lost their lives. "I didn't know," was their shared response.
Just as the authorities intended, their efforts to erase the tragedy and rewrite the narrative are causing memories of the earthquake to fade.
Add TheJapanNews to your Google News feed.