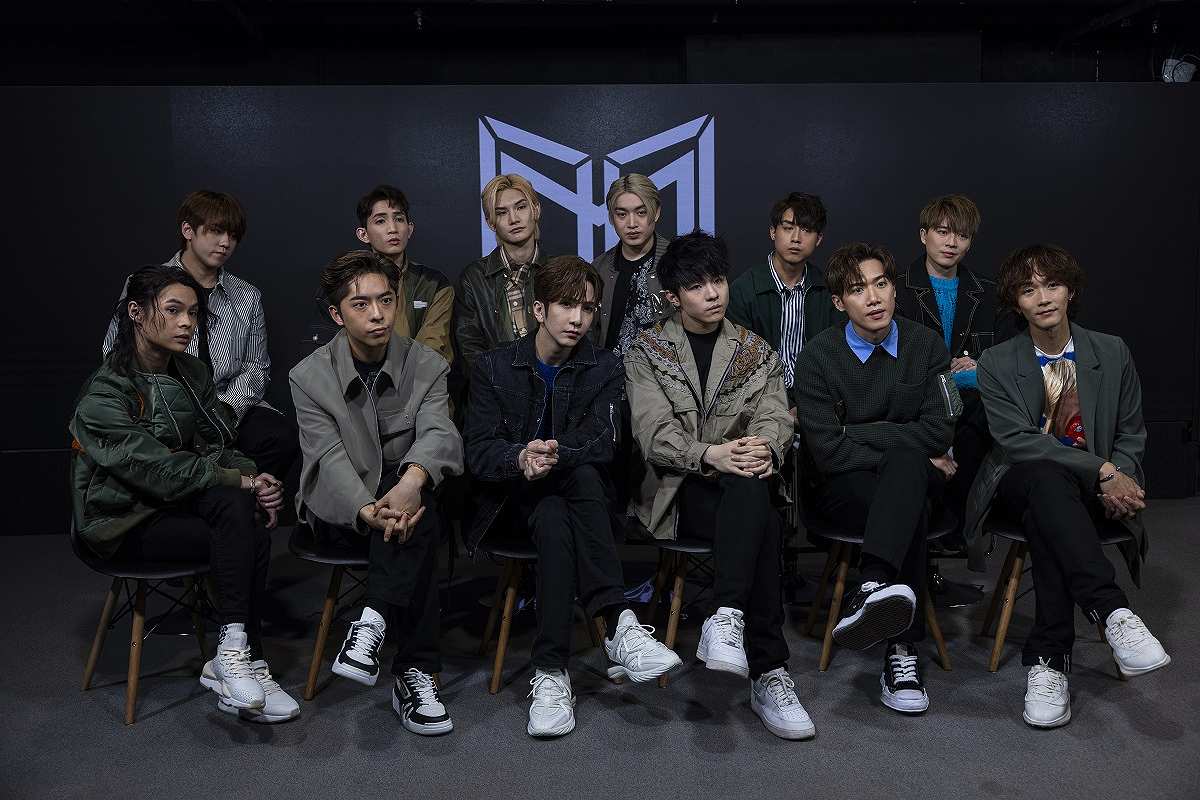 16:00 JST, March 25, 2023
HONG KONG (AP) — Hong Kong's most popular boy band Mirror, a major driving force behind the revival of the local pop music scene, launched its first English song on March 17, hoping to bring the city's tunes to music lovers globally.
The 12-member group is part of a new wave of local singers being embraced by Hong Kongers at a time when the city has been beset by the COVID-19 pandemic and political challenges over the past three years. Their music has birthed a new generation of fans who have found hope and comfort in the songs at an uncertain time.
Its new single "Rumours" is somewhat "sexy" and "sensual" and accompanied by wavy dance moves, a stark contrast to the group's previous powerful dance songs and funky music, its members said in an interview with The Associated Press on March 12. Unlike their earlier Cantonese hits that conveyed an image of "a bunch of kids" and their energetic side, the new track shows they have become men, member Ian Chan said.
"We are not trying to particularly target any markets, but then we kinda wanna show the possibility of what a boy band from Hong Kong can bring to everyone," Chan said. "Hopefully, we can bring ourselves and bring Cantopop to more places."
Mirror's global debut is not only a test of whether they can find an audience beyond Hong Kong, a market with 7 million people. The overseas reception may also indicate whether Hong Kong singers, who dominated Asian showbiz decades ago, can regain ground in the region.
Cantopop, sung in the mother tongue of most of Hong Kong's population, has made a strong comeback with new idols and diverse genres after falling behind Mandopop and K-pop for years. Local fans find the new stars more relatable, unlike their predecessors who are often seen as prepackaged and in some cases too beholden to mainland China. Cantopop's rise reflects a wider hunger to express the city's cultural identity.
Mirror's members broke into the industry after joining a local broadcaster's reality talent contest in 2018 and stealing the show. The artists — Frankie Chan, Alton Wong, Lokman Yeung, Stanley Yau, Anson Kong, Jer Lau, Anson Lo, Jeremy Lee, Edan Lui, Keung To, Tiger Yau and Chan — range in age from their 20s to early 30s. Some are good at singing, several are known for their dancing skills, a few have devoted themselves to acting and others have hosted TV shows.
Their hard work and determination have helped them to attract a loyal following, especially students, middle-aged women and young families.
In 2021, Keung declared: "I believe Hong Kong singers can definitely become Asia's top again." That year, their fandom became a Hong Kong cultural phenomenon.
Fans poured into shopping malls to support their events, with some making and buying advertisements to celebrate their idols' birthdays. Partners of fans flooded Facebook with "self-pity" stories, including having the walls of their homes plastered with posters of the singers. Talk of the group offered many Hong Kongers an escape from downbeat news about COVID-19, political challenges and social changes facing the city.
"We always have a social responsibility to bring positive thinking and some good vibes … to people who like us," Chan said.
The release of "Rumours," whose lyrics are about chasing a girl and how rumors arise, has marked an important milestone for the group, especially since the members are all native Cantonese singers.
Lo said the group will monitor audiences' reactions closely but that they will no doubt continue producing music in Cantonese even as some members might produce solo songs in Mandarin. The group also has plans to launch a worldwide tour possibly next year, he said.
Lui said their ambition of reviving Cantopop as Asia's No. 1 music might sound "like daydreaming."
"But I think we should have that goal inside our hearts and we should try to do our best to pursue this dream," he said.
Add TheJapanNews to your Google News feed.