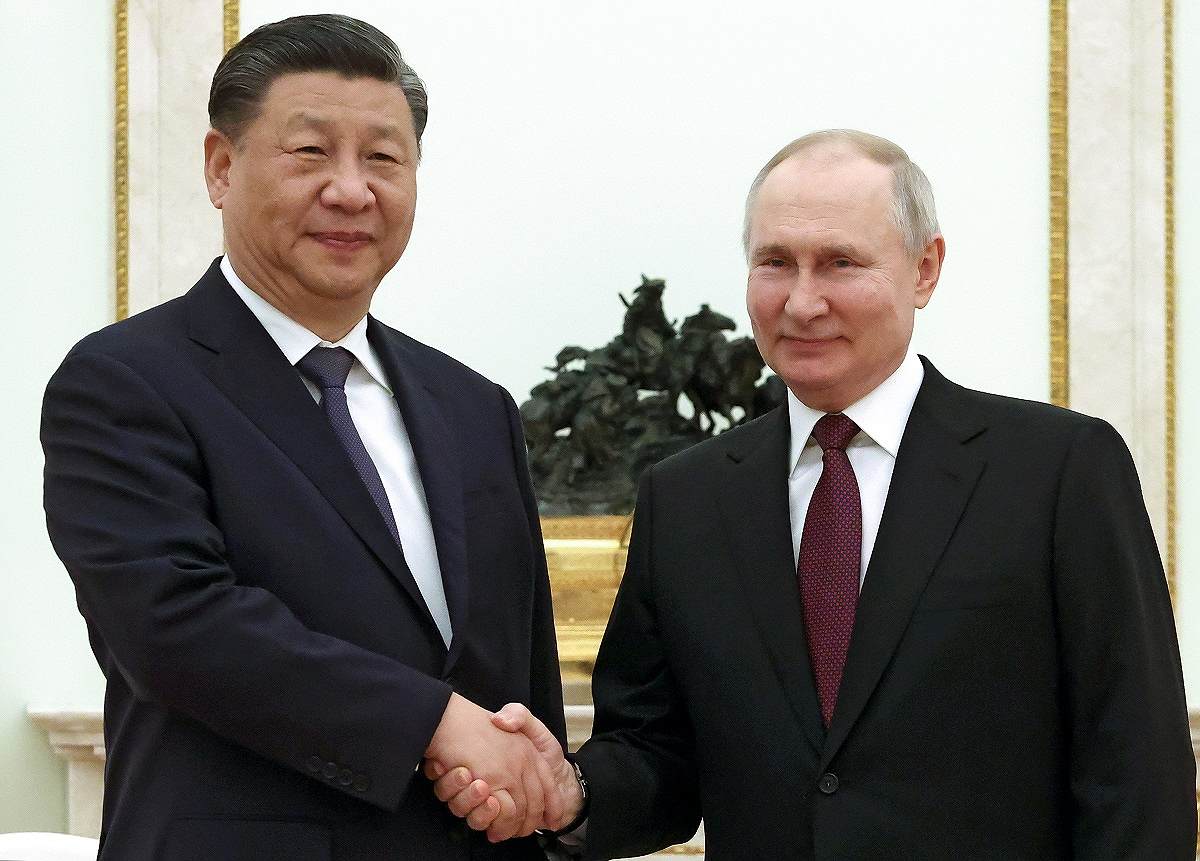 13:34 JST, March 22, 2023
SHENYANG, China — Chinese President Xi Jinping called for a solution to the Ukrainian crisis through dialogue during his meeting with Russian President Vladimir Putin in Moscow on Monday.
Against a background of friction with the United States, Xi's move is believed to be aimed at showcasing his stance as a proactive mediator of peace and expanding his influence over developing and emerging countries that have avoided getting involved in sanctions against Russia.
"Most countries support easing tensions, stand for peace talks, and are against adding fuel to the fire," Xi said during his meeting with Putin on Monday, according to a Chinese Foreign Ministry press release.
While showing his support for Russia by opposing Western-led sanctions, he said it was important "not to give up efforts for dialogue."
In Xi's article published Monday in the Russian government newspaper Russian Gazette ahead of his visit, Xi characterized his visit to Russia as a "journey of friendship, cooperation and peace." Some observers have been speculating that Xi may hold online or telephone talks with Ukrainian President Volodymyr Zelenskyy after the visit.
China has lately been engaging in full-fledged diplomatic activities as a "responsible superpower," according to a Chinese Foreign Ministry source, who pointed to China's role as a mediator in the normalization of diplomatic relations between Iran and Saudi Arabia this month.
However, the content of China's 12-point proposal for the "Political Settlement of the Ukraine Crisis" is pro-Russian. It does not mention Ukrainian demands for complete withdrawal of Russian troops from the nation and the return of all its territories, leaving a wide gap between China's proposal and Ukraine's stance.
Although it will not be easy for Russia and Ukraine to initiate a dialogue or achieve a ceasefire, China hopes that Xi's visit to Russia will "leave an impression among developing and emerging countries [that China is] a great power," according to a Chinese newspaper executive. China also likely aims to strengthen cooperation with Russia to secure stable supplies of oil and natural gas.
For Putin, Xi's visit is considered as an achievement. Putin said on Monday that he "respects" China's 12-point proposal. Although the United States and Europe are critical of China's proposal, Russia may use it to gain ground toward ending its invasion in a favorable manner.
Russia is also believed to desire to procure weapons from China, which may affect the situation in Ukraine.
Add TheJapanNews to your Google News feed.