Kishida Eyes Reiterating Joint Declaration and Past Statements on Japan-South Korea Relations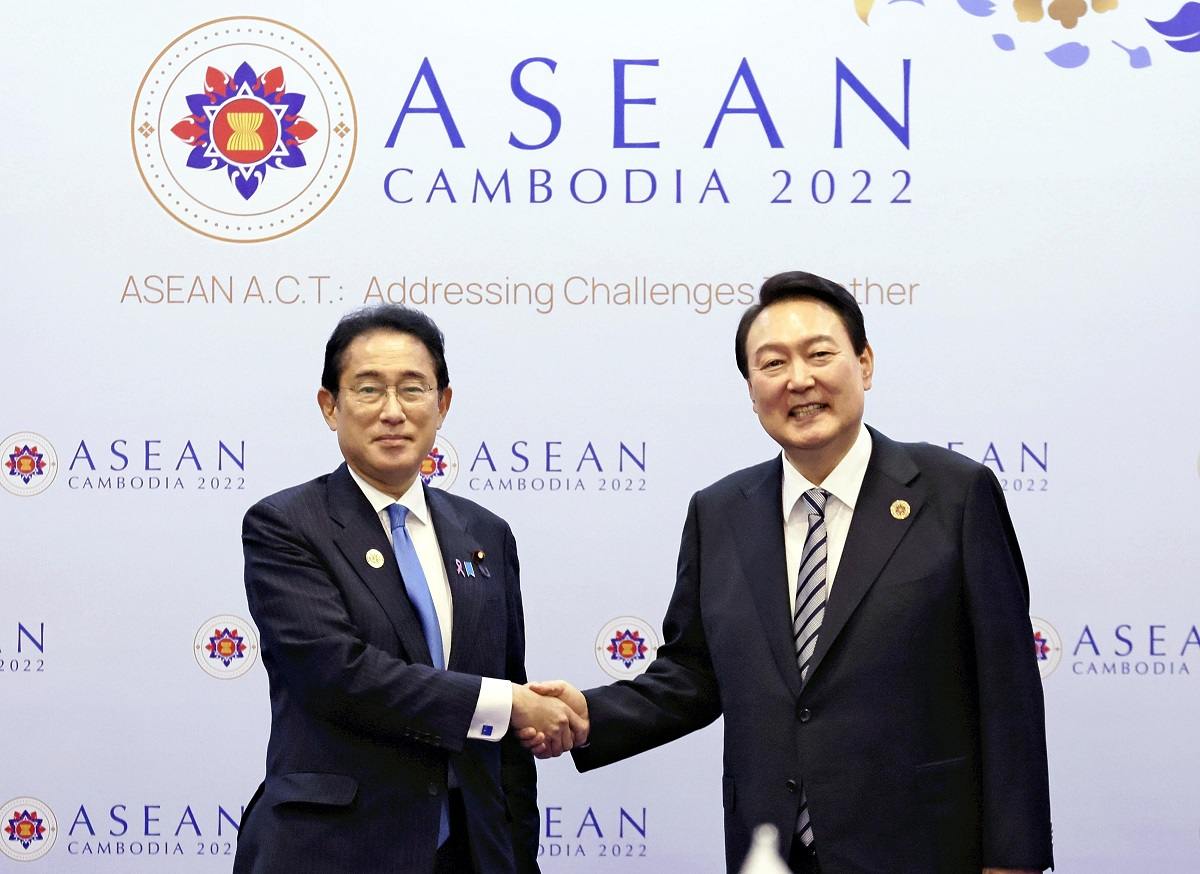 21:00 JST, March 4, 2023
The government has begun preparing for Prime Minister Fumio Kishida to express his position on Japan-South Korea relations with an eye toward the issue of lawsuits relating to former wartime requisitioned workers from the Korean Peninsula, according to Japanese and South Korean government sources.
Kishida is expected to indicate that he follows the spirit of the 1998 Japan-South Korea Joint Declaration as well as past prime ministers' statements on bilateral relations once the South Korean government comes up with an idea to solve the lawsuit issue, the sources said.
The declaration and statements include expressions of apology and remorse over Japan's past colonial rule. Kishida's expression of his position is to be Tokyo's voluntary response to Seoul's solution plan to South Korea's domestic legal compensation issue.
The South Korean government is aiming to soon announce a solution plan that a government-affiliated organization called the Foundation for Victims of Forced Mobilization by Imperial Japan will pay amounts equal to the court-ordered compensation on behalf of the two Japanese defendant companies, Nippon Steel Corp. and Mitsubishi Heavy Industries, Ltd., whose compensation payment obligations were finalized in 2018 rulings by the South Korean Supreme Court.
The payments will be financed by donations from South Korean companies and the Japanese defendant companies will not be asked to make financial contributions to the foundation.
The South Korean government seeks for Japan to make a "sincere response" relating to the solution to the compensation issue as domestic opinion in South Korea calls for Japan's involvement.
The Japanese government maintains a position that the issue of claims for compensation had already been solved under the 1965 Agreement on the Settlement of Problems concerning Property and Claims and on Economic Cooperation between Japan and the Republic of Korea, and it has considered making its response within the scope of this view.
Tokyo has judged that if Kishida expresses his view that he follows the spirit of the joint declaration and past prime ministers' statements — instead of issuing a new statement — this will not deviate from the government's position.
In particular, the 1998 joint declaration is a document on which both Tokyo and Seoul place significant weight. In that declaration, then Prime Minister Keizo Obuchi expressed his "deep remorse and heartfelt apology" for Japan's colonial rule. Then South Korean President Kim Dae Jung called for the two countries "to overcome their unfortunate history and to build a future-oriented relationship."
A 1995 statement by then Prime Minister Tomiichi Murayama also expressed "deep remorse" and "heartfelt apology" over Japan's "colonial rule and aggression."
In South Korea, there is a view that Japan's colonial rule led to the issue of requisitioned workers. Tokyo hopes to demonstrate its consideration for sentiments in the neighboring country by Kishida sending a clear message that there has been no change in its position on historical issues, including its colonial rule.
Meanwhile, the Japanese business community, which hopes that bilateral relations will improve, is considering a cooperative project to contribute to future-oriented relations between the two countries.
An idea has emerged in business circles to seek financial support from member companies of the Japan Business Federation (Keidanren) to establish a cooperative project in Keidanren. A program to provide scholarships to South Korean students studying in Japan is one of the projects currently being considered.
Add TheJapanNews to your Google News feed.