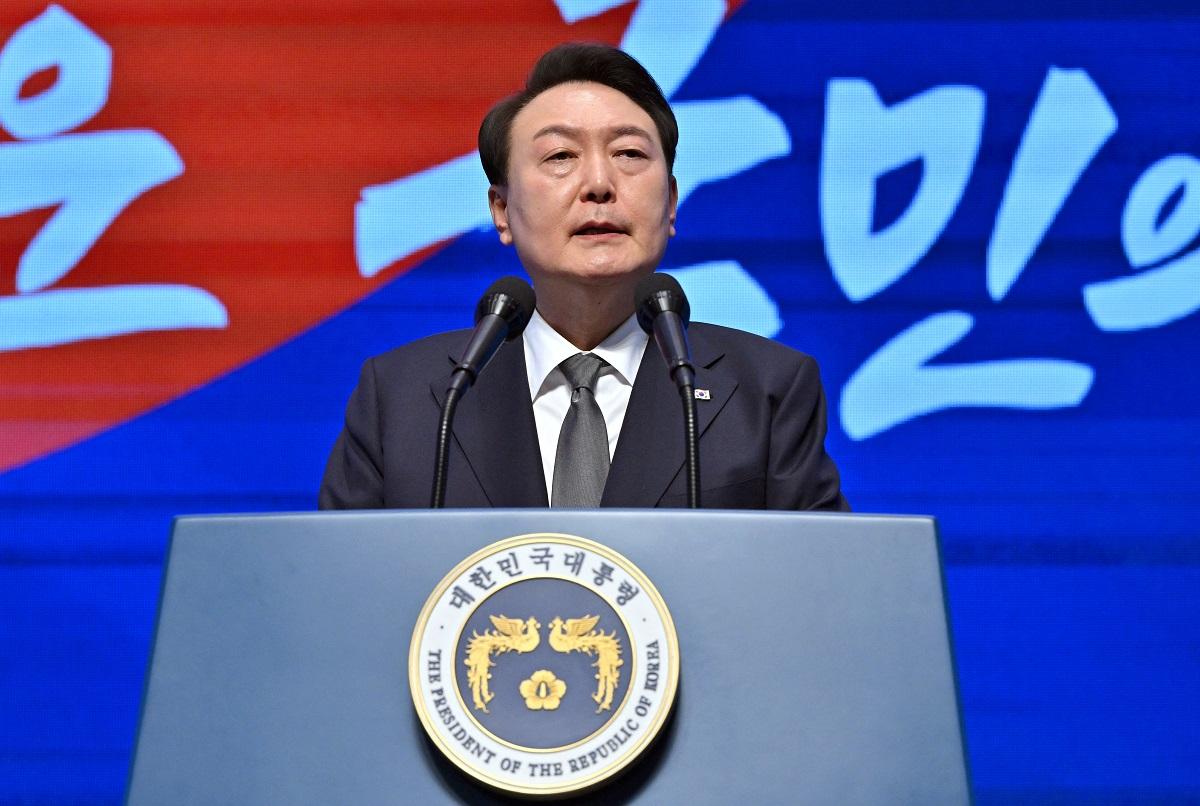 16:44 JST, March 1, 2023
SEOUL — South Korean President Yoon Suk-yeol on Wednesday stressed the importance of South Korea-Japan relations, calling Japan "a partner" at a ceremony to commemorate the March First Independence Movement against Japan's colonial rule.
"Japan has transformed from a militaristic aggressor of the past into a partner that shares the same universal values with us," Yoon said in his speech in Seoul. "We also work together to cope with global challenges."
Yoon did not mention the lawsuit over former wartime requisitioned workers from the Korean Peninsula, the biggest pending issue between the two nations.
This was the first time that Yoon has addressed the annual March First Independence Movement ceremony. In his speech, he said the world is facing a "severe security crisis, including the nuclear threat from North Korea," and that the question is how to overcome the crisis. Yoon then stated that trilateral cooperation with the United States and Japan has become more important than ever to overcome the security crisis.
Regarding the historical issues between Japan and South Korea, Yoon said that history must not be forgotten, whether it is glorious or shameful and sad. However, he also emphasized looking to the future, saying, "Today is a day not only to look back on the unfortunate past, but also to think about what we should do for future prosperity."
South Korean presidents have often made demands of Japan at past March First Independence Movement ceremonies. Japan-Korea relations continued to deteriorate during former President Moon Jae-in's tenure, with Moon insisting last year, "Japan must squarely face history and be humble before it."
In his speech, Yoon clearly positioned Japan as a partner in cooperation, not something to counter. On Aug. 15 last year, during the Liberation Day ceremony commemorating Korean Peninsula's liberation from Japan's colonial rule, Yoon said, "Japan is our partner as we face common threats that challenge the freedom of global citizens.
In Wednesday's speech, Yoon did not refer to the issue of former wartime requisitioned workers, presumably because he took into consideration the backlash in South Korea over the South Korean government's proposal that a South Korean foundation shoulder the payment of compensation to the plaintiffs on behalf of the defendant Japanese companies.
Some of the plaintiffs, who oppose the South Korean government's solution, were to hold a protest in central Seoul on Wednesday afternoon, demanding an apology from the Japanese side. They were scheduled to march to the Japanese Embassy.
Some lawmakers of the Democratic Party of Korea, the largest leftist opposition party, were also expected to participate in the protest.
Add TheJapanNews to your Google News feed.