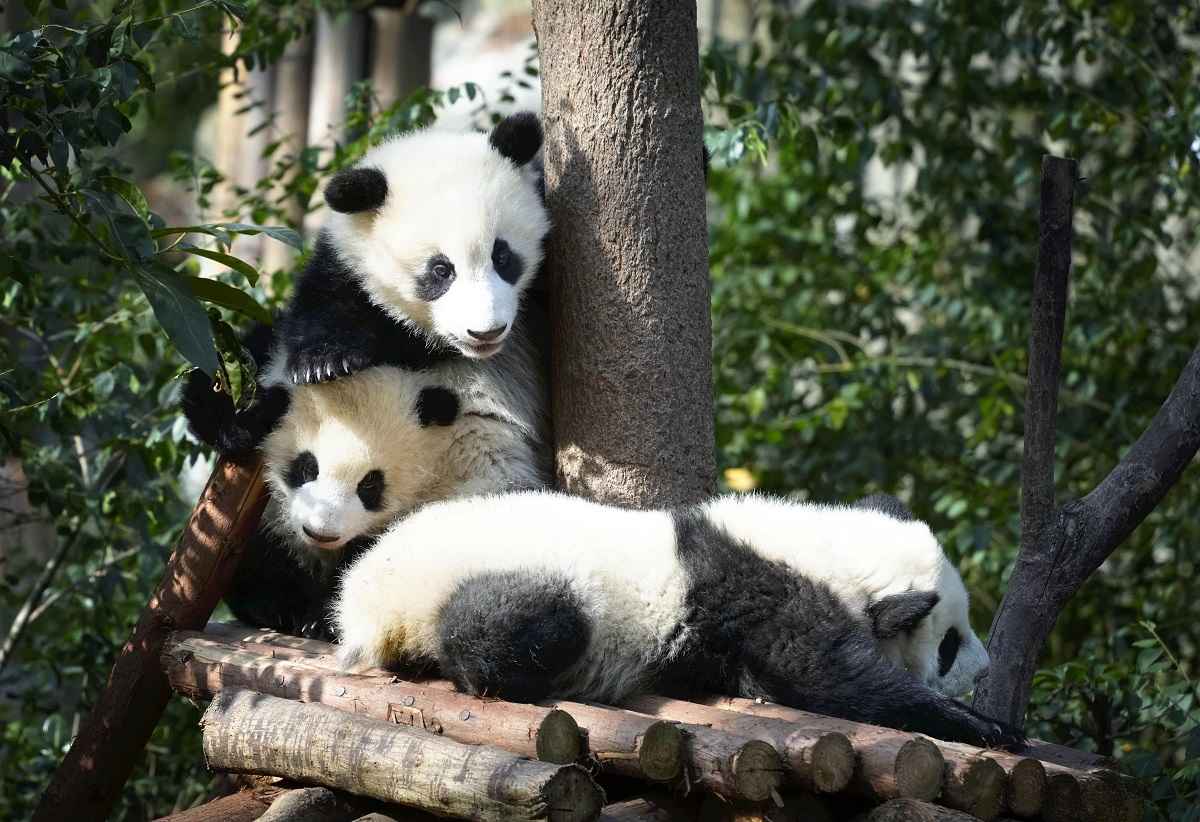 7:00 JST, February 26, 2023
On a brisk January day in China's Guangdong Province, the giant panda Shuhin goes about his business at the Shenzhen Safari Park.
Few of the visitors watching the cuddly beast munch on bamboo are aware that he was actually born in Japan, one of male twins whose early life was spent at the Adventure World theme park in Shirahama, Wakayama Prefecture. Since he was "returned" to China in 2007, they call to him using the Chinese pronunciation of his name, Qiubang.
"I didn't know he was from Japan," said a 42-year-old woman, who was visiting with her 7-year-old child. "He is adorable and will help promote China-Japan friendship."
Panda diplomacy has long played a key role in shoring up relations between the Asian neighbors, and was back in the news recently when four pandas were recently repatriated to China, much to the chagrin of adoring fans in Japan.
The shipping of Xiang Xiang, born and raised at Tokyo's Ueno Zoological Gardens, and Eimei and his two daughters Ouhin and Touhin from Adventure World, brings the total number of pandas returned from Japan to China to 15.
The exchanges help play a role in preserving the species through breeding, while also providing an opportunity to deepen bilateral relations in a broader sense.
Eimei, Ouhin and Touhin have been relocated to the Chengdu Research Base of Giant Panda Breeding in Chengdu, Sichuan Province, which has extensive experience in getting pandas returned from overseas to breed. "We have the know-how cultivated over the years," said an official confidently.
The change in environment during relocation to China can be very stressful for the pandas, the official said, sometimes affecting their appetite and ability to absorb nutrients. The facility closely watches their feeding, taking blood tests to measure the levels of vitamins and minerals and keeping tabs on their general health.
Bamboo, the staple of the panda diet, differs between Shirahama and Sichuan Province, but the facility will ensure that until they get accustomed to their new home, snacks, fruits and other food will be the same as what they ate in Shirahama. When they show signs of stress, such as a loss of appetite, they will be given jute bags filled with straw as toys to ease their tension.
One big adjustment is the change to a Chinese name, to which they are gradually trained to respond. Even so, it is believed that they never forget the Japan in which they were born and bred.
According to Yuka Shinagawa, a 41-year-old zookeeper at Adventure World, a colleague had a remarkable reunion in Chengdu in the autumn of 2016 with Meihin, a female panda born in Shirahama.
Even though three years had passed since her return, Meihin came in response to hearing her name called in Japanese. Meihin had also just given birth at the time. The cub's face shape was similar to that of pandas raised in Shirahama. "We are proud that [the Shirahama family] has a link to the next generation," Shinagawa said.
Research on reproduction
It is not so long ago the panda was in serious danger of extinction.
China decided to loan the animal to other countries for the purpose of "research on breeding and upbringing" with the objective of safeguarding the species by dispersing it overseas. As part of the agreement between China and the receiving country, offspring born outside of the country would also be subject to return.
The cooperative relationship between the breeding staffs in Shirahama and Chengdu is strong, and Japan and China have worked together in support of the species in the 30 years since Eimei's arrival in Shirahama in 1994.
"It is a deep bond," said a spokesperson for Adventure World. "We have worked hard together with the shared goal of having the pandas prosper."
Initially, a Chinese staff member was stationed year-round in Shirahama. Now, the local staff keeps the Chinese side informed with a biweekly report on the pandas' condition, while seeking input from their counterparts. Communication is through the Chinese social media app WeChat. When the female panda Fuhin was born in 2020, Chinese staff were unable to visit Japan due to the pandemic, so a chat group was created and the two sides frequently interacted using translation software.
Effective diplomats
An official at the Chinese Consulate-General in Osaka describes the pandas as their "predecessors" in the diplomatic service.
The consulate has been promoting exchanges with the female panda Tan Tan's home of Oji Zoo in Kobe, such as hosting get-togethers for Tan Tan fans and producing original anime-style goods.
"I hope Japanese people will shift from 'panda love' to 'human love' as they think about the people of China, the pandas' home country," said the official.
The recent return of the four pandas, however, comes amid a cooling of Japan-China relations.
Day after day, the Ueno Zoo received calls from people pleading for it not to return Xiang Xiang, and posts on social media were filled with comments, such as "This is unbearable," "I miss her" and "Do you really have to return her?"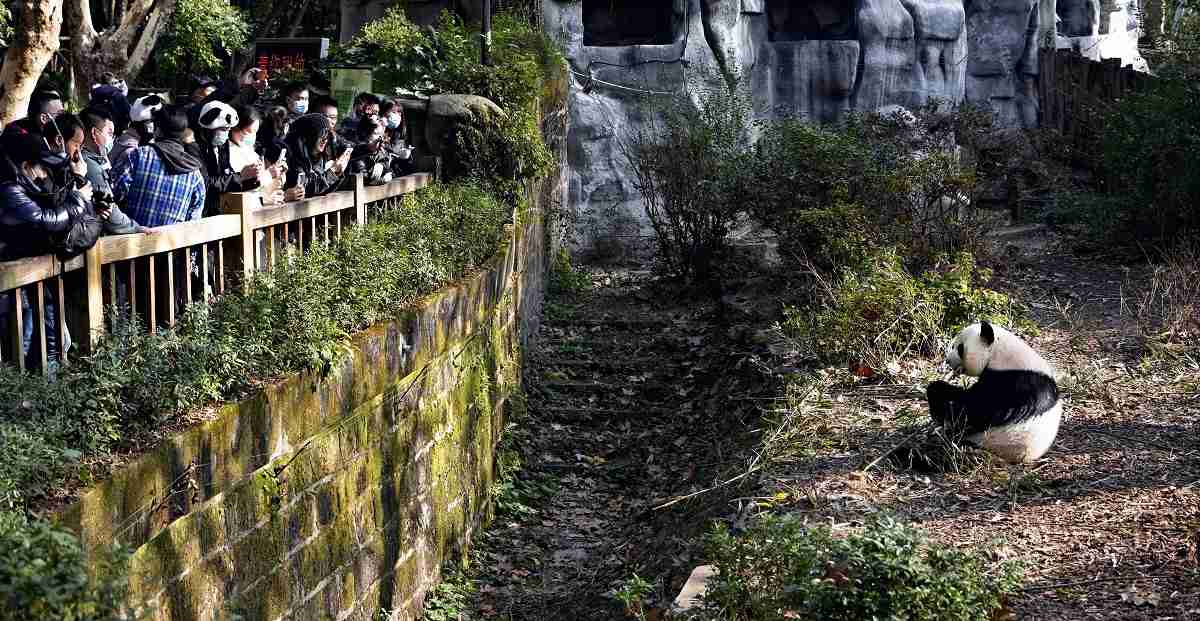 Political tones
From the 1940s, China started loaning pandas to the United States, the Soviet Union and other countries for diplomatic purposes.
In Japan, the panda pair of Kang Kang and Lan Lan arrived in Ueno in 1972 and became a symbol of friendship between the two countries. Since that time, however, China's panda policy began to take on more political tones.
"We don't want people to think we are using pandas like tools," said a Chinese government source, keeping to the Chinese government line that consistently resists referring to it as "panda diplomacy."
However, one Japanese government source points out that the opposite is true.
Until a few years ago, negotiations on the loan of pandas were conducted with Chinese officials from the Foreign Ministry, the Internal Affairs and Communications Ministry, and the Environment Ministry. The internal ministry's involvement was due to its role in regional revitalization, while the Environment Ministry participated from the viewpoint of nature conservation.
The source said the Japanese government had come to recognize that China's decisions are "ultimately influenced by diplomatic relations," and that it made the Foreign Ministry the sole negotiating entity.
Hopeful for replacements
Of more immediate concern in Japan is how will Eimei, the only male panda in Shirahama, be replaced, and what will happen when it is time for Tan Tan to be relocated to China. Hoping to ride the popularity of pandas, zoos in Miyagi, Ibaraki and Akita prefectures have begun lobbying to get ones of their own.
In the case of Miyagi's zoo, then Chinese Premier Wen Jiabao assured that he would actively pursue the matter during a visit to Japan after the 2011 Great East Japan Earthquake.
However, since bilateral relations began deteriorating over the Senkaku Islands in Okinawa Prefecture, the loan program is "in essence currently suspended," according to a Japanese government source.
"Pandas, once a symbol of friendship, have now become a barometer of Japan-China relations." said Masaki Ienaga, an associate professor at Tokyo Woman's Christian University and author of a book on China's panda diplomacy.
"Even amid worsening relations between Japan and China, if they are able to get together to talk about pandas, we can take it to mean that the situation is not at rock-bottom."
Ienaga added that his focus will now be on whether China will agree to concrete discussions about future loans of pandas that are so eagerly awaited by Japan.
Add TheJapanNews to your Google News feed.