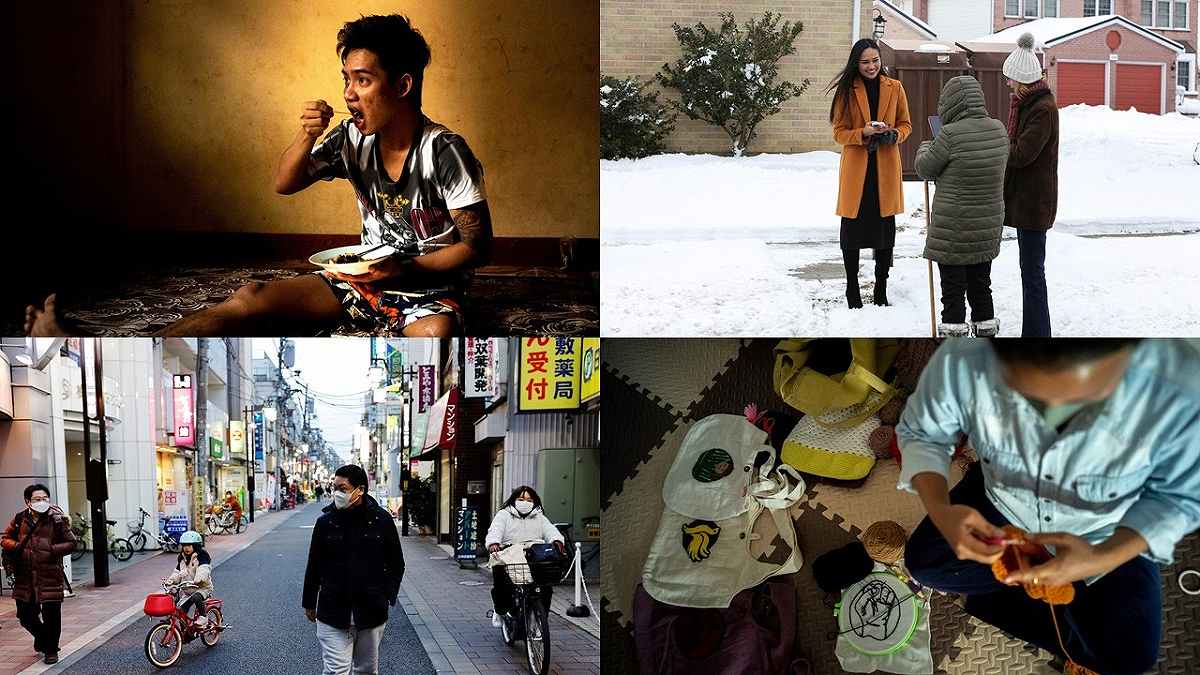 15:00 JST, February 11, 2023
Two years after Myanmar's military coup, a young factory worker-turned-resistance fighter mourns the loss of his leg in battle. A former diplomat has not seen his family in four years. A beauty queen adjusts to a new life in wintry Canada. And an exiled teacher dreams of returning to school.
The Feb. 1, 2021 coup, which unseated Nobel laureate Aung San Suu Kyi's elected government, has left a trail of upended lives in its wake.
U.S-based conflict-monitoring group Acled says about 19,000 people died last year as a crackdown on protests led many to take up arms against the military.
Some 1.2 million people have been displaced and over 70,000 have left the country, according to the United Nations, which has accused the military of war crimes and crimes against humanity.
Myanmar's military says it is carrying out a legitimate campaign against "terrorists." It did not respond to requests for comment by Reuters.
The stories of four people reflect a crisis the U.N. special envoy recently warned was taking a "catastrophic toll" on the population.
The resistance fighter
Aye Chan heard the rat-tat-tat of gunfire followed by an explosion.
"I didn't know if I had been hit or not," the 21-year-old told Reuters, recalling the military attack last year that cost him his leg.
When he tried to stand, his legs didn't work. A comrade carried him to a hospital where he awoke to find one had been amputated from the knee down.
A factory worker making instant noodles before the coup, he had been part of the massive crowds which took to the streets to demand democracy be restored after the coup.
When protest groups began taking up arms, he joined them.
The first time on the frontlines, his heart was pounding.
"Then I looked around at my comrades and they were smiling and laughing. I was not afraid."
While morale among the resistance troops is high, he said, they are outmatched by a well-equipped army.
"When they shoot, they shoot continuously, we can't even raise our head," he said. "We need to save bullets as well."
Now, he spends most days sleeping, cooking and sharing food with friends. "I try to live my life as happily as I can," he said. "I can't do the things I did before."
Reuters is not disclosing his whereabouts for security reasons.
He has no regrets about joining the resistance.
"If I recover enough, I will go back to war. This is until the end."
The diplomat
Aung Soe Moe, 52, was the first secretary in Myanmar's embassy in Japan when the coup happened.
A month later, he joined hundreds of thousands of government workers who quit to join the civil disobedience movement, which aimed to cripple the military's ability to govern.
His wife, stuck in Myanmar with his daughter after the COVID-19 pandemic, encouraged him to speak out. They later fled across the border to Thailand, where many from Myanmar have sought refuge but have been trapped without documents. He has not seen them since 2019.
Alone in Tokyo, he had to move out of his plush three-bed apartment in the embassy grounds. With his source of income gone, other Myanmar residents in Japan offered money to cover his basics and rent for a cramped studio flat.
Japan's government extended Aung Soe Moe's diplomatic visa so he could remain in Tokyo, but he can't work and that visa expires in July. Japan's foreign ministry declined to comment on his future status.
"I suffered a lot but there is nothing worse than losing the future of the people in Myanmar," he told Reuters.
He volunteers a few days a week doing administrative tasks such as writing social media posts for Myanmar's National Unity Government — a parallel civilian government set up after the coup.
He is worried the world will forget about Myanmar, especially since the war in Ukraine.
"But the Myanmar people have not given up on the truth," he said. "We will never give up!"
The beauty queen
When the military seized power, 23-year-old Han Lay was a model about to take part in an international beauty contest in Thailand.
After protesting with friends, she decided to use her platform to speak about Myanmar. The night before, she couldn't sleep with excitement and worry, she said.
On the stage, she fought back tears as she spoke about military violence on a day when more than 140 demonstrators were killed. The clip went viral.
In Myanmar, the military charged her with sedition.
She was detained at an airport in Bangkok for several days, pleading on social media not to be sent back to Myanmar.
Eventually she flew to Canada and settled in London, Ontario, where she lives with a Burmese-Canadian family, refugees from the 1988 democracy uprising also crushed by the military.
She said she had been lonely when she first arrived but was adjusting.
"I was born in Myanmar, and my family, my friends, and my future, everything [is] in Myanmar … I could not have a chance to meet them, I miss them every day," she said.
The teacher
A middle-school teacher has been living in a Thai border town since fleeing arrest in Myanmar last year.
A slight woman with long black hair, she joined the civil disobedience movement (CDM) that sprang up after the coup. She asked not to be named, for fear of military reprisals.
"I knew that my life would become difficult if I joined CDM," she said. "But if we don't revolt, it will not be OK for our future."
She joined street protests wearing her green and white teacher uniform, and fled the country after the crackdown.
Like many Myanmar refugees in Thailand, she is undocumented and lives in fear of arrest.
She ekes out a living crocheting bags and clothing, earning less than $10 a week, and relies on food donations from the parallel civilian government.
"I will be a CDM-er til the end," she said. "A person needs to go through both good times and bad times.
Her green and white uniform is safe in Myanmar, she said, neatly stored, in case of her return.
Add TheJapanNews to your Google News feed.