Myanmar's Road Back to Democracy Unclear with China, Russia Backing Junta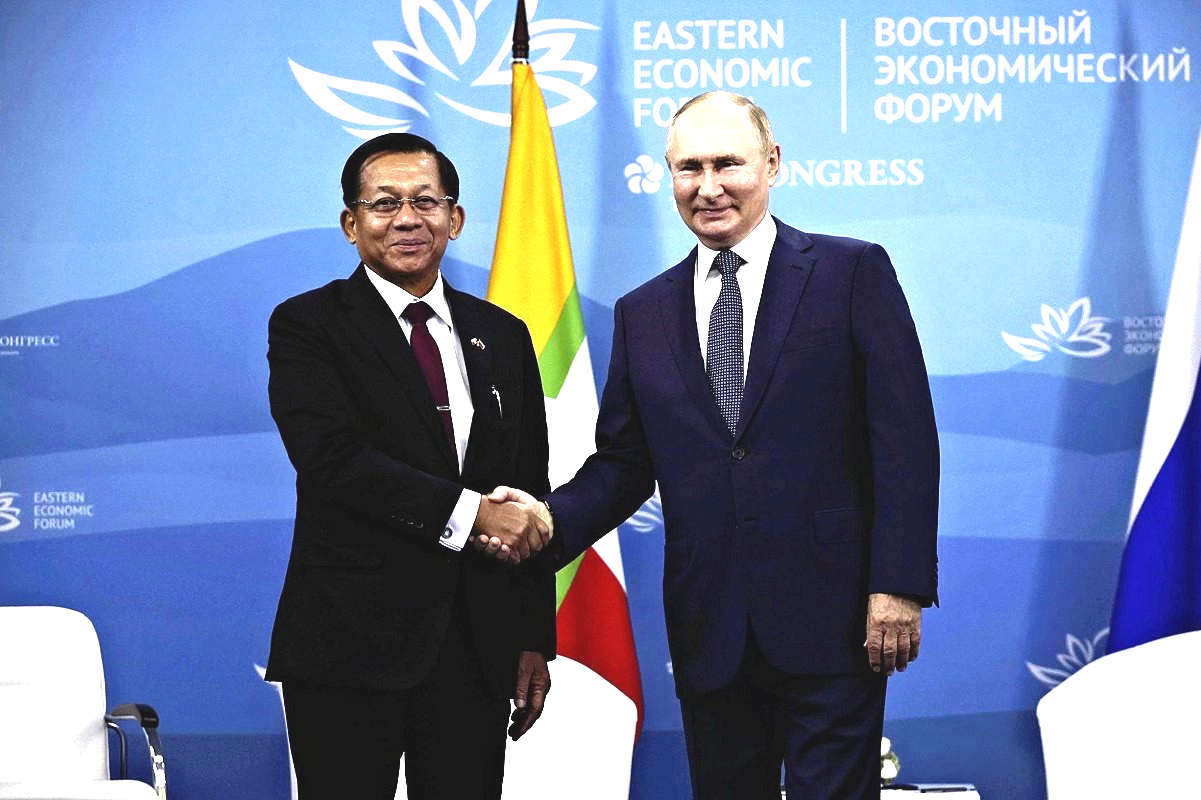 21:00 JST, February 2, 2023
YANGON — Wednesday marked two years since Myanmar's military launched a coup. Western countries have continued to impose economic sanctions against the military, but Myanmar's road to democracy remains unclear as the international community is not aligned in taking action.
Myanmar's military is strengthening its ties with Russia, which faces deepened international isolation due to its invasion of Ukraine. Russian President Vladimir Putin sent a congratulatory telegram on Myanmar's independence day on Jan. 4, saying that he was convinced that the two countries would develop bilateral relations further.
Russia is an important arms supplier for Myanmar's military. According to the Myanmar Witness, a research institute based in Britain, at least six fighter jets in 2021 and four in 2022 were delivered from Russia. All aircraft used in the Myanmar military's operations since the coup are said to have been supplied by Russia and China. They are believed to have been used in air strikes against the bases of ethnic minority armed groups and democratic forces.
China also has close ties with Myanmar's military and is believed to be increasing its investments in infrastructure such as solar power generation.
ASEAN members not unified
This year, the Association of Southeast Asian Nations, of which Myanmar is a member, is chaired this year by Indonesia, a country whose government is critical of Myanmar's military and calls for a cessation of violence.
However, Thailand, where a military-led government continues to hold power, held talks with ministers appointed by Myanmar's junta. Cambodia has also taken a conciliatory stance toward the junta with Prime Minister Hun Sen visiting Myanmar, where he met with top military commander Gen. Min Aung Hlaing.
Unanimity is the principle rule among ASEAN members, so there is a strong view that no significant progress on Myanmar's democratization can be expected, according to diplomatic sources.
Canada, the United Kingdom, the United States and other countries have maintained sanctions that prohibit transactions with companies affiliated with Myanmar's military. However, the sanctions are said not to have much impact on assets of the junta's senior figures as Western countries do not have many transactions with Myanmar to begin with. Other countries, such as China, India, Russia and Thailand, have continued to do business with Myanmar even after the coup, providing loopholes. Therefore, the sanctions have not created sufficient pressure to force the junta to change its course.
Meanwhile, democratic forces have focused on the Burma Act passed by the U.S. Congress last year to support democratization in Myanmar. Under the law, the United States pledges to promote direct dialogue with the National Unity Government, which was established by democratic forces to counter the junta, as well as to provide humanitarian assistance and support for activities that contribute to democratization.
'Fake' election
Myanmar's military government decided Wednesday to extend a state of emergency. According to diplomatic sources, behind the decision was the junta's inability to maintain security in the country as democratic forces continue to resist with the weapons they have.
The junta intends to hold a general election after the state of emergency is lifted and aims to maintain power through the victory of its affiliated Union Solidarity and Development Party (USDP).
In past general elections, even though the USDP won about 30% of all votes cast, it won only about 10% of all parliamentary seats because of the single-seat constituency system. However, the junta is expected to have an advantage in the next election as a proportional representation system has now been adopted. In January, the military government also announced the introduction of a party registration law. The minimum number of party members required under the law has been increased from 1,000 to 100,000 in an apparent attempt to exclude small parties.
The National League for Democracy (NLD), led by Aung San Suu Kyi, who has been detained since the coup, has declared it will not participate in the military-led election, calling it "fake." However, the NLD may be forcibly dissolved if it does not register under the law. Since being detained in the coup, Suu Kyi has been prosecuted and sentenced to a total of 33 years for charges such as violation of the electoral management law. Currently, she is believed to be in prison in Naypyitaw, making her election campaign hopeless.
Add TheJapanNews to your Google News feed.