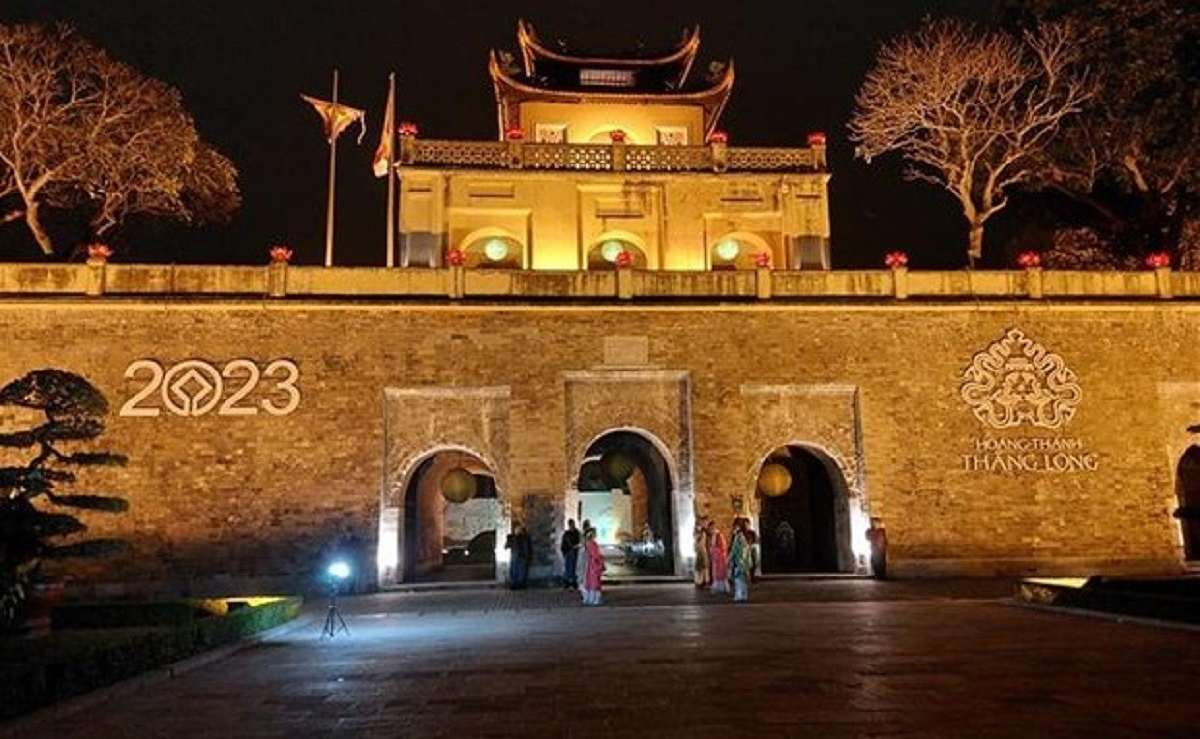 15:00 JST, January 16, 2023
Hanoi's ancient Thang Long Imperial Citadel has launched a night tour for foreign tourists.
The tour will start from Doan Mon (Main Gate), the entrance to cam thanh (Forbidden Palace), where the emperor's residence was. Attendees can take photos with the "guardians" and "palace maidens" before enjoying an art performance featuring ancient dances on glass floors at the Doan Mon archaeological site.
The tour then takes tourists to the gallery "Thang Long — Ha Noi, A Thousand Years of History from the Underground," which gives them a chance to offer incense to the 52 kings at Kinh Thien Palace — the main spot of the ancient citadel. Tour members can have a chance to learn about artifacts from the Ly, Tran and Le dynasties presented at the gallery.
Visitors to the capital can enjoy a 120-minute night tour, which begins at 6 p.m. every Tuesday and Thursday, or during a prebooked tour schedule. The tour also includes a visit to the archaeological site on 18 Hoang Dieu Street, which has millions of artifacts dating back 1,300 years, contributing to the great value and uniqueness of the relic.
Tourists then will join to play the game "Decoding the Imperial Citadel of Thang Long." Several signature artifacts of the citadel will be shown by laser on archaeological remains for visitors to decipher.
In addition, foreign tourists will enjoy a royal meal under the old Bodhi trees. Joining the tour, they will be given souvenir gifts representing luck and prosperity.
Last April, when Vietnam fully reopened to tourism, the Thang Long — Ha Noi Heritage Conservation Center launched a night tour for domestic visitors every weekend, a move that attendees praised.
The Thang Long Imperial Citadel, a complex of imperial buildings, was first constructed in 1011 under the reign of King Ly Thai To of the Ly dynasty (1009-1225). It was placed on the UNESCO list in August 2010. It was a power center for over a thousand years of Vietnamese history and unique evidence of Vietnamese civilization during the development of monarchies in Southeast Asia and East Asia.
Add TheJapanNews to your Google News feed.