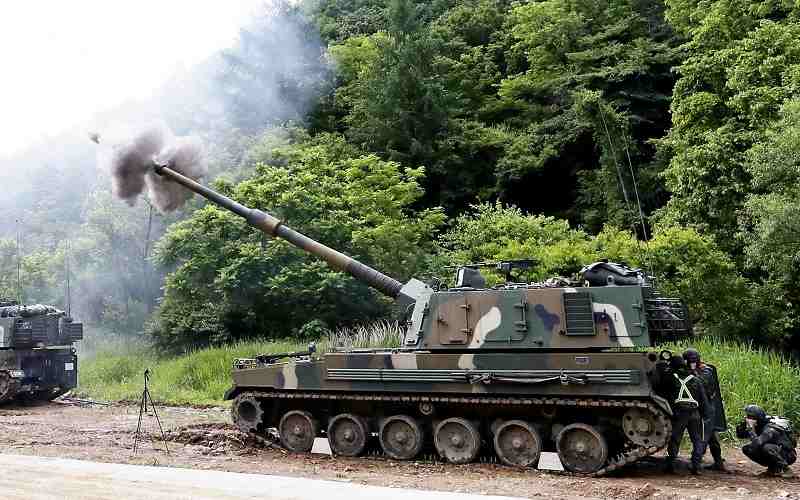 14:37 JST, August 11, 2022
SEOUL — South Korea, which has been fostering its defense industry to prepare against the threat from North Korea, is having a growing presence as an arms exporter.
As Russia's aggressive action against Ukraine becomes protracted, South Korea has been striving to increase orders for its weaponry from member countries of the North Atlantic Treaty Organization (NATO), by getting the public and private sectors to work together.
In April, armed forces officials from Australia, Estonia, Finland and Norway visited a facility of munitions firm Hanwha Defense Co. in Changwon, South Korea, and inspected the manufacturing process for K9 self-propelled howitzers (SPHs).
These four countries are K9 customers. The officials were accompanied on their visit by officials in charge at the Defense Acquisition Program Administration of South Korea. The company quoted an army colonel from Finland who said, "They [the K9 SPHs] are superb in terms of firepower, maneuverability and defensive strength."
The K9 has been deployed in preparation for battle near the border with North Korea, in case of a contingency on the Korean Peninsula. It has a firing range of 40 kilometers, with a maximum rate of fire of six to eight rounds per minute.
South Korea started exporting the K9 in 2001 and has since exported it to eight countries, including India, Poland and Turkey. With performance on par with the rival SPHs made by Germany, its relatively low prices have been rated highly on the international market.
Since the 1970s, South Korea has advocated building a self-reliant national defense capability, and developing its defense industry has been a national strategy. The country has also been making efforts to sell destroyers, K2 main battle tanks and FA-50 light combat aircraft to foreign countries.
The country announced in January that it had signed a deal with the United Arab Emirates to export the Cheongung II missile interceptors.
The value of exports made last year by South Korea's major munitions firms totaled about $7 billion (about ¥920 billion), a record high. The outlays on defense research and development this year totaled about 1.48 trillion won (about ¥148 billion), up 76% from a year earlier and exceeding 1 trillion won for the first time.
High-level deals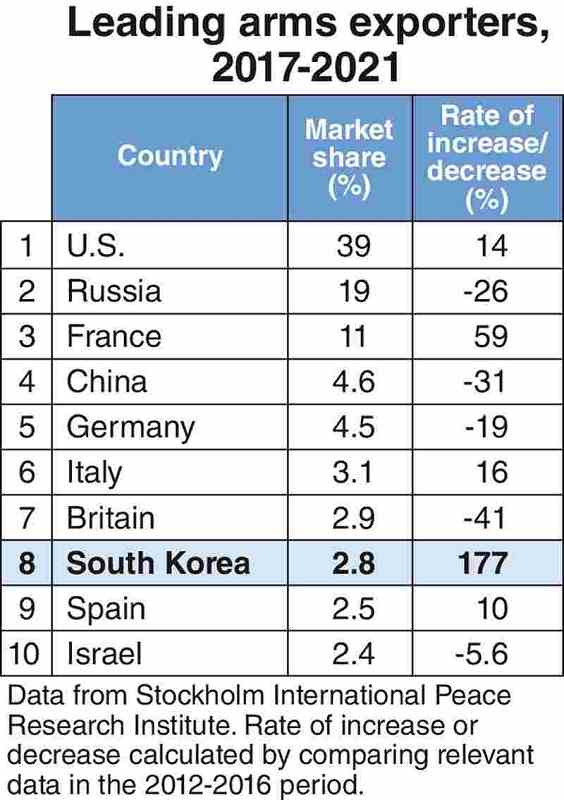 According to the Stockholm International Peace Research Institute (SIPRI), South Korea was the world's No. 8 arms exporter in the 2017-2021 period. The South Korean government led by President Yoon Suk-yeol has a target of making the country the world's No. 3 or 4 arms exporter and intends to make further efforts to sell its artillery in the European market in particular.
Since Russia annexed Crimea in 2014, South Korea has been cooperating with European countries in the defense industry. Following Russia's invasion of Ukraine, European countries have boosted their defense spending. During the NATO summit in Spain in June, nonmember South Korea was invited and Yoon marketed Korean weapons at the highest level.
In late July, the Polish government announced that it had signed a deal to purchase about 600 armored howitzers, about 980 tanks and 48 fighter jets from South Korea. According to South Korean media, the value of orders received totaled more than 10 trillion won (about ¥1 trillion).
Referencing the threat posed by Russia, Polish Deputy Prime Minister Mariusz Blaszczak said that these weapons would become very important in ground warfare. As Poland has provided Ukraine with a large number of tanks to help Kyiv fight the Russian invasion, reinforcing its own weaponry has become a matter of urgency.
An official at the Presidential Office of South Korea said, "Due to rapid changes in the international situation, the demand [for arms] has been rising fast. Our efforts in the next two to three years will determine the global market 20 to 30 years from now."
Add TheJapanNews to your Google News feed.