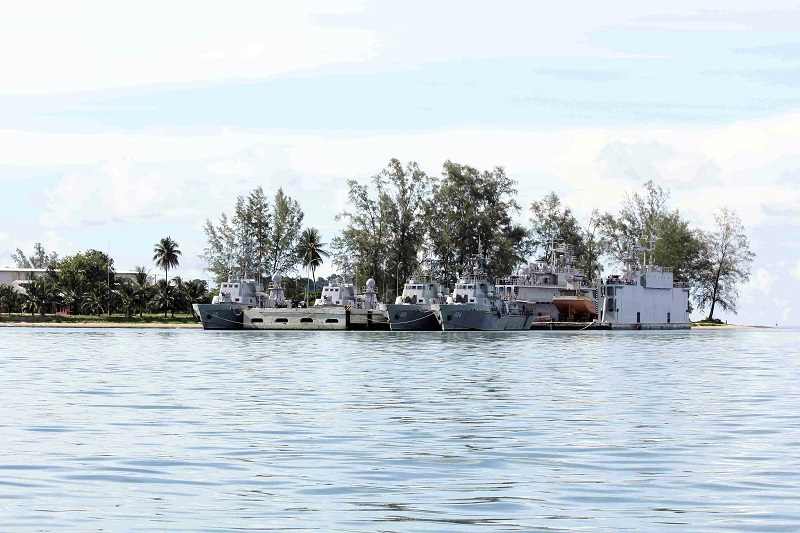 1:00 JST, August 7, 2022
WASHINGTON / BEIJING — The United States is becoming increasingly concerned that the Chinese military is moving to establish supply bases and other footholds around the globe through infrastructure investments under its Belt and Road mega-economic zone initiative in order to expand its sphere of influence. China is thought to be aiming to improve its ability to deploy troops to defend sea lanes and engage in combat.
The U.S.-China Economic and Security Review Commission, a U.S. congressional advisory body, stated in its annual report released in December 2020 that the Chinese military in the next 10 to 15 years "aims to be capable of fighting a limited war overseas to protect its interests in countries participating in the Belt and Road Initiative," and that by mid-century, it "aims to be capable of rapidly deploying forces anywhere in the world."
The report stated that there were 94 ports around the world partially owned or operated by Chinese firms as of February 2020, and it expressed concern over the possibility of these ports being used as footholds for the Chinese military's overseas deployments.
Washington is becoming more convinced that Beijing is aiming to develop military facilities and bases abroad in addition to the "dual-use" of foreign commercial ports and airports.
The U.S. Defense Department in a 2021 report titled "Military and Security Developments Involving the People's Republic of China" listed 14 countries — including Cambodia, Myanmar, Sri Lanka, the United Arab Emirates and Kenya — as locations that the Chinese military has considered for developing "bases or military logistics facilities."
Regarding China's move to assist the development of Cambodia's Ream Naval Base, the report stated that the move indicates that China's "overseas basing strategy has diversified."
Capacity improvement?
In 2017, China established an overseas military base at Doraleh Port in the East African nation of Djibouti. Currently it is China's only overseas base and has been used to supply destroyers and other vessels dispatched to counter piracy off the coast of Somalia. A U.S. military official said in April 2021 that China had been expanding the port's pier, which could now host a port call by a Chinese aircraft carrier.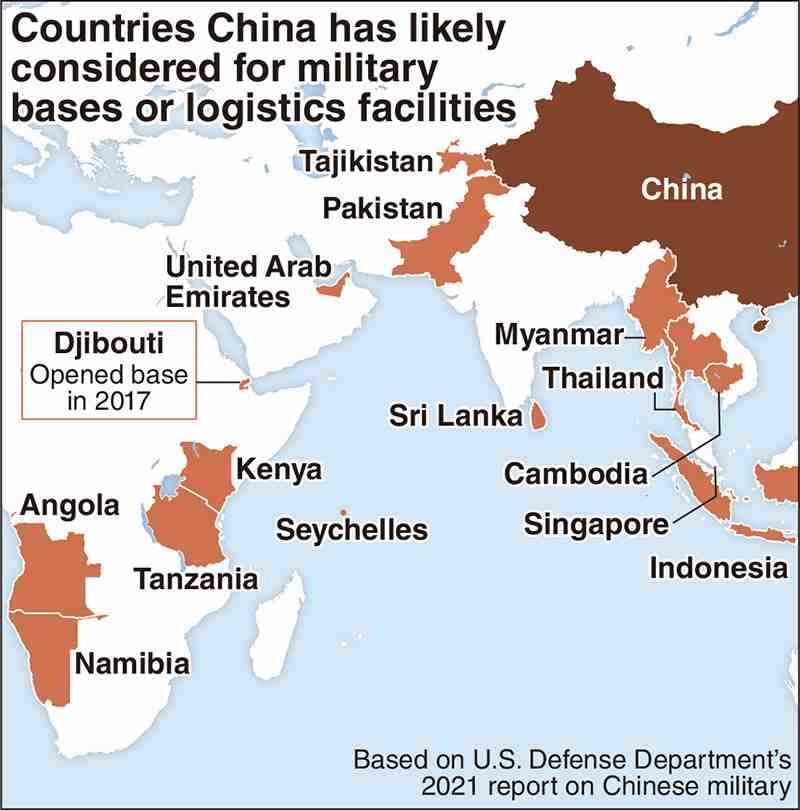 Once a base is established, it is highly likely that it will be expanded over time and its purpose transformed.
In the Indian Ocean, where China values sea-lanes to the Middle East, Beijing has been encouraging the development of ports in Sri Lanka, Pakistan and Bangladesh. It is part of China's maritime strategy dubbed the "String of Pearls," linked to the aim of restraining India, which has border disputes with China.
China has effectively gained control of the southern Sri Lankan port of Hambantota, which was developed as part of the Belt and Road initiative, after Sri Lanka became unable to repay its debts.
China is also extending its reach into Pacific island countries. A security agreement it signed with the Solomon Islands in April is believed to allow China to dispatch its military and security forces and have naval vessels call there, raising concerns that it could become a new Chinese military foothold.
For China, the establishment of a military foothold in the South Pacific would enable it to conduct operations in waters beyond the "second island chain" — which stretches from Japan's Izu Islands to Guam and Papua New Guinea — and will lead to improving its ability to continue fighting in the event of an emergency. It will also make it easier for China to constrain moves by Australia, which is strengthening ties with Japan and the United States.
U.S. keeps busy
The United States is not sitting idly by. It aims to counter China by cooperating with Japan, Europe and other countries on infrastructure investment. President Joe Biden launched the Partnership for Global Infrastructure and Investment with the leaders of the Group of Seven advanced economies on June 26 at the G7 summit in Germany.
The PGII is a framework to promote investment in infrastructure projects in developing nations, and it aims to mobilize a total of $600 billion (about ¥81 trillion) from the G7 countries, including private-sector funds, in infrastructure investment by 2027.
"The democratic nations of the G7 would step up — step up and provide financing for quality, high-standard, sustainable infrastructure in developing and middle-income countries," Biden declared.
Washington is also accelerating efforts to strengthen ties with Pacific island nations. In June, the United States, along with Japan, Britain and Australia, announced the establishment of the Partners in the Blue Pacific initiative to strengthen cooperation for supporting the Pacific Island nations.
Vice President Kamala Harris virtually attended the Pacific Islands Forum leaders' meeting on July 12 and announced the U.S. intention to open embassies in Kiribati and Tonga in addition to an already announced reopening plan for an embassy in the Solomon Islands.
Add TheJapanNews to your Google News feed.