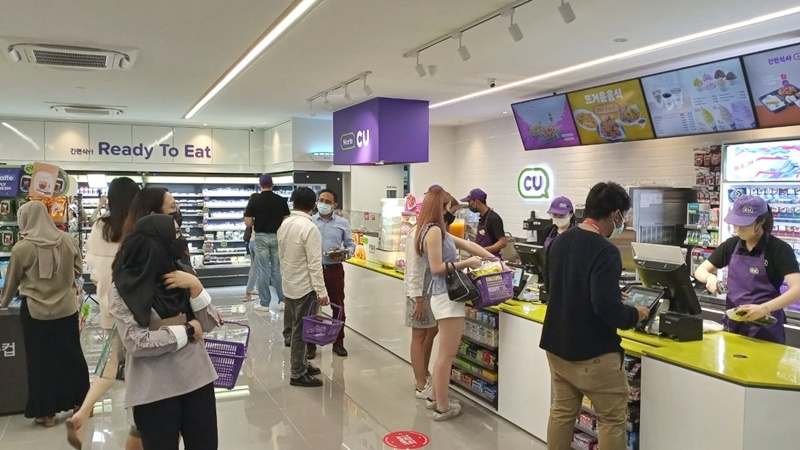 17:39 JST, July 23, 2022
South Korean convenience stores are actively making forays into Malaysia, a lucrative market based on growing local demand for consumer goods and convenience stores, along with the Malaysian public's great interest in Korean food.
Korean convenience store chain GS25 said on July 11 it has partnered with Malaysian retail giant KK Group to open the first GS25 store in Malaysia next year. The two agreed to expand to 500 locations in five years.
According to a report from GS25, Malaysia's annual growth rate for consumer goods is 17%, while its convenience store business is showing 10% growth on average.
"Among Southeast Asian countries, Malaysia has the most advanced system for operating convenience stores and the greatest need to boost the business," a GS25 official said.
GS25 will receive royalty payments for licensing the brand to KK Group, which will be in charge of local operations.
The Korean firm plans to launch local food products and pass on know-how in making and distributing fresh food including ready-made meals.
It will provide meal kits that come with fresh ingredients paired with recipes and food products popular in Korea.
"We will offer food delivery service and other parcel deliveries with the cheapest rates, like we do in Korea," the company said.
Malaysia is the third overseas market for GS25 to enter, after it launched stores in Vietnam in 2018 and Mongolia in 2021.
CU, another Korean convenience store chain, recently announced the opening of its 100th convenience store in Perak, northwestern Malaysia. Its first store opened in Kuala Lumpur last year. The 198-square-meter store aims to become a landmark in the local community, according to the company.
The chain operator originally aimed to open 50 branches in a year, but ultimately doubled that number. As a first in the industry for a Korean chain, CU operated 300 overseas locations.
In partnership with Mycu Retail, a subsidiary under Malaysia-based Mynews Holdings, CU currently operates branches in Kuala Lumpur, Johor Bahru, Melaka, Pulau Pinang and other major cities there. The company plans to expand its foothold to the eastern region, including Borneo, the third-largest island in the world, and to open more than 500 stores within five years.
"CU convenience stores are proving very popular in Malaysia. During the grand opening of the first branch, there was a 100-meter queue outside and 1,000-3,000 customers visited per day," the company said.
CU's Korean food products account for more than 60% of total food sales at its Malaysian branches, which include local Malaysian food. In particular, around 4,000 tteokbokki (spicy Korean rice cakes) products are sold a day, topping the list for sales.
E-mart24, a convenience store chain under Korean retail giant Shinsegae, launched its 20th store at Mitsui Outlet Park near Kuala Lumpur International Airport.
Last year, the company joined hands with United Frontiers Holdings, a Malaysian retail group, and they have set up shops featuring unique interior designs with motifs inspired by the scenery and gardens of Kuala Lumpur. The company looks to open 10 more stores for a total of 30 by the end of this year.
E-mart24's top-selling Korean snacks in its Malaysian stores account for 70% of its total sales there.
Add TheJapanNews to your Google News feed.