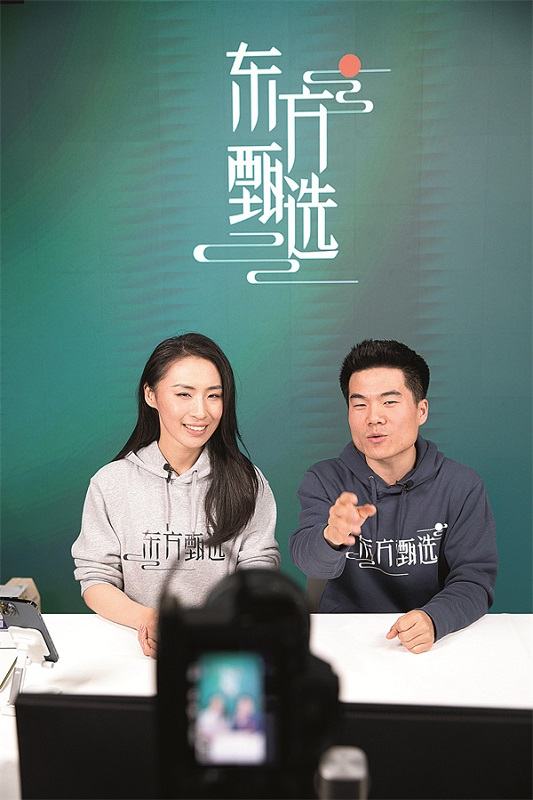 14:34 JST, July 21, 2022
When Dong Yuhui, a former English tutor at education and technology group New Oriental, first started to host livestreams selling products on the company's Douyin channel, he noticed that often there were only five viewers, which included his parents and the parents of another host.
"For a period of time, I felt quite down because I couldn't see the point of making the effort. Those were the darkest hours and now the dawn has come. I am glad that I didn't give up selling vegetables online," said Dong, 29, who's now a social media sensation.
Over a weekend in mid-June, clips of Dong introducing steaks in both Chinese and English went viral on social media as people began to notice that the channel was very different from others that typically feature hosts screaming about how low the prices of the products are. While talking about the quality of the steak, Dong also taught the viewers how to order steak in English at a restaurant.
"What I said when introducing the steaks wasn't prepared in advance. It just came out spontaneously," he said.
On Dec. 28, New Oriental launched the livestream channel Dongfang Zhenxuan, or Oriental Select, on Douyin, the Chinese name for TikTok, to sell products after it ended its tutoring business targeting primary and high school students at the end of last year. The move came after the government introduced the "double reduction" policy aiming to reduce the twin burdens on students of homework and extracurricular classes.
According to Economic View, a financial media outlet of China News Service, Dongfang Zhenxuan's Douyin account gained 1.57 million new followers in the three days from June 10. The account has over 3.37 million followers in total. Its sales volume was 17.7 million yuan ($2.64 million) over the same three days.
Furthermore, shares of Koolearn Technology Holding doubled on June 13 as investors cheered signs the Chinese education firm might also be successfully pivoting toward livestream sales.
Meanwhile, New Oriental Education& Technology Group, Koolearn's parent, also saw its stock rise as much as 25.5% on the Hong Kong Stock Exchange before closing up 13.1% on June 13.
Specializing in teaching English to senior high school students, Dong has tutored about 500,000 students over the eight years since he joined New Oriental. In 2019, he moved to Beijing from Xi'an, capital of Shaanxi Province, and became head of the English teaching department at Koolearn.
After the new policy was introduced, he was moved to his new job at Dongfang Zhenxuan as a host. "I was pretty sad knowing that I can no longer teach. It took a while for me to adjust to the new role," he said. "Former teacher, current salesman" is how he describes himself on his personal Douyin account.
But people have realized that Dong is no ordinary salesman. On June 13, while pitching dried Antarctic krill, Dong told viewers that "krill" is just one of several English nouns used to refer to shrimp and related sea creatures.
"OK, let me teach you a few words," said Dong in Mandarin while writing "lobster," "prawn," "shrimp" and "krill" in English on a small whiteboard. Comments started to flood in from viewers saying that they never expected to actually learn something from a channel that sells things. Some even said they didn't know whether they should buy things or take notes.
The viewers were also impressed with his views on different literary works including those of William Shakespeare. "I am in my comfort zone when talking about books. I can air my views about them non-stop for three days," Dong said.
After China Daily posted the story of Dong's successful transitioning on its official WeChat account on June 14, Dong left a comment saying that "as someone who started reading the paper at university, it's really unexpected to appear in a story."
Add TheJapanNews to your Google News feed.