Japan, S. Korea agree to seek early settlement of wartime labor issue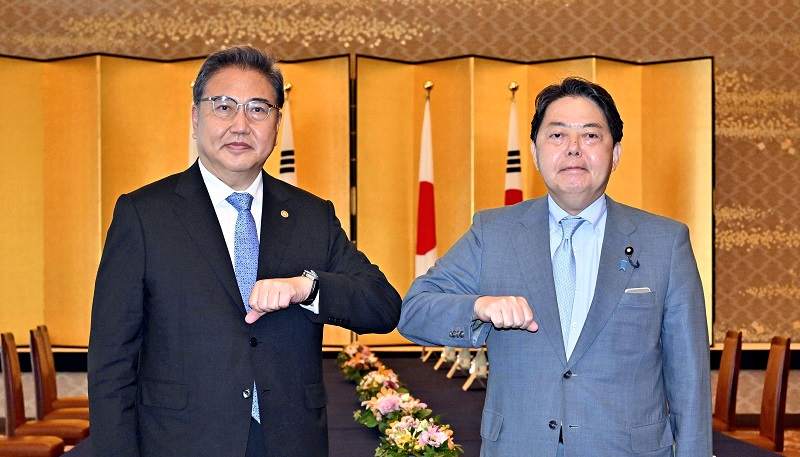 16:58 JST, July 19, 2022
Foreign Minister Yoshimasa Hayashi and his South Korean counterpart Park Jin agreed Monday that the two countries will seek an early resolution of the issue of Korean laborers requisitioned to work in Japan during World War II by Japanese companies.
During a bilateral foreign ministerial meeting held at the Foreign Ministry's Iikura Guest House in Tokyo's Azabudai district on Monday, Park told Hayashi that South Korea will strive to resolve the wartime labor issue, which is the most significant issue pending between the two countries.
With matters such as the ongoing Russian invasion of Ukraine and North Korea's nuclear and missile development in mind, Hayashi and Park reconfirmed the importance of promoting cooperation between Japan and South Korea, and among Japan, the United States and South Korea.
This was the first in-person meeting between Japanese and South Korean foreign ministers since South Korea's President Yoon Suk-yeol took office in May; the previous meeting of this kind took place in February.
It was even longer ago that Japan acted as the host for a bilateral foreign ministerial meeting with South Korea — two years and eight months ago, in November 2019. Hayashi and Park talked for about 2½ hours total on Monday, at their meeting and at a working dinner afterward.
During the talks, Hayashi stressed the necessity of developing the bilateral relationship, saying, "We need to resolve pending issues between the two countries, such as wartime labor."
South Korean courts have been moving forward with procedures to convert into cash the assets that certain Japanese companies hold in South Korea, following a South Korean Supreme Court judgment in 2018. Park said Seoul would work to devise a desirable solution before the assets are turned into cash.
Park also explained measures such as a public-private consultative body that was launched earlier this month to discuss ways to resolve the issue.
The South Korean minister expressed condolences regarding the shooting death of former Prime Minister Shinzo Abe, and Hayashi expressed his gratitude.
Hayashi and Park also agreed to condemn Russia's invasion of Ukraine and confirmed they would further promote bilateral cooperation to deal with North Korea. Park told Hayashi that South Korea supports Japan in the issue of the abduction of Japanese citizens by North Korea.
Park is scheduled to stay in Japan until Wednesday. He also had a meeting with Prime Minister Fumio Kishida on Tuesday.
The new South Korean president has expressed his willingness to improve ties with Japan but faces difficulty building a consensus within South Korea over the wartime labor issue. The assets of the Japanese companies could be turned into cash before the end of this year, and that would make it more difficult to improve bilateral relations.
Policy for N. Korea
Since Park cannot present concrete solutions in his latest visit to Japan, he has no choice but to express support for building trust in other areas than history, for example by boosting human exchanges. With both Japanese and South Korean people taking a harsh view of the historical issues between the two countries, Park aimed to create a good atmosphere as quickly as possible.
The key to these efforts is bilateral cooperation over policy regarding North Korea, a common issue between Japan and South Korea. U.S. President Joe Biden is asking Tokyo and Seoul to strengthen bilateral security cooperation.
According to sources close to the South Korean government, Park mentioned the General Security of Military Information Agreement (GSOMIA), an intelligence-sharing pact between Japan and South Korea, as well as security cooperation issues, saying that a comprehensive solution was needed.
Despite a series of missile launches by North Korea, the distrust between Japan and South Korea has not been eliminated and the GSOMIA has not been functioning. However, there were multiple factors behind Seoul's unilateral announcement that it would scrap the pact because the bilateral relationship had deteriorated.
It is difficult to pick up a single issue from the large pile and resolve it, one reason why the Yoon administration has to aim to resolve all the various problems together.
Seoul's move
The Japanese government appreciates that Park has expressed an intention to seek a solution before the assets of the Japanese companies are sold for cash in connection with the wartime labor issue.
For now, Tokyo plans to carefully watch whether the Yoon administration will be able to present a concrete solution that is acceptable for Japan, though many are skeptical. In Park's latest visit, the government held a dinner and took care not to break diplomatic protocol, but it did not disclose the statements made at the beginning of the meeting or hold a joint press conference following the talks. This is because the government did not want to create a friendly atmosphere when there is no prospect of any specific achievement regarding the wartime labor issue.
Since the inauguration of the Yoon administration in May, the government has been carefully considering the timing of a summit meeting and foreign ministerial meeting with South Korea. Both Japanese and South Korean leaders and foreign ministers were present during the North Atlantic Treaty Organization summit held at the end of June and the Group of 20 foreign ministerial meeting held on July 8.
However, an official meeting between the two countries did not take place because it was considered too early.
Conservative and other members of the ruling Liberal Democratic Party strongly argue that the government should not hold such meetings unless the South Korean government presents a solution to the wartime labor issue. The government also believed it would be difficult to hold Japan-South Korea meetings before July's House of Councillors election because such talks could trigger criticism.
The government agreed on a foreign ministerial meeting just after the upper house election due to its desire to achieve a breakthrough in the wartime labor issue at the beginning of the term of the Yoon administration, which is positive about improving ties with Japan, while its approval rating is high.
Past South Korean administrations saw declining approval rates at the end of their terms, which often drove them to take a hardline stance against Japan.
However, the approval rate for the Yoon administration has already begun declining, making it unclear whether the South Korean government will be able to make a difficult political decision on the issue. "We appreciate that South Korea's foreign minister showed a willingness to resolve the issue, but we doubt they can really present any solution," a senior Foreign Ministry official said.
Add TheJapanNews to your Google News feed.