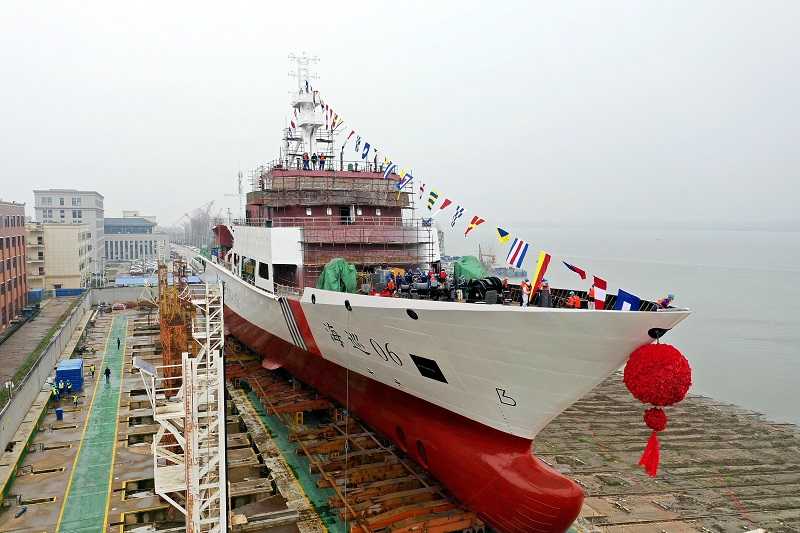 14:03 JST, July 19, 2022
BEIJING — Taiwan authorities are on alert as the Chinese Maritime Safety Administration (MSA) recently assigned its first large patrol and rescue ship to a port in Fuzhou, Fujian Province, which faces the Taiwan Strait.
The Haixun 06 is about 130 meters long, with a full-load displacement of 6,600 tons. The ship is scheduled to be in charge of patrol missions in the Taiwan Strait.
Officials belonging to China's Taiwan Affairs Office of the State Council, which is in charge of policies toward Taiwan, attended a commissioning ceremony for the ship on July 11.
According to video clips and other information publicized by the MSA, the Haixun 06 is capable of spraying water and carrying a helicopter. The MSA, which handles traffic control and maritime rescues, has emphasized the need to deploy the Haixun 06, saying many ship-related accidents have occurred in the Taiwan Strait.
In the past, the MSA also deployed a public vessel about 64 meters long to Quanzhou, Fujian Province, which likewise faces the Taiwan Strait. The Haixun 06 is twice as long as that ship.
On July 11, Taiwan authorities expressed alarm about the possibility that the Haixun 06 may conduct activities beyond the median line of the Taiwan Strait, which has been a de facto border between China and Taiwan.
A Taiwan official said the Chinese side "should not destroy the status quo of the Taiwan Strait by claiming such actions constitute law enforcement."
According to China's state-run Xinhua News Agency, a spokesperson of the Taiwan Affairs Office said "a median line does not exist," suggesting that the area of the MSA's patrols will be expanded.
Add TheJapanNews to your Google News feed.