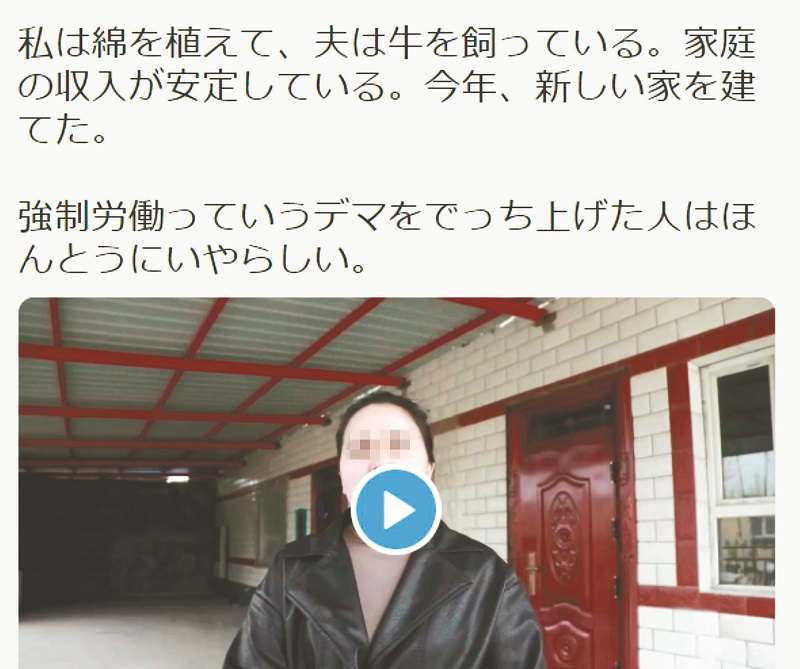 12:13 JST, July 2, 2022
Videos of self-proclaimed Uighurs denying that China has oppressed ethnic minorities in the Xinjiang Uygur Autonomous Region spread online last year, and The Yomiuri Shimbun has confirmed the existence of at least 30 videos that were posted with Japanese text attached.
People who claim to be ethnic minorities describe themselves as "happy" in the videos, posted on Twitter, which some observers say are propaganda by the Chinese government.
"Our family income is stable. We built a new house this year," the accompanying text in Japanese reads for one video. "The people who made up the false claim of forced labor are really nasty."
Another Japanese text reads: "At 20 years old, a university sophomore. Uighurs are being forced to be sterilized? Isn't that absurd?"
Such messages were posted day after day on a Twitter account that was opened in January 2021. Titled "Listen to the voices of Uighurs," they were posted along with videos, all made in a similar format, in which men and women of various ages and occupations who are believed to be residents of the Xinjiang Uygur Autonomous Region appear alone and speak. Chinese and English subtitles are attached.
The accompanying texts in Japanese were translations of statements made in the videos.
Western and other countries have criticized the Chinese government for its human rights violations against Uighurs, but the people appearing in the videos all deny that China has been repressive. The videos contain similar content, with the subjects speaking about their jobs and income and emphasizing their satisfaction with their lives. It is unknown who produced the videos.
Twitter Inc. froze 2,160 accounts connected to Uighur issues in 2021, citing suspected state involvement because organised postings were found pretending to be individual postings. Some of the accounts put up "testimonial" videos in Japanese, and the company suspended the viewing of posts on these accounts.
The Yomiuri Shimbun has examined such content in the past, using the browsing service of a U.S. nonprofit organization that collects and stores online information from around the world.
Similar videos were also spread in large numbers on Twitter and YouTube in English-speaking countries.
According to a June 2021 report by ProPublica, an organization specializing in investigative journalism, and The New York Times, more than 3,000 such videos have been found in which phrases such as "we are free" are repeatedly used.
These videos also criticized the United States for calling China's repression in Xinjiang "genocide." ProPublica and others say that the remarks made on the videos were not spontaneous and were part of an "influence campaign orchestrated by the Chinese government."
The Australian Strategic Policy Institute, which investigates Uighur issues, said in a report that a company funded by a Chinese government-affiliated firm was involved in producing the videos.
Add TheJapanNews to your Google News feed.