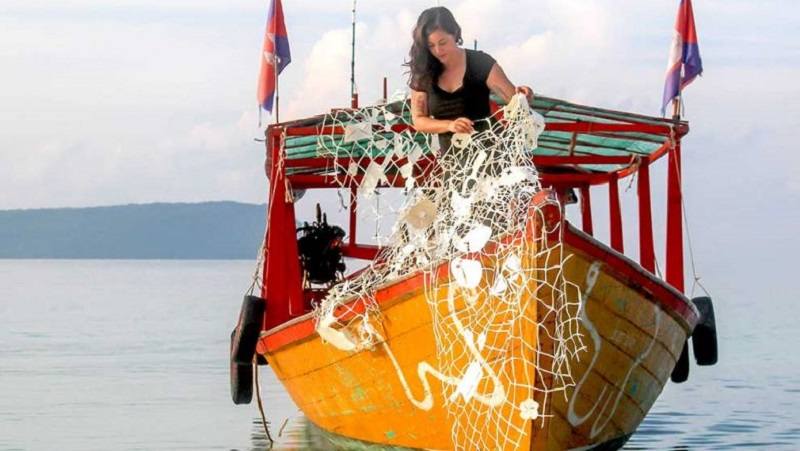 16:13 JST, June 29, 2022
Born and raised in Seattle, American artist Lauren Iida has been living in the Kingdom off and on for the past 13 years and making significant contributions to Cambodia's contemporary arts scene, which includes founding the artist's collective Open Studio Cambodia — an organization that helps mentor and support local artists — in 2018.
As an artist, Iida is known for her intricate paper cutaways like her 10-meter-long "Memory Nets," which consists of white paper silhouettes of objects that Iida says symbolize the hope, strength and resistance of her subjects.
Iida says she's been making art for as long as she can remember, starting with her very earliest childhood memories of drawing and painting. She studied art at Cornish College of the Arts in Seattle and graduated in 2014.
"Making art has always been something I love doing and I am very passionate about it," says Iida. "I think art is a powerful tool for self-expression, connection with others across language and cultural barriers, and it is a powerful tool for social change and healing."
Iida first began visiting the Kingdom in 2008 and it was around that time that she shifted from oil painting and began developing her paper cutaway technique because she didn't have the financial means to continue with oils given the cost of paint and even canvases.
Iida says she has often been inspired by Cambodians she has met, especially when they've told her their life stories, which are always fascinating and — especially for older Cambodians — often tragic.
"Many Cambodians have led very interesting lives and have very interesting perspectives, and I am always curious to learn more about them," she tells The Post.
"I try to honor the subjects of my art by creating beautiful and meaningful portraits of them, often using symbolic objects. Like my 2020 series, which was shown in the U.S., called '32 Aspects of Daily Life' — that series is essentially 32 portraits of Cambodian women," she says.
Iida says that she really loves using hand-cut paper as her primary medium because the materials are not complicated or expensive and though it can be time consuming the process itself and the end results are always very satisfying to her.
"I really like the process of simplifying scenes, people and objects into positive and negative space," says Iida.
Sometimes she adds watercolor layers to add colorful backgrounds or other details to her white cut paper compositions. She says she also really likes the paper cutting method because it's very versatile and can be done on its own or in combination with other mediums.
The artwork that she shows in galleries tends to be very small and intricately detailed pieces, but she also does her 10-meter-long "Memory Nets" pieces, which are usually intended for temporary installations outdoors.
"I've also created large-scale public artworks in cut metal or painted murals or tile mosaics and other materials that start out as models that I create in cut paper in my studio," says Iida.
Iida says cutting something from paper first to model it is easier and cleaner. She generally eschews the use of scissors and cuts her compositions using small blades like a scalpel because it allows for a level of precision similar to that of a surgeon in the operating room.
Depending on her direction for the piece, after cutting her shapes she then creates backgrounds and details with layers of ink and watercolor-washed paper, but what makes her creations worthy of hanging on any gallery's walls is her unique ability to conjure images with real presence and impact in a minimalist style somehow arrived at through minute details and intricate technique, bringing forth her visions as an artist from what would otherwise just be bits of scrap paper.
Her smaller pieces often have a lot of intricate details, which she says take a long time to cut and paint but the challenge for the larger pieces generally is continuously cutting and handling large and cumbersome rolls of papers — like with her "Memory Nets" installations, which are cut from a single piece of paper coming off one of those big rolls.
She says that "Memory Nets" is a recurring large-scale cut paper installation which she has taken around the world with her, including to many locations in Cambodia such as Koh Rong, Oddar Meanchey and Svay Rieng provinces.
"The concept behind 'Memory Nets' is that it traps all of these symbols — which are part of a language of objects sourced from different contributors each time — and they tell stories that are nostalgic or historic or form the basis for their cultural identity," Iida says.
Iida says that it depends on the artwork but most of her pieces are also very time-consuming to make in general. Sometimes, she says, she cuts paper for 10 or 12 hours per day for her art, but she doesn't find it tedious or frustrating.
"I actually love to cut paper. What might feel like a chore to others is meditative and relaxing for me," she says.
Iida's solo exhibition at ArtXchange in Seattle in January 2022 called "Citizen's Indefinite Leave" was about her Japanese American heritage and one of the darker episodes in the recent history of America and for her own family.
During World War II, approximately 120,000 people of Japanese descent were sent to prison camps in the U.S. because the government was afraid they might harbour secret loyalties to Japan and would turn into "fifth column" spies or saboteurs to further the Japanese war effort.
Some German and Italian Americans were also targeted in a similar manner, but it was far more limited — 51,000 German American citizens out of a population of 5 to 6 million German Americans were detained during the war, for example, whereas the 120,000 Japanese Americans detained amounted to virtually the entire population of Japanese Americans living in the continental U.S. at the time.
"In fact, the majority of [Japanese-Americans] imprisoned were U.S.-born, U.S. citizens who had few ties to Japan, if any," says Iida.
She says that the result of this racist policy enacted by the U.S. government was to completely ruin the livelihoods of Japanese Americans and it left a whole generation with the trauma of being incarcerated on the basis of their race and ethnic origins.
"My family has been in the United States for more than 120 years, but my grandparents were also incarcerated for the duration of the war all the same," she says. "It's a part of U.S. history that for over 50 years afterwards was never really spoken about."
One of Iida's big successes in the Kingdom is the artist's collective she founded called Open Studio Cambodia. Iida started working with other artists in 2018 in her home studio in Kampot and they became a community of Cambodian and expat artists sharing ideas and creating art together every weekend.
Through these gatherings, Iida became more aware of the needs of the Cambodian artists and the challenges they faced that the generally more affluent expat artists didn't, and she began to brainstorm ideas about how she could help them develop their careers as artists.
Iida said they mostly needed better access to art buyers or collectors, access to storage and studio space for their work and access to high-quality art supplies and materials that were often expensive or just totally unavailable in Cambodia — along with mentorship and guidance in some cases from older or more experienced artists.
"I helped the first artists I worked with frame their first high-quality artwork and I helped translate their artist statements from Khmer to English in a manner that would allow English-speaking buyers and art lovers to understand and connect with what they were trying to say," Iida explains. "Now my goal with Open Studio Cambodia as an artist collective is to provide fair and honest representation that gives them access to buyers around the world," she says.
Iida says that she has organized exhibitions for Open Studio Cambodia artists locally and in Paris, Seattle and Denver, but the pandemic slowed things down for a period, and she expects more opportunities will now gradually become available.
Iida says she's excited to see new and talented artists emerging onto the scene in Cambodia, which she feels is fertile ground for artists because people continue to value both traditional and contemporary art as an important part of Cambodia's cultural identity.
"I hope the galleries and leaders of today's Cambodian contemporary art scene take care to guide the community in an inclusive and responsible way which addresses the many varying needs of Cambodian artists with a high level of professionalism while respecting the autonomy of the uniquely Cambodian artistic sensibilities," Iida says.
Add TheJapanNews to your Google News feed.