Violence against woman who resisted sexual harassment provokes widespread anger in China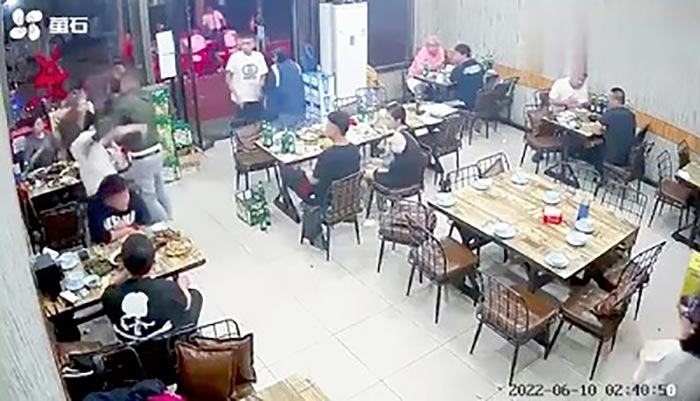 14:29 JST, June 25, 2022
BEIJING — An incident this month where a woman was violently attacked and injured by men in a restaurant in Tangshan, Hebei Province, China, has sparked widespread condemnation. In response to mounting criticism of the local police response, the Xi Jinping administration, which emphasizes "social stability," announced on Friday that it would be strict in holding authorities to account if they are found to be negligent in exposing criminal groups.
According to Chinese media, a female customer in her 30s was eating with a group of people on June 10 when a male customer addressed to her and touched her back. When the woman resisted, the man punched her, and his companion joined in the violence. Two women suffered injuries to the head, among other injuries, and were admitted to intensive care.
As the video of the assault went viral, shock spread, with people asking whether they too would become victims of violence if they resisted sexual harassment in a public place. Police arrested nine local men and women, but their slow arrival at the site drew criticism. Residents have posted a series of accusations on social media, criticizing local police for not responding to their complaints of gang brutality, and some have even alleged collusion between criminal groups and the police.
In response, provincial authorities are investigating five members of the Tangshan police department, on suspicion of a breach of discipline. On Wednesday, media reported that the government had stripped Tangshan of its honorary "National Civilized Cities" status, which is awarded to cities whose residents are deemed to be "of a high quality and highly civilized." It is believed that this punishment is aimed at the city authorities.
Add TheJapanNews to your Google News feed.