Nepal: Nepali woman extends record with 10th Everest ascent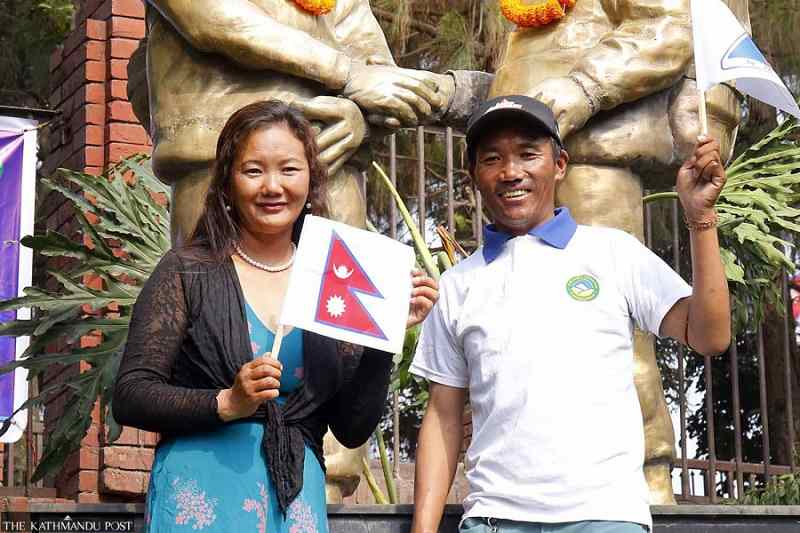 12:32 JST, June 16, 2022
As many as 150 climbers reached the summit of Everest, the world's tallest peak, on May 12 morning, with a Nepali woman climber smashing her own previous record.
Lhakpa Sherpa, 48, broke her own record by climbing Everest for the 10th time, said Mingma Gelu Sherpa, managing director of Seven Summit Adventure, Lhakpa's brother.
She reached atop the 8,848.86-meter Everest at 6:30 a.m. on May 12.
Lhakpa, who lives in the United States, had started her climbing career as a porter. She first summited Everest in 2000 at the age of 26.
"Her climb, indeed, is a proud moment for the climbing fraternity," said Dambar Parajuli, president of the Expedition Operators Association of Nepal.
"She may continue this momentum in the coming years as well."
Priti Bhusal, who works at Grande International Hospital, recorded her name as the first Nepali female doctor to summit Everest.
According to expedition organizers, some members of the Full Circle, an expedition of a group of Black people who have been advocating the need for diversity and inclusion in outdoor sports and beyond for the Black community, also reached the summit of Everest on the morning of May 12.
Jeevan Ghimire, managing director of Shangrila Trek and Expedition, said that six out of ten climbers from the all-Black team, who were issued the climbing permits, have reached the summit. "Their climb was supported by 10 high-altitude climbing guides."
This is the first expedition comprising a group of all Black climbers.
"We believe our project will encourage people of color to not just dream big, but simply get outside," Philip Henderson, the leader of the all-Black expedition team, told journalists in Kathmandu in April. Henderson, however, is not part of the climbing team.
Bhishma Raj Bhattarai, an official at the Department of Tourism, the government agency responsible for issuing climbing permits and monitoring the climbers, said that as many as 150 reached the summit on May 12.
According to Seven Summit Treks, Nepal's largest expedition organizer, 39 climbers from the company made it to the top on May 12 morning, which includes 16 foreign climbers.
The climb included 33-year-old Antonina Samoilova, a Ukrainian woman who wants to draw attention to the suffering of her people in Ukraine caused by the Russian invasion.
This spring there are many Everest aspirants who plan to make records.
Sagar Bishwakarma Sunar, who is 3 feet 7 inches (1.09 meters) tall, plans to become the world's shortest man to climb Everest.
Sunar wants to spread the message that differently abled persons should be given the same rights and fundamental freedoms as others in society.
French mountaineer Marc Batard, 70, hopes to become the oldest person to summit Everest without using supplemental oxygen. Batard is also planning to discover a new route to climb Everest by avoiding the dangerous Khumbu Icefall.
Asma Al Thani, a Qatari royal family member, is making her second attempt in her quest to become the first Middle Eastern woman to climb all Seven Summits.