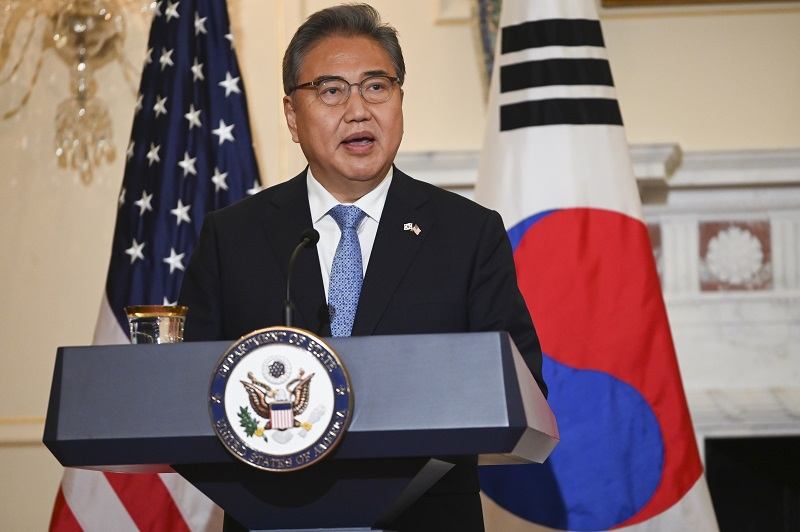 6:00 JST, June 15, 2022
WASHINGTON/SEOUL — South Korea is willing to normalize security cooperation with Japan as soon as possible, according to South Korean Foreign Minister Park Jin.
Speaking to reporters Monday after a meeting with U.S. Secretary of State Antony Blinken in Washington, Park said South Korea wants to improve relations with Japan over the General Security of Military Information Agreement (GSOMIA), under which the two countries will share defense secrets, as well as improve overall bilateral ties.
Park was visiting the United States for the first time as foreign minister, following the launch of the administration led by South Korean President Yoon Suk-yeol on May 10.
He said Japan, the United States and South Korea need to share information and cooperate on policies, so as to deal with the threat of North Korea. South Korea therefore hopes to soon normalize cooperative and information-sharing relations with Japan on matters of security, Park said.
The foreign minister is believed to have made the remarks in accordance with the wishes of U.S. President Joe Biden's administration, amid the increased tension regarding North Korean affairs. The United States wants Japan-South Korea relations to improve and to strengthen the bonds among the three countries.
In August 2019, the administration of former South Korean President Moon Jae-in decided to scrap the GSOMIA as its relations with Japan continued to deteriorate. The Moon government announced in November that year that the decision to scrap the accord had been suspended in the face of U.S. opposition, but the unstable situation continued, with Seoul saying it could invalidate the accord at any time.
Chief Cabinet Secretary Hirokazu Matsuno said at a press conference Tuesday that the GSOMIA will contribute to the strengthening of Japan-South Korea security cooperation, as well as to regional peace and stability.
Add TheJapanNews to your Google News feed.