U.S. firms' bottom line trumps human rights concerns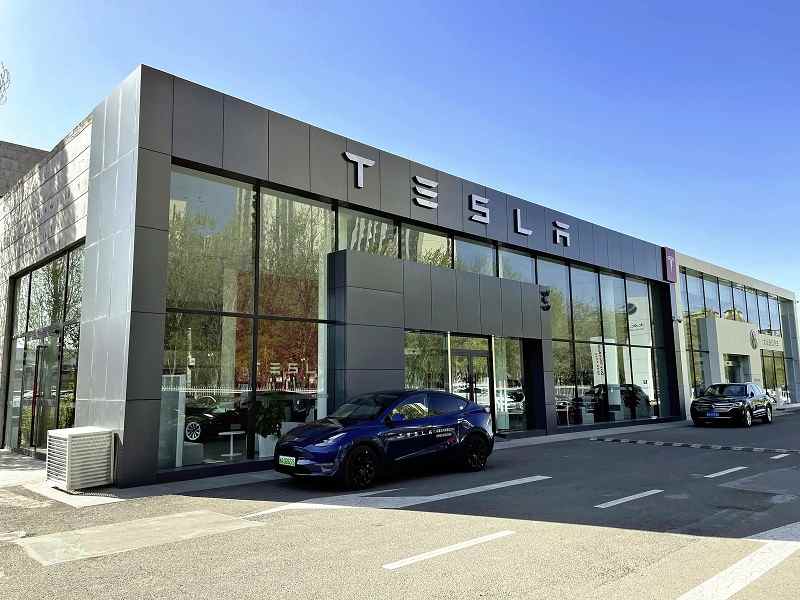 6:30 JST, June 5, 2022
WASHINGTON/BEIJING — While China and the United States do not see eye to eye on many political issues, economic mutual dependence is growing stronger among their companies, regions and consumers. The U.S. government is wary of becoming excessively dependent on China and is seeking to "decouple" from China's economy in important fields such as security and human rights.
Three cutting-edge electric vehicles — one black, one blue and one white — stood gleaming in a spacious showroom with a double-height ceiling. The sales representative opened doors of one vehicle and proudly explained its features to a customer. "It also has a large trunk," the salesperson said.
In mid-April, a steady stream of customers visited this showroom of U.S. electric vehicle maker Tesla, Inc. in Urumqi, the capital of the Xinjiang Uyghur Autonomous Region in China.
"Many customers are waiting for cars they want to purchase to arrive, and I was told that could take four or five months," a 41-year-old man visiting the showroom with his mother said. "I'll just have to swallow that. The car has a nice design and is a status symbol here.
"The friction between China and the United States doesn't bother me," the man added with a smile.
This is a poorly developed region, but there are many people with deep pockets especially among Han Chinese, the majority ethnic group.
Tesla opened the showroom at the end of 2021, at a time when the United States and European nations were stepping up criticism of China's repression of the minority Uighurs, including through forced labor. Mercedes-Benz, Audi and other automakers also had set up branches in the region. However, Tesla opened its showroom soon after the United States had passed the Uyghur Forced Labor Prevention Act, which prohibited in principle the import of goods produced in the autonomous region. Human rights groups were unanimous in slamming Tesla's decision to open the showroom.
A spokesperson for U.S. President Joe Biden also indicated the U.S. administration was displeased with the move, saying in early January that "the private sector should oppose … human rights abuses … in Xinjiang."
Tesla has shrugged off these criticisms and stuck to an approach of prioritizing its bottom line. In mid-February, expansion work appeared to be underway at a Tesla plant in a Shanghai suburb, in what is the first car factory the Chinese government allowed to be fully foreign-owned. Tesla aims to turn the Shanghai plant into an "export hub" for the global market, with electric vehicles manufactured there sold in China and shipped to other parts of Asia and also Europe. China is becoming one of Tesla's most important bases in terms of business strategy.
In an interview with British daily The Financial Times in mid-May, Tesla Chief Executive Officer Elon Musk said, "China is obviously a very significant market." Musk added that China will probably account for 25% to 30% of Tesla's markets "long-term."
The Biden administration, as it braces for long-term disagreements with Beijing, is pushing ahead with economic decoupling from China mainly to prevent leaks of cutting-edge technology that could have security implications, and increasingly trying to press China on human rights issues.** Even so, mutual dependence continues in the economic arena, which is a key difference from the years of the Cold War between the United States and the Soviet Union. Economic circles are trying to transcend the logic of politics and deepen their connections.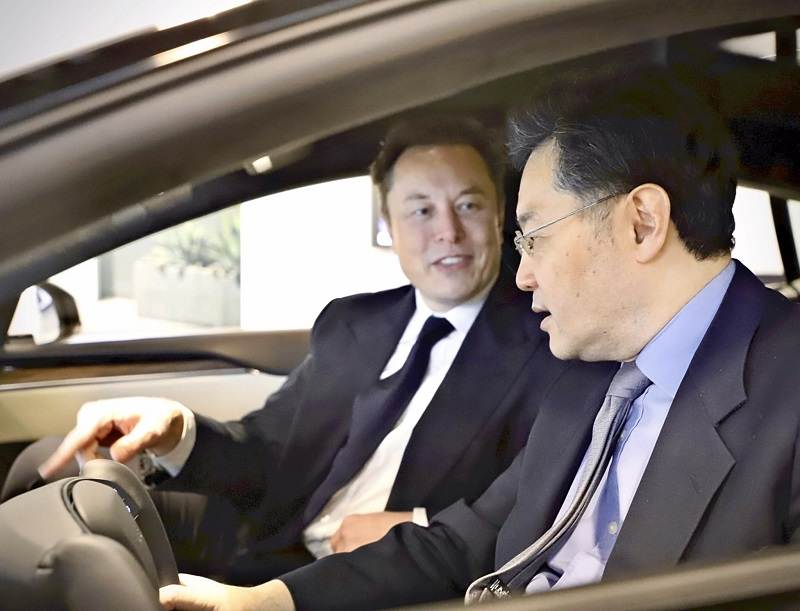 China keen to build ties
In early March, Musk and a man wearing a suit hopped into a new-model Tesla in Fremont, Calif., where the electric vehicle maker has a manufacturing plant. The passenger in the suit was Qin Gang, China's ambassador to the United States.
China expects U.S. companies will be unable to ignore the massive Chinese market, so it is steadily strengthening ties with the business sector. Qin is front and center in this push. After experiencing first-hand Tesla's latest autonomous driving technology, Qin said to Musk that China and the United States should carry out "win-win cooperation." Qin also praised Tesla as a success story in this regard.
In late April, Qin traveled to the states of Illinois, Iowa and Minnesota to visit agricultural and livestock businesses that have close ties with China. The trip's high-profile highlights included Qin eating lunch with workers at a meat processing plant that had been acquired by a Chinese company, and trying his hand at driving a tractor on a farm. "The American business community and farmers are the backbone of a stable China-U.S. relationship," Qin wrote in an opinion piece published in an Iowa newspaper.
China's leaders also have been lending their weight. In April 2021, Chinese Premier Li Keqiang participated in a virtual meeting with executives of iconic U.S. companies such as General Motors Co. and Boeing Co. "Decoupling is not good for anyone, and it will hurt the world," Li said.
Li also held meetings with U.S. business circles and trade-related organizations in 2016, '17 and '19, so his approach stands out for an emphasis on the importance of economic exchanges with the United States.
"The United States is one of China's biggest trading partner nations and an important market," an official at a Chinese state-run media outlet said. "China must continue to boost economic exchanges with the United States, as this also will benefit China's economic development in the years ahead."
In August 2021, the Chinese government allowed U.S. financial giant JPMorgan Chase & Co. to establish a fully owned securities company in China. Beijing allowed Goldman Sachs Group, Inc. to do likewise in October. These developments stemmed from the U.S.-China trade agreement signed in January 2020. It appears China is using relaxed regulations and further steps to win over major financial companies, manufacturers, information technology firms and other businesses that wield powerful clout in U.S. political circles, in a bid to create rifts with the politicians that lean toward a hard-line approach to China.