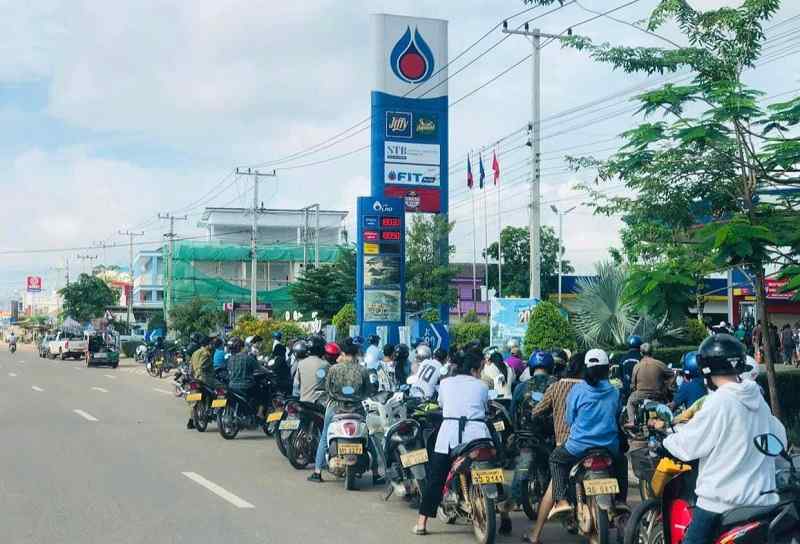 16:49 JST, June 2, 2022
Fuel businesses and importers are struggling to supply enough fuel to meet public demand due to fluctuating currency exchange rates and the volatile global oil market.
Fuel shortages forced petrol stations in Vientiane and some provinces to close on May 9, with many desperate motorists going from one station to another in the hope of filling up their tanks. Some petrol stations that still had supplies were flooded with vehicles, leading to traffic jams in some parts of the capital.
Several provinces have experienced fuel shortages in recent weeks, with Vientiane in particular hit on weekends when petrol stations were forced to close. Fuel businesses and importers are struggling to find sufficient foreign currency to buy the essential commodity from other countries.
Laos is totally dependent on fuel obtained from outside sources. Some importers have temporarily stopped buying fuel as they are unable to make a profit while the import price is greatly affected by the unfavorable kip/dollar exchange rate.
The continuing depreciation of the kip is exacerbating the situation. Laos needs about 120 million liters of fuel a month to meet public demand, but at present, importers can afford to buy less than 50% of this amount.
The president of the Lao Fuel and Gas Association, Sysangkhom Khotnhotha, said importers are struggling to buy sufficient fuel to meet the country's needs.
The other reason that less fuel is being imported is because of the effect the spiraling cost of fuel on the global market is having on Laos, where some oil refineries are hoarding fuel with the intention of making a profit, he added.
The rise in the price of imported fuel means that retail prices in Laos will inevitably continue to rise. "We don't know for how many more days we will be able to import fuel because it's difficult to get the necessary funds. Some petrol stations have less fuel for sale because less is being imported. Some petrol stations in Vientiane close early when supplies run out," Sysangkhom said.
Add TheJapanNews to your Google News feed.