China's aircraft carrier drills near Japan aimed at around-the-clock attack capability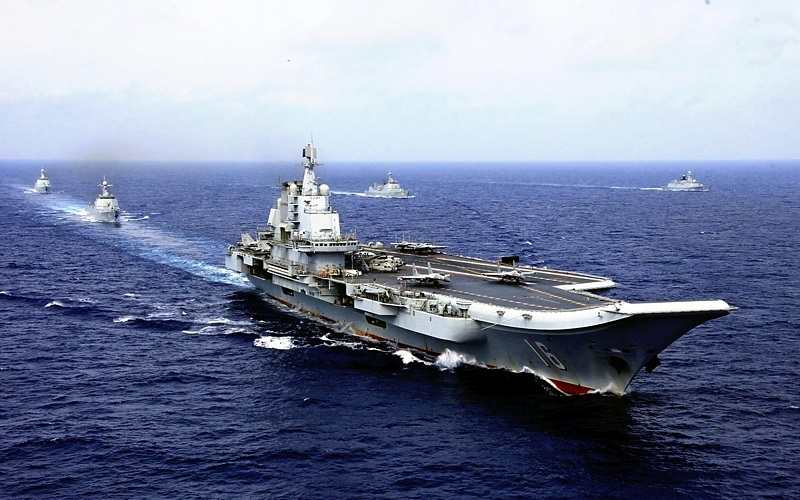 21:00 JST, May 26, 2022
BEIJING — As China's Liaoning aircraft carrier heads home after completing military drills near Japan, details have emerged about its exercises.
The drills were held from May 3 to 20 in the Pacific Ocean in waters near Okinawa Prefecture. More than 300 takeoffs and landings were practiced on the aircraft carrier, even at night.
A Chinese military source told The Yomiuri Shimbun that one purpose of the drills was to establish operational skills for carrier-based aircraft, aiming to have the capability for around-the-clock attacks in a Taiwan contingency. Japan's Defense Ministry has confirmed that takeoff and landing practice on the Liaoning had been held from 9 a.m. to 9 p.m.
"A U.S. aircraft carrier can conduct more than 100 takeoffs and landings for practice in a day," the Chinese military source said. "There is still a big difference in operational capability."
Another source connected to the matter said the aircraft that participated in the drills were not loaded with large missiles such as those for air-to-surface or anti-ship attacks. This source added that the drills were based on simulating the interception of U.S. military aircraft and attacks on U.S. bases in Okinawa.
The Liaoning has a ski-jump takeoff ramp. This system allows only lightweight planes to take off, making the carrier-based aircraft unsuitable for air-to-surface or anti-ship attacks. The drills may have sought to train for an operation against Taiwan, simulating deploying the carrier east of Taiwan and intercepting U.S. military aircraft.
Bombers also spotted
According to Taiwan's National Defense Ministry, Chinese military planes entered the southwestern part of Taiwan's air defense identification zone during the Liaoning drills. About 70 aircraft overall were counted. Among them were an aggregate count of 10 H-6 strategic bombers.
Japan's Defense Ministry spotted two H-6 bombers on May 18, flying between the main island of Okinawa and Miyakojima island from the East China Sea and then back.
One of the sources believed that the two different aircraft movements simulated an air-to-surface offensive on Taiwan and an attack on U.S. bases in Guam.
On May 10, Chinese attack helicopters crossed the de facto truce line in the Taiwan Strait between China and Taiwan. This was seen as simulating ground battles by special forces.
Previously, each of these types of drills were held at separate times, but the recent trend for China has been to hold various drills in the same period.
"These exercises are comprehensively timed as if under an actual scenario," one of the sources said.
A textbook issued by the Academy of Military Science, a research institute of China's military, states that amphibious operations on Taiwan are favorable during one-month periods from late September and late March when seasonal winds are calm, and that operations may be affected by seasonal winds from early May.
According to observers, lengthy drills in May involving the Liaoning aircraft carrier could suggest that China's military might henceforth conduct exercises with a possible operation period set between late March to mid-June, when the typhoon season starts.
Add TheJapanNews to your Google News feed.