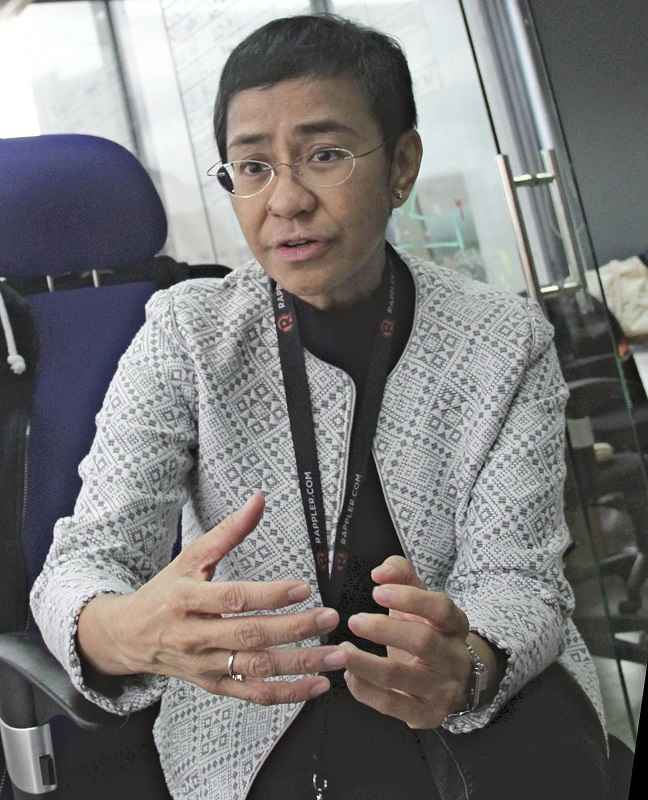 15:19 JST, May 16, 2022
MANILA — Nobel Peace Prize laureate Maria Ressa has expressed concerns over the way powerful people disseminate self-aggrandizing information online to elicit public support.
Speaking on May 10, the Philippine journalist cited Philippine President-elect Ferdinand Marcos Jr., saying he manipulated people's minds via social media in the run-up to the May 9 election.
"He won because of manipulation," Ressa said in an interview with The Yomiuri Shimbun in a Manila suburb. "He's made it very difficult to have checks and balances with [people who work in] the media."
Marcos, 64, used Facebook and other social media to repeatedly tout his late father's presidency in infrastructure development.
Notably, he avoided any mention of the negative aspects of Marcos senior's former dictatorship, such as human rights abuses and allegations of unjustly accumulated wealth.
Ressa, 58, said voters find it difficult to distinguish between truth and falsehoods online, adding that social media apps, Marcos' supporters and his campaign strategy jointly succeeded in rewriting history by pretending there were no negative elements associated with the former president's time in power, thus helping propel the younger Marcos to victory.
During the election campaign, Marcos did not attend debates during which critical questions were likely to be asked about his father, nor did he grant media interviews.
Ressa considers Marcos' stance as dogmatic, saying it was the same method used by Brazilian President Jair Bolsonaro and Indian Prime Minister Narendra Modi of India.
In connection with Russia's invasion of Ukraine, Ressa noted that Moscow was waging similar "information warfare" domestically, saying "this is when power uses technology to insidiously manipulate people so they come to believe lies."
To tackle the problem of online misinformation, Ressa stressed the importance of news journalism, which has a long history of separating truth from fiction, and called for restrictions on social media to help redress the balance between truth and lies.
Ressa was awarded a Nobel Prize for her investigative reporting on President Rodrigo Duterte's dictatorial drug-control measures, which did not rule out killing suspects to help reduce drug-related crimes.
Speaking about what it meant to receive the prize, she said: "I never actually thought I was fighting Duterte; I thought I was just doing my job … We're living through historic times. I've been a journalist for 36 years since 1986, and I know that everything we do right now matters. So you want to do the right thing."
Add TheJapanNews to your Google News feed.