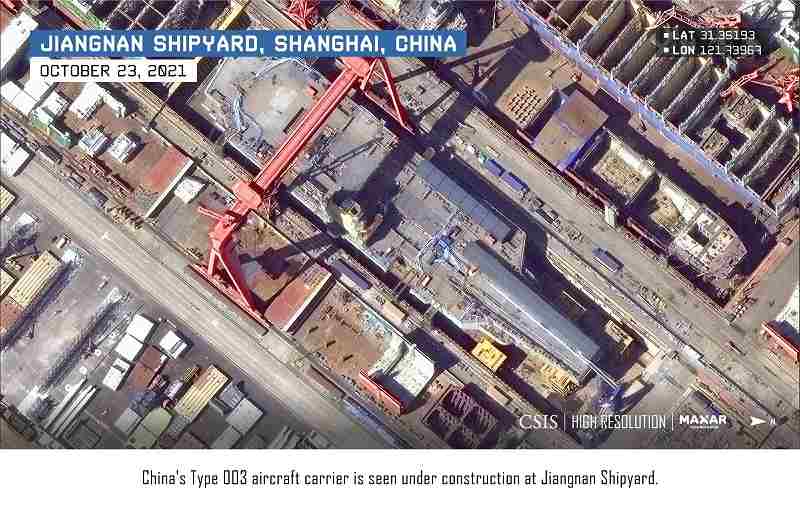 12:00 JST, May 14, 2022
BEIJING — China is thought to be planning to unveil its third aircraft carrier, which is expected to be equipped with state-of-the-art technology, possibly including an electromagnetic aircraft launch system.
Although it is not likely to go into service immediately, China is inching closer to having three carriers in operation, enough for Beijing to have a carrier strike group deployed at all times.
Last month, the Chinese Navy released a promotion video showcasing its first two aircraft carriers, the Liaoning and Shandong. The video ends with a naval officer hinting the launch of the third carrier is imminent. Speculation of an early June launch has appeared on websites related to the Chinese military.
The U.S. Navy's carrier strike groups comprising aircraft carriers and other vessels are deployed in rotation, conducting operations, training, or undergoing repairs.
Once the new Chinese aircraft carrier is commissioned, China will also be able to have a carrier strike group in operation at all times.
The new carrier, which is being constructed in a Shanghai shipyard, will undergo sea trials following its launch, and is expected to be commissioned in the second half of next year at the earliest.
Satellite photos taken on April 19 indicated that the elevators used to move aircraft have been installed, but the catapult on the deck was covered and appears to be incomplete, according to an Australian military journal.
The new carrier will possibly feature an electromagnetic aircraft launch system, according to an article published by the state-media news outlet Global Times.
The Liaoning and Shandong use a ski-jump take-off, featuring an upward-curved ramp at the ship's bow, but plane weight is a factor that determines whether the launch system can be used, which impacts the amount of weapons aircraft can carry.
Although catapults allow heavier aircraft to launch, leading to improved strike power, an electromagnetic catapult system would require a large amount of electricity.
A diplomatic source in Beijing said, "It is doubtful whether they can supply a sufficient amount of electricity needed for an electromagnetic catapult system."
The new carrier is expected to be conventionally powered. An official linked to the Chinese military told the Yomiuri Shimbun that China does not yet have the technology to power aircraft carriers with nuclear power.
Of the 11 U.S. Navy aircraft carriers in active service, only the nuclear-powered Gerald R. Ford has an electromagnetic catapult system.
The administration of Chinese President Xi Jinping plans to have at least four aircraft carrier strike groups by 2030, according to the Hong Kong news outlet South China Morning Post.
Satellite photos taken in March of a carrier runway training facility in Liaoning Province showed two FC-31 aircraft, a stealth fighter currently under development, alongside non-stealth J-15s, prompting speculation that stealth fighters will be deployed on China's third aircraft carrier. However, a source quoted in a South China Morning Post article said J-15s will be deployed on the new carrier.
Add TheJapanNews to your Google News feed.