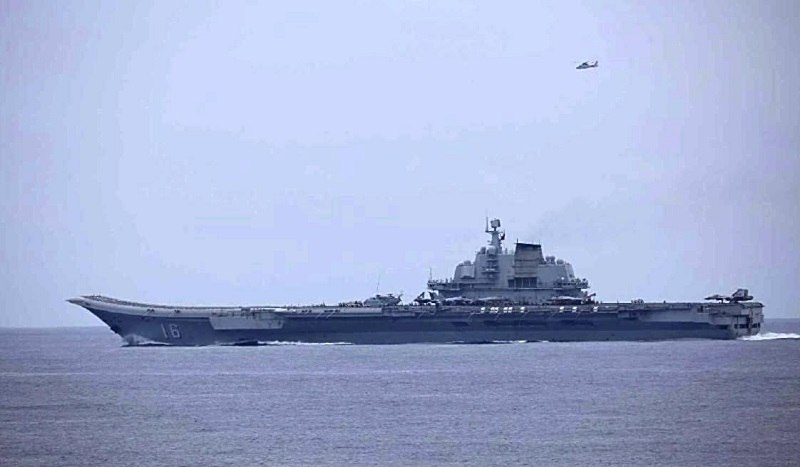 17:19 JST, May 10, 2022
The Chinese Navy conducted takeoff and landing exercises on the Liaoning aircraft carrier in waters south of Okinawa Prefecture on May 3-8, according to the Japanese Defense Ministry.
The Chinese military's official newspaper reported Monday that the military's Eastern Theater Command conducted exercises in waters east and southwest of Taiwan on May 6-8, without providing further details.
"The activities could be aimed at enhancing capabilities to conduct integrated operations in the Pacific Ocean and other distant waters and airspace," Chief Cabinet Secretary Hirokazu Matsuno said at a press conference on Monday.
Matsuno said Japan will take all necessary measures for monitoring and surveillance in the surrounding seas and airspace.
The Maritime Self-Defense Force destroyer Izumo was dispatched to the area where the drills were conducted for six days from May 3.
According to a Defense Ministry announcement, takeoff and landing exercises were conducted on the Liaoning aircraft carrier on May 3 in waters about 160 kilometers southwest of Oki-Daitojima island in Okinawa Prefecture. The exercises continued May 4 in the waters.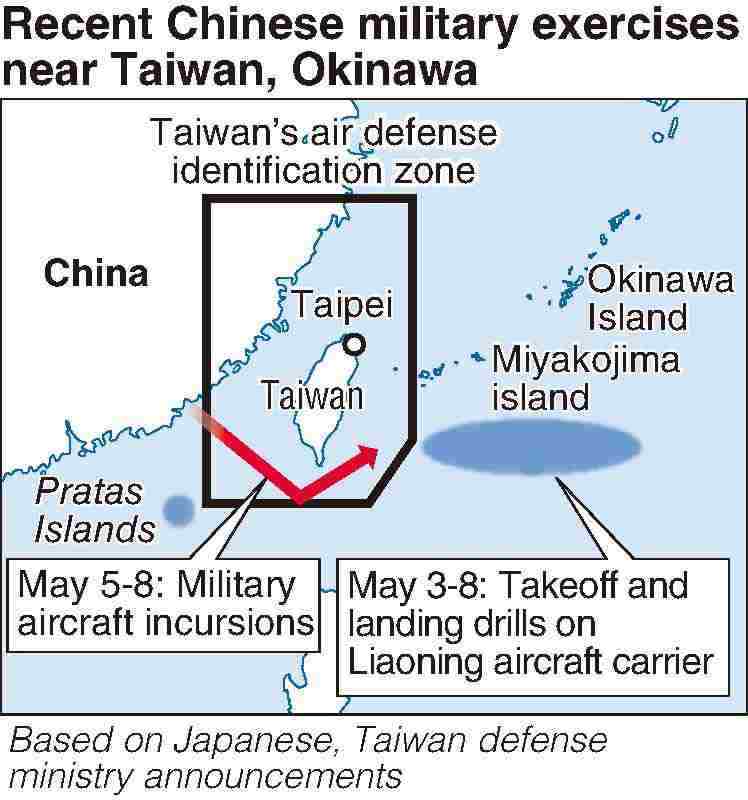 On May 5, the carrier moved to waters closer to Taiwan, about 320 kilometers southeast of Miyakojima island in Okinawa Prefecture.
It moved even closer to Taiwan on May 6, about 170 kilometers south of Ishigakijima island, which is also part of Okinawa Prefecture, and remained in the area through May 8.
Takeoffs and landings were conducted for about six hours a day on May 3-5, for about 12 hours on May 6, for about 10 hours on May 7, and for about 11 hours on May 8.
"No doubt the exercises were conducted with a Taiwan contingency in mind," said a senior Japanese Defense Ministry official.
Beijing might be trying to show that it is capable of attacking Taiwan from the east side of the island, as well as from the west side adjacent to mainland China, according to the official.
A Chinese fleet of eight naval vessels — including the Liaoning, the Type 055 Renhai-class missile destroyer and the Type 901 Fuyu-class supply ship — passed through waters between Okinawa Island and Miyakojima island on May 2, heading toward the Pacific Ocean.
The Renhai-class destroyer is said to be capable of launching long-range anti-surface cruise missiles.
"While the west is fixated on Russia's invasion of Ukraine, China may be intensifying its pressure on Taiwan," said a source close to Prime Minister Fumio Kishida.
The Japanese government, which has been working on strengthening the defense of the Nansei island chain between Kyushu and Taiwan, may be required to increase efforts, eyeing a Taiwan contingency.
Taiwan aware of exercises
TAIPEI — Chinese Y-8 anti-submarine aircraft entered Taiwan's air defense identification zone on May 5-8, flying over the Bashi Channel in airspace southeast of the island, according to Taiwan's Defense Ministry.
Eighteen aircraft, including two H-6 bombers, flew through the air defense identification zone on May 6.
An expert quoted in an article on the website of Taiwan news outlet Liberty Times said the exercises were aimed at simulating "joint attacks on large seaborne targets with the Liaoning aircraft carrier."
It is believed that the fighter jets were simulating attacks on enemy vessels such as aircraft carriers and submarines, and Taiwan's main island, according to the article.
Add TheJapanNews to your Google News feed.