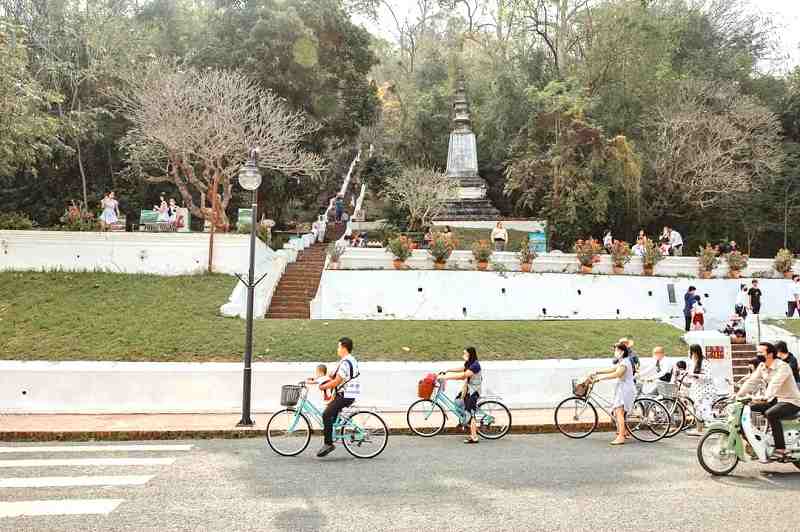 17:00 JST, May 2, 2022
Since the Laos-China Railway became operational, more people in Laos have travelled around the country, and to Luang Prabang in particular, with more than 67,000 domestic visitors recorded as having spent time in the tourist hotspot in the first three months of this year.
This number is an increase of 74% compared to the same time last year, the Governor of Luang Prabang city, Viengthong Hathsachanh, said. Luang Prabang Province is on the list of green travel zones designated by the government for travel since the country reopened to visitors in January following the closure of borders during the COVID-19 pandemic.
Tourism operators have refurbished or upgraded several popular tourist attractions in anticipation of an influx of visitors now that travel restrictions have been lifted, while the services provided by hospitality staff have been improved.
Meanwhile, local authorities have worked with the health department to ensure that visitors are safe as the COVID outbreak continues, according to Luang Prabang's Information, Culture and Tourism Department. During Lao New Year more than 16,500 people from around the country went to Luang Prabang to enjoy the celebrations, even though not all of the customary events took place because of COVID restrictions.
Some hotels were fully booked from April 13-16, with most of the guests being Lao. Provincial authorities are continuing to build more tourist-related facilities and improve safety measures at hotels, guesthouses and restaurants in anticipation of more visitors under the Lao Thaio Laos scheme, which encourages domestic tourism.
Luang Prabang is one of the most well-known provinces in Laos and is a top tourist draw because of its old temples, scenic attractions and rural landscapes.
Add TheJapanNews to your Google News feed.