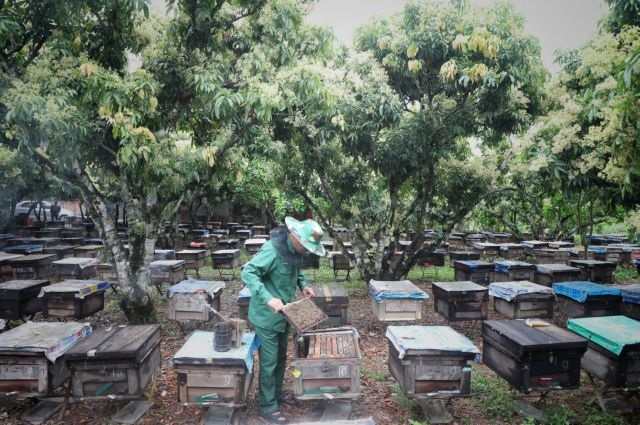 13:03 JST, April 25, 2022
Luc Ngan District in the northern province of Bac Giang is known as the land of lychee with more than 22,000 hectares of orchards. Together with a mild climate all year round, the locality has ideal conditions to produce one of the best types of honey in Vietnam — lychee honey.
As soon as the lychee trees in the district bloom with white clusters of flowers from February to mid-April, beekeepers from not only Bac Giang Province but also across the country gather in the local orchards to harvest the precious drops of honey.
Luc Ngan lychee honey is considered as one of the most delicious and nutritious types in Vietnam. The nectar is lightly sweet with a shiny golden color and typical fragrance of lychee flowers.
Sold at an average price of 80,000-100,000 Vietnamese dong ($3.50-$4.37) per liter, depending on its quality and type of bee, the sweet flavor of lychee honey has brought beekeepers in the district a significant source of income every year.
According to Lam Van Tien who has been working as a beekeeper for over 20 years, the high productivity and good quality honey requires necessary natural conditions like dry weather, healthy bee colonies and most importantly, an abundance of lychee flowers.
Add TheJapanNews to your Google News feed.