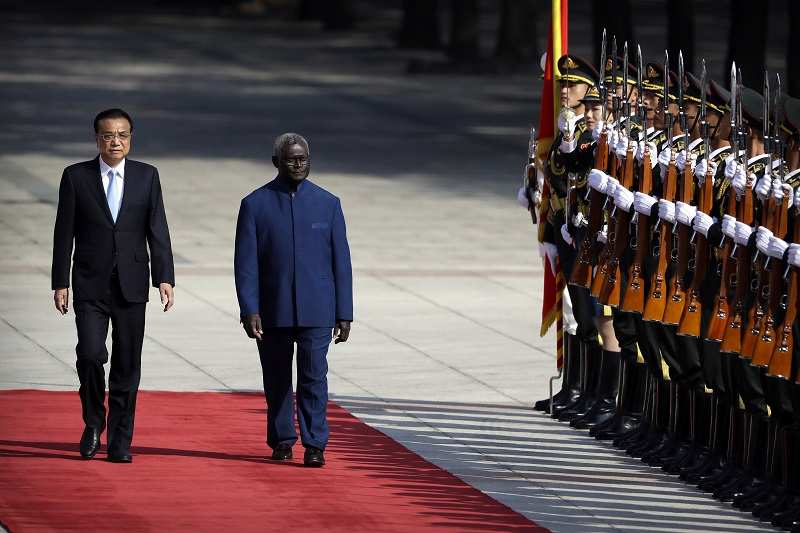 21:13 JST, April 21, 2022
JAKARTA/BEIJING — A security pact between the Solomon Islands and China has fueled concerns in Japan, Australia, New Zealand and the United States over Beijing's expanding influence in the region.
On Wednesday, Solomon Islands Prime Minister Manasseh Sogavare announced that the island nation had officially signed a security agreement with China.
Sogavare told Solomon Island lawmakers the agreement was mainly about maintaining domestic security in the wake of riots that erupted in November last year. He stressed that the pact was not aimed at other countries or international alliances and "will not adversely impact or undermine peace and harmony" of the region.
The Solomon Islands foreign minister will visit neighboring countries in the near future to seek their understanding about the agreement, according to Sogavare.
China announced the signing of the bilateral security pact on Tuesday. The day before the announcement, senior officials from Japan, Australia, New Zealand and the United States had shared their concerns about the deal at a meeting in Honolulu, citing the serious risks it poses to a free and open Indo-Pacific.
Although details about the agreement have not been revealed, it will likely enable China to deploy military and police personnel to the South Pacific Ocean country, make port calls and refuel its vessels, stoking fears in the international community that it could lead to Beijing militarizing the region.
Speaking at a press conference Tuesday, Chinese Foreign Ministry spokesman Wang Wenbin said the pact would allow the two countries to cooperate "in such areas as maintenance of social order, protection of the safety of people's lives and property…in an effort to help Solomon Islands strengthen capacity building in safeguard its own security."
He also stressed that the pact "does not target any third party."
On Monday, before the deal was announced, the United States said it would dispatch senior officials to the Solomon Islands to convey its concerns.
Add TheJapanNews to your Google News feed.