Japan keeps close eye on policies of incoming South Korean president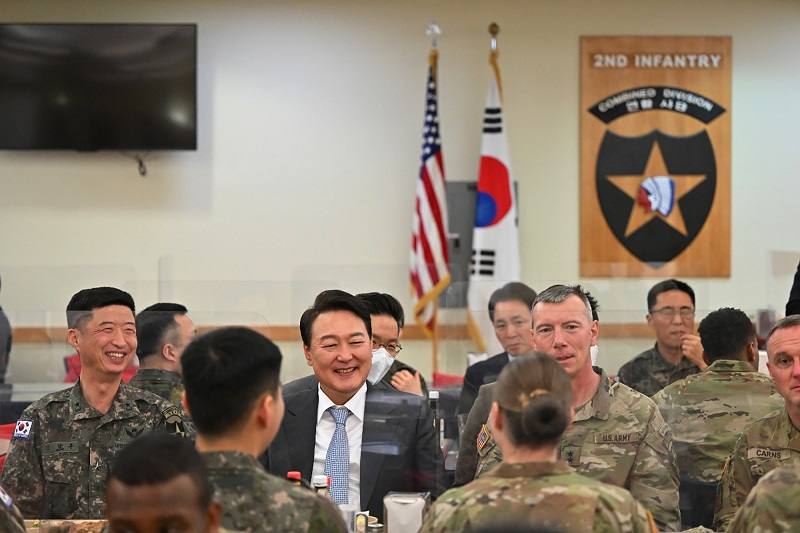 2:00 JST, April 20, 2022
Some Japanese government officials are welcoming the announcement by the administration of South Korean President-elect Yoon Suk-yeol that it will dispatch a policy delegation to Japan. This will be the second such dispatch for the Yoon administration after the United States, and is believed to indicate the incoming president's desire to improve the bilateral relationship.
However, the Japanese government is also watching the new administration closely, as there are many issues still unresolved between the two nations.
"Japan-South Korea relations are in a very harsh situation, and we can't leave things as they are," Chief Cabinet Secretary Hirokazu Matsuno said at a press conference on Monday, referring to the issue of so-called comfort women and lawsuits involving former wartime requisitioned workers from the Korean Peninsula.
Japan-South Korean relations are thought to be at their worst level of the post-World War II era, as President Moon Jae-in essentially negated the Japan-South Korea agreement that confirmed the resolution of the comfort women issue in 2018. The Moon administration also did not deal with the lawsuits related to former wartime requisitioned workers.
There has not been a face-to-face meeting between the two nations' leaders since December 2019.
However, Yoon is aiming to improve relations with Japan. The president-elect announced his appointment of Park Jin, a member of the National Assembly who is close to him and who has studied in Japan, as the next foreign minister. The Japanese government considers this and the dispatch of the delegation to be a "message aimed at improving relations" from the new administration.
Amid concerns about the destabilization of the security environment in East Asia due to Russia's invasion of Ukraine, there are strong hopes with the Japanese government for heightened cooperation between Japan and South Korea, as well as among Japan, South Korea and the United States.
However, it is difficult to resolve prolonged historical issues. This is particularly true with the issue of former wartime requisitioned workers — procedures are underway in South Korean courts to sell assets belonging to Japanese companies.
If the Yoon administration does not deal with the situation, Japanese companies' assets could be converted into cash as soon as by the end of this year.
The Japanese government is heightening its vigilance. "Converting the assets to cash would go against the fundamental truth that this issue was resolved under the Agreement on the Settlement of Problems Concerning Property and Claims and on Economic Cooperation," a foreign ministry official said. "The worst situation of the postwar period could become irrevocable."
The two nations are expected to exchange views on this and other matters during the delegation's stay in Japan from April 24 to 28. As Yoon said he will "comprehensively" resolve issues between Japan and South Korea, the Japanese government is ready to find out what solutions the Yoon administration will devise.
Add TheJapanNews to your Google News feed.