N. Korea, Russia on Japan's agenda for Biden visit
Nuclear disarmament and North Korea's abduction of Japanese nationals are likely to top the agenda as the Japanese government steps up its preparations for an anticipated visit by U.S. President Joe Biden in late May.
There has been no progress on the abduction issue in recent years, and abductees' families are aging: Shigeo Iizuka, who served as head of the Association of the Families of Victims Kidnapped by North Korea, died in December, age 83. Iizuka's younger sister Yaeko Taguchi was among those abducted by Pyongyang.
Chief Cabinet Secretary Hirokazu Matsuno told reporters Wednesday that the government is working toward realizing a meeting between Biden and the families. Tokyo is expected to reconfirm Washington's cooperation in resolving the abduction issue during the U.S. president's visit.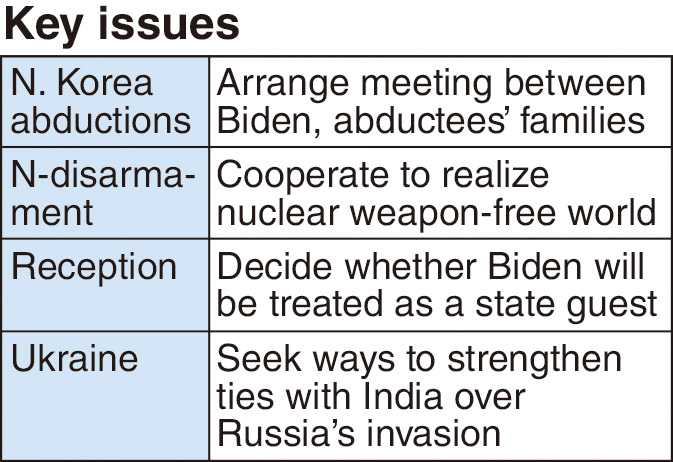 Japan also hopes to stipulate in a joint bilateral statement that it will cooperate with the United States on the issue of nuclear disarmament. Prime Minister Fumio Kishida hails from Hiroshima and has made it his life's work to realize a nuclear arms-free world. Biden, too, has a strong interest in nuclear disarmament and some members of the Kishida administration have floated the idea of asking Biden to visit the atomic-bombed cities of Hiroshima and Nagasaki.
There have been calls within the government to treat Biden as a state guest, in keeping with the welcome afforded to many previous U.S. leaders. As a state guest, Biden would receive the highest level of hospitality — the honor would also underline the strength of the Japan-U.S. alliance. State guests are invited to a welcome ceremony at the Imperial Palace and a banquet with the Emperor and Empress.
However, a Quad summit — to be attended by the leaders of Japan, Australia, India and the United States — is planned for the day after the Japan-U.S. summit meeting, meaning the prime ministers of Australia and India will be in Japan at the same time as Biden.
"It would invite criticism if the U.S. president were to receive preferential treatment," a senior Foreign Ministry official said.
Attention will be focused on whether Japan, the United States and Australia can cooperate with India — which traditionally has had close ties with Moscow — over Russia's invasion of Ukraine. During the Japan-U.S. summit meeting, Tokyo and Washington will thus likely share their views on the best way to deal with India.