China dials up coal-fired power production, putting economy before CO2 goals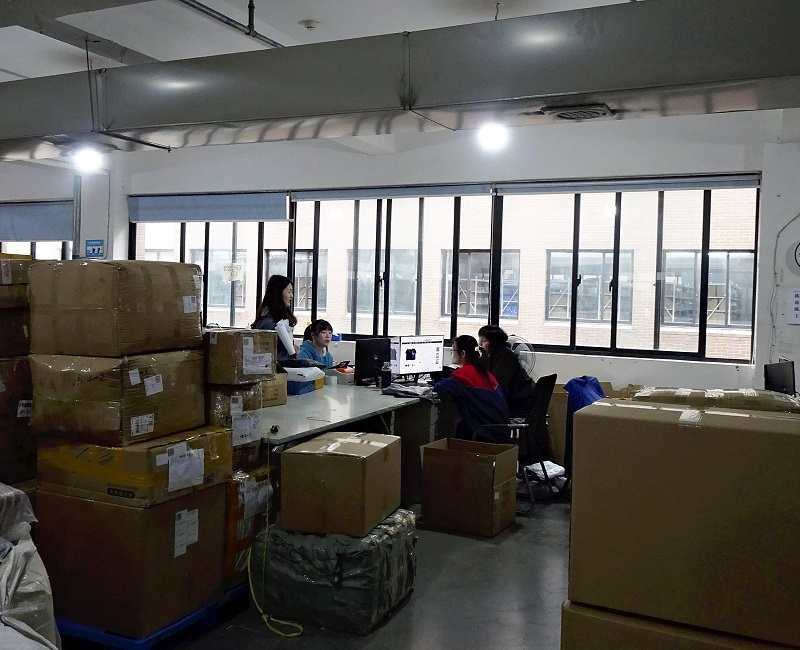 17:30 JST, October 24, 2021
SHENYANG, China/SHANGHAI — Production at China's coal-fired power plants has been kicked into high gear by the administration of a President Xi Jinping eager to overcome the nation's energy crunch, ahead of the Chinese Community Party's National Congress that looms on the horizon next year.
In a move bound to cloud that horizon with ever more smoke from the CO2-spewing coal plants, the Chinese leader can be seen giving top priority to maintaining his signature "social stability," even if that means putting global warming commitments on the backburner in order to keep the big wheels of China's economy and society chugging away.
The 41-year-old president of a Japanese trading company based in Yiwu, Zhejiang Province, lamented Tuesday over the prolonged energy-saving measures mandated by authorities. "This has been going on for over a month," he said.
Yiwu is one of the world's largest wholesale market for daily necessities and commodities.
In late September, a local government official visited the trading company unannounced to flip the breaker to its warehouse and workshop. With no end in sight to the compulsory power rationing, the president said his company bought two generators for about ¥700,000 and is working on shipments to Japan.
The power shortages have had far-reaching impacts. Traffic ground to a standstill during a blackout in Shenyang, Liaoning Province. Another incident sent 23 foundry workers to the hospital for gas poisoning, after their ventilation system was suddenly shut down due to the power rationing.
Power supply restrictions
Since mid-September, China's power shortages have become more severe — a pinch precipitated by anti-global warming measures taken by the Xi administration.
As the world's largest producer of carbon dioxide, China alone accounts for about 30% of global CO2 emissions.
Xi has pledged to reduce China's CO2 footprint by 2030 and achieve carbon neutrality by 2060.
But only 11 of the nation's 31 provinces, direct-controlled municipalities and autonomous regions met their energy consumption efficiency targets for the first half of this year.
After being called out by name for failing to meet the targets, local governments moved to throttle access to their electricity supplies, in order to strongarm compliance.
Authorities imposed power supply restrictions, ignoring actual power consumption at a time when demand for electricity had been soaring in China, one of the world's first economies to restart from the COVID-19 pandemic.
Thermal power generation, mainly coal-fired, has accounted for 70% of China's total energy mix.
But as a result of the Xi administration's strengthening of environmental and coal mine safety measures, nearly 5,500 coal mines were closed over a five-year period up to 2020.
Skyrocketing coal prices have also led many thermal power plants to curtail operations to ensure profitability.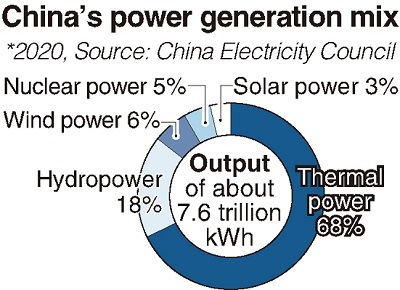 Equal to 40 nuclear plants
With winter coming, the Xi administration has been feeling the heat to take action to alleviate the electricity shortage.
On Oct. 8, China decided to ramp up coal production and start full-fledged operation of its coal-fired power plants.
According to Chinese media, this has entailed diversification of the country's coal procurement sources. Zhejiang Province imported coal from Kazakhstan for the first time. In October, power transmission between Russia and China's Heilongjiang Province was tripled from five hours a day to 16 hours a day.
On Oct. 18, the state-owned Assets Supervision and Administration Commission of the State Council called a meeting with executives of major energy companies, and stressed that they demonstrate an acute awareness of the critical importance of securing electricity. The commission instructed them to step up coal production and boost the supply of electricity, including its generation at hydro- and nuclear power plants.
The full operation of coal-fired thermal power plants will put a damper on Xi's ambitions to hold the 2022 Beijing Olympics in February under a clear, blue sky free of air pollution. However, as one senior China newspaper editor said: "Avoiding social and economic chaos is the top priority. There is no other choice."
Despite Xi's international commitments, China will have to rely on coal-fired power generation for the foreseeable future, as it is less costly and more stable.
According to the China Electricity Council, over a one-year period to the end of 2020, China's coal-fired power generation capabilities skyrocketed by a factor equivalent to 40 nuclear power plants, in terms of installed capacity.
The 26th U.N. Climate Change Conference of the Parties, known as COP26, will convene in Britain from Oct. 31. China may be asked to move up its timetable for achieving net zero CO2 emissions, but the Xi administration is not in a position to do so.
Add TheJapanNews to your Google News feed.