China hints at capabilities to strike U.S. Navy ships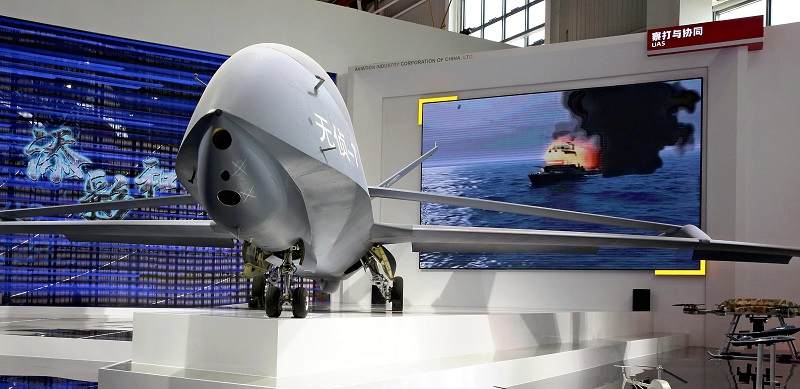 14:19 JST, October 11, 2021
BEIJING / WASHINGTON — The Chinese military's full-scale use of drones has put Japan and the United States on heightened alert. China, which is diversifying its means of attack, has enhanced its anti-access/area-denial (A2/AD) capabilities to deter U.S. forces in areas including the Western Pacific and developed guidance systems for precision strikes against enemy ships.
3-plane formation
A video demonstrating drone attack methods was shown at the China International Aviation and Aerospace Exhibition, the country's largest air show, which ended on Oct. 3 in Zhuhai, Guangdong Province.
The unmanned aircraft, which can scan the ocean from the air with a camera on the underside of the fuselage, is equipped to deploy missiles if it identifies an enemy vessel.
According to the Japanese Defense Ministry, a Chinese drone, Y-9 surveillance aircraft and Y-9 intelligence-gathering plane flew in airspace over waters between Okinawa's main island and the Okinawa island of Miyakojima on Aug. 25 and 26. The Chinese military's TB-001 drone was spotted On Aug. 26. The drone is said to be capable of flying for 35 hours, according to Chinese media.
At the time, a carrier strike group led by the British Royal Navy aircraft carrier HMS Queen Elizabeth was conducting joint exercises with U.S. forces and Japan's Self-Defense Forces in the south of Okinawa.
According to sources, the three-plane operation was "a drill designed to simulate an attack on U.S. ships and other vessels approaching Chinese territorial waters in the event of a contingency."
China's intelligence-gathering aircraft can monitor radio waves to detect enemy vessels on the water, while the surveillance plane can drop sonobuoys to detect submarines. It is assumed that the drones transmit images of enemy vessels to an operation command center. The drones are also expected to play a role in guiding ground-launched anti-ship ballistic missiles.
According to China Space News, drones flew for 24 hours over areas affected by heavy rains and floods in Henan Province in July, transmitting video of the scene. The technology is also said to be useful during a contingency. "China's A2/AD capabilities have steadily improved in step with its drone technology," said a source.
The three key elements of anti-access/area-denial are detection of enemy ships, guidance and attack. Drones are mainly responsible for detection and guidance, but the TB-001 detected in August also has attack capabilities.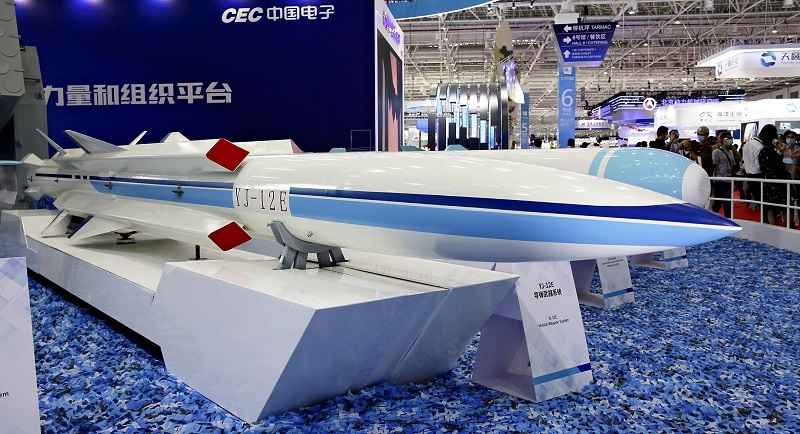 Taiwan issue
The situation in the Taiwan Strait remains tense amid deepening confrontation between the United States and China.
For the administration of Chinese President Xi Jinping, which has not ruled out the possibility of unifying Taiwan with force, the enhancement of its anti-access/area-denial capabilities is a matter of urgency as Japan, the United States and Europe have intensified their engagement in the situation surrounding Taiwan.
China's National Defense Ministry said in mid-September that the BeiDou satellite positioning system that China uses to guide its missiles has reached such a level that only one second of deviation occurs in 3 million years. The improvement of the accuracy of the clock aboard a satellite positioning system is considered essential for precision attacks with such weapons as anti-ship ballistic missiles.
China's diversification of attack methods is also significant.
The YJ-12E missile, a supersonic, anti-ship cruise missile that was displayed at the air show in Zhuhai, can be launched from ships, planes and other operational vehicles, and reach speeds of Mach 3.
It is said that the supersonic missile will be used in attacks in combination with the CM-708UNB submarine-launched anti-ship missile, which was also displayed at the show.
China showed off its improved anti-access/area-denial capabilities at the air show, unveiling methods that form part of its "integrated maritime defense system."
U.S. reviews strategy
U.S. forces are poised to review troop deployments and strategies to deal with China's enhanced anti-access/area-denial capabilities. The United States will also reinforce its coordinated efforts with its allies, including Japan.
The U.S. Marine Corps, in its Force Design 2030 published in March last year, revealed plans to decentralize its forces and increase the use of unmanned aircraft. In a bid to counter China's advances near the Nansei island chain, the United States is considering stationing a new type of regiment in Okinawa under the plan.
To counter drones, the Marine Corps eyes utilizing electronic warfare, including identifying the frequencies of enemy drones and transmit jamming radio waves to block communication and effectively neutralize them.
The U.S. military is said to have launched an electronic attack when it shot down an Iranian drone over the Strait of Hormuz in the Middle East in 2019.
In preparation for possible attacks on its aircraft carrier by adversaries, the United States is also striving to enhance the durability of aircraft carriers. In August, the U.S. Navy successfully conducted impacts tests of its latest nuclear-powered aircraft carrier USS Gerald R. Ford using live ammunition.
The United States has launched AUKUS, a trilateral security pact with the United Kingdom and Australia, which centers on the deployment of nuclear-powered submarines to Australia. The submarines, which can stay submerged for long periods "will become a powerful tool to break through the A2/AD," said a former senior official of the U.S. military.
Japan is also working to improve its defense capabilities in the Nansei island chain, with China's advances in mind.
The Defense Ministry plans to deploy Ground Self-Defense Force surface-to-ship, surface-to-air missile units on Ishigakijima island in Okinawa Prefecture in fiscal 2022.
The ministry also plans to deploy an electronic warfare unit on Yonagunijima island, the westernmost inhabited island of the Nansei island chain, in or around 2023.