Support falling for Indonesian president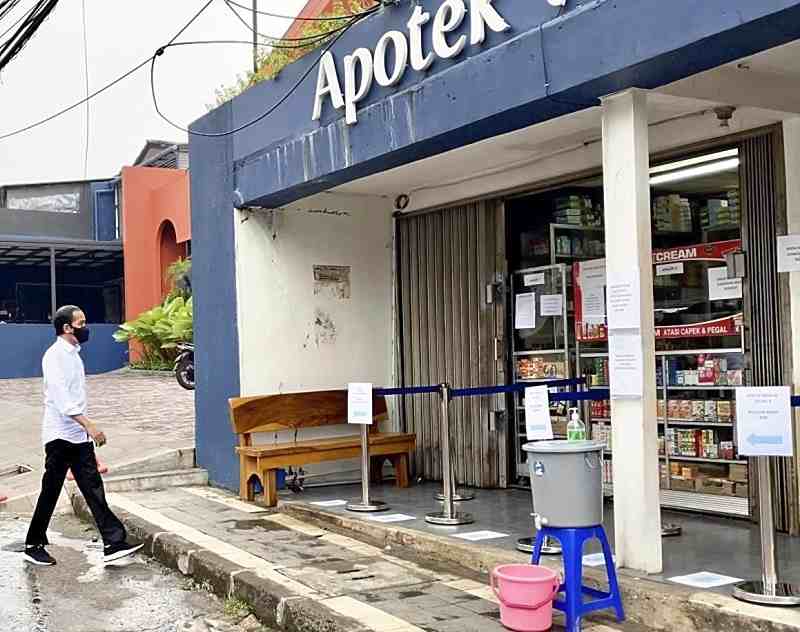 10:06 JST, October 4, 2021
JAKARTA — Support for Indonesian President Joko Widodo has been falling, due to his lackluster performance in preventing the spread of the novel coronavirus.
Joko's previously effective style of presenting himself as a man of the people has recently subjected him to criticism from Indonesians. The speaker of the country's House of Representatives, who belongs to a politically distinguished family, is increasingly critical of Joko, and she is becoming an increasingly strong presence, even though the next presidential election is still three years away.
Rampant infections
"No one is safe until everyone is," Joko said in a pre-recorded video address shown at the U.N. General Assembly in New York on Sept. 22, referring to measures against the novel coronavirus.
However, while other countries' leaders spoke enthusiastically about their efforts and achievements in connection with anti-virus measures, Joko made only general statements. He did not talk about the situation in his country or his measures to cope with the pandemic.
From July, the daily number of new infections in Indonesia topped 50,000, and deaths exceeded 1,000 for a prolonged period. The country saw explosive growth in infections.
The availability of medical services deteriorated severely, and many members of the public were unable to receive treatment at hospitals. Turmoil spread in the nation.
Fearing the negative impact on the economy, the Joko administration was slow to take measures such as prohibiting workers from commuting. As a result, it was unable to prevent infections from spreading.
Also, the Joko administration relaxed some anti-virus restrictions in late July, when the number of new infections was still high. The decision drew objections from experts.
Joko's support rate was more than 70% in public opinion surveys two years ago, but has since gradually fallen. In September this year, the figure was 58%, a decline of 14 percentage points in two years.
Man of the people
Joko won the country's 2014 presidential election as a former local government head who was seen as being on the side of ordinary people. He is currently in his second term.
He consistently drew praise from the public with his political style of paying attention to the opinions of ordinary Indonesians, including his impromptu visits to various places, which are locally known as "blusukan."
Now, however, this approach is fanning resentment.
In a blusukan visit on July 23, Joko abruptly appeared at a pharmacy in West Java Province. He confirmed that the pharmacy's inventory of medicines had run out, and made a phone call to the health minister to direct him to take the necessary action.
Joko might once have been praised for his quick action, but at the time many members of the public were critical. People asked whether it was necessary for him to go there and said his action could spread infection.
Criticism from the elite
One of the fiercest critics of Joko is Puan Maharani, the speaker of the House of Representatives and a member of a distinguished political family in Indonesia. Puan and Joko belong to the same ruling party.
Puan is a granddaughter of Sukarno, the country's first president, and a daughter of former President Megawati Sukanoputri. She is believed to want to run in the country's next presidential election, to be held in 2024.
Although Puan is from an elite family, her remarks have recently deprived Joko of his image as a man of the people.
"Not everyone has a smartphone," she said, referring to a Joko administration measure of monitoring who receives vaccine shots via a smartphone app.
Joko's term as president expires three years from now, but Noory Okthariza, a researcher with the Center for Strategic and International Studies of Indonesia, said that responses to the novel coronavirus can change a political situation, and that Joko might lose his influence.