China unveils high-altitude unmanned aircraft at air show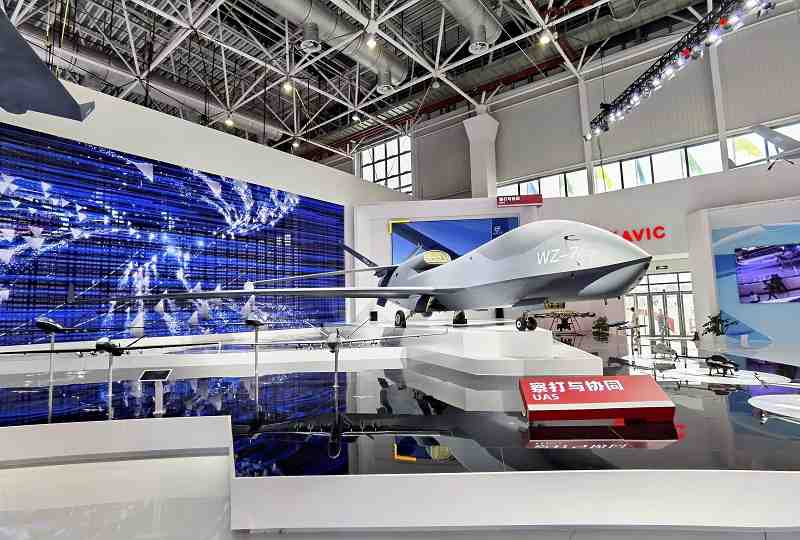 16:06 JST, September 28, 2021
ZHUHAI, China — China unveiled a high-altitude reconnaissance drone during a press viewing on Sunday prior to the start of a major air show.
The 13th China International Aviation & Aerospace Exhibition in Zhuhai, Guangdong Province, kicked off on Tuesday for the first time in three years, featuring many kinds of aircraft the country is committed to producing, including drones. Models of carrier-based planes under development are also displayed.
The Chinese air force is scheduled to conduct demonstrations of the advanced capabilities of the country's fighter pilots at the start of the event.
This year's centerpiece is the Wuzhen-7 (WZ-7) high-altitude reconnaissance drone, which is being displayed for the first time.
According to Hong Kong media and other sources, the WZ-7 has a 14-meter-long body, placing it in China's largest class of such craft, and is capable of flying at an altitude of 20,000 meters for 10 hours. It will be tasked with reconnaissance missions over nearby sea areas and national border zones.
The Jian-16D (J-16D) fighter was also unveiled for the first time. The aircraft specializes in electronic warfare and is capable of detecting radar waves, firing missiles and disrupting enemy air defense systems.
By exhibiting the J-16D, China aims to demonstrate its improved capabilities in electronic warfare, a new front in the modern battlefield.
Among other aircraft displayed at the exhibition are models of stealth fighters likely deployed on aircraft carriers and replicas of rockets that will be used for manned space flights to the moon around 2026.
The exhibition is a stage for China to illustrate its expanding global influence.
"The air force can demonstrate in this exhibition its new position in the advancement of strategy shifts, with the aim to be among the world's top class," a Chinese air force spokesperson said to Chinese media. "I believe the people's confidence will increase."
Large numbers of foreigners, including those from African countries, attended past exhibitions with an eye on business deals. Due to the coronavirus pandemic, however, the exhibition is also being streamed online.