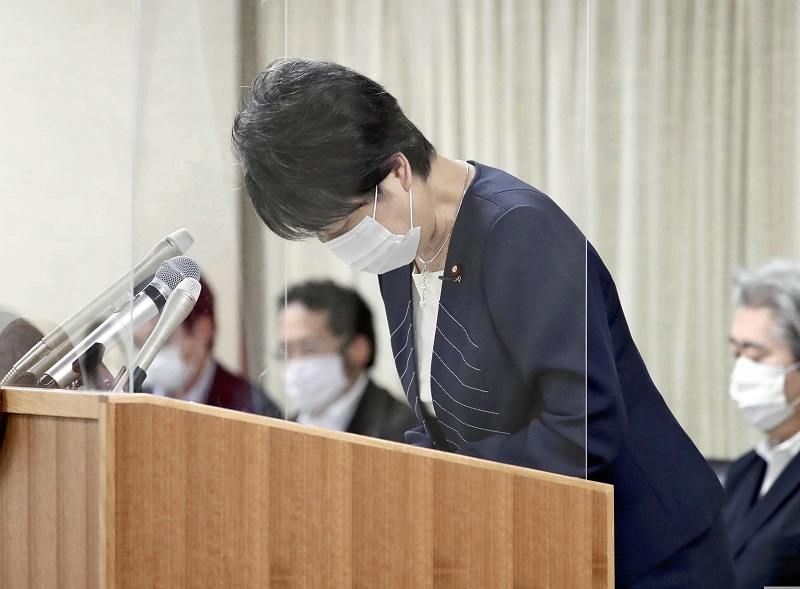 16:41 JST, August 11, 2021
In the case of a Sri Lankan woman who died at the age of 33 in March while being detained at a regional immigration facility in Nagoya, the Immigration Services Agency has concluded in its investigative report that there were multiple flaws with the facility, including its system for medical care.
The report was released Tuesday, and the agency also announced penalties that day for senior officials of the Nagoya Regional Immigration Services Bureau for their failure to provide the detainee with proper medical treatment.
This is the first time for the agency to punish bureau officials in connection with the death of a detainee. The decision was prompted by immigration authorities' serious fears that unless such cases are dealt with strictly, the entire structure could break down.
"I offer my deepest condolences to her bereaved family," Justice Minister Yoko Kamikawa said at a press conference Tuesday. Shoko Sasaki, head of the Immigration Services Agency, said, "I feel keenly my responsibility for not having been able to sufficiently provide instruction and supervision."
According to the final investigative report, Wishma Sandamali of Sri Lanka had complained of poor physical condition to officials at the facility in mid-January. From that point on, the facility provided her with medical treatment, including seven medical examinations by four doctors, including an exam at an outside medical facility. Her temperature and blood pressure were checked every day.
However, despite about 60 people being held in detention at the facility, there was only one part-time physician who worked there two days a week, for two hours each day. Care was particularly lacking on holidays, when there were no medical personnel on duty, including nurses.
Wishma died on a Saturday. She had responded weakly to calls from an official at the facility since the morning, so the official was aware that her physical condition had changed. However, they did not consult with a doctor or other officials until Wishma was transported to a hospital by ambulance in the afternoon.
The deficient medical care system on holidays at such facilities spurred controversy when a Cameroonian man, under detention at a different facility, died of an illness seven years ago. Immigration authorities instructed regional facilities to create a system under which detainees can consult with doctors and others on weekends and during the night, but the facility in Nagoya had not done so.
Requests by Wishma for medical treatment, such as an intravenous drip, did not reach any of the senior officials at the facility. The internal rules of the facility state that such requests should be reported to senior officials, who would provide instructions. In reality, however, it was standard for there to be so-called screenings in which facility staff decided how great the need was.
The investigation discovered other violations of internal regulations.
Wishma complained that she had been physically abused by her Sri Lankan boyfriend before being detained. Under another internal rule, facility officials are supposed to conduct inquiries into actions determined to be domestic violence. But no such inquiry took place, and officials were not even aware this regulation existed.
According to the agency, there have been 17 deaths, including those from illness, at immigration facilities in Japan since 2007.
These deaths have been investigated in the past, but the latest probe went so far as to interview 63 officials concerned on a total of 139 occasions, while conducting examinations involving external experts such as doctors, lawyers, and officials of international organizations. The investigation even led to the punishment of related senior officials at the facility.
This unusual response was spurred by the fact that Japan's immigration policies are being viewed ever more critically both at home and abroad.
The low approval rate for applications submitted for refugee status in Japan has long been criticized.
Wishma's case overlapped with Diet deliberations on a bill to revise the Immigration Control and Refugee Recognition Law, which was expected to help solve the recent issue of prolonged detentions. Consequently, the revised bill was not passed.
Numerous violations of internal rules have also been uncovered. A senior official of the justice and immigration administration said, "Unless public trust is regained through strict investigation and punishments, our immigration policies will make no progress at all."
The report spelled out measures to prevent similar incidents from recurring: strengthening medical care at such facilities by having doctors regularly stationed there, and implementing organizational reforms to ascertain and share information about the health of detainees.
In particular, great importance was given to reforming the awareness of officials and staff members at such facilities. The report revealed that a detention officer mocked Wishma when she regurgitated through her nose some of the beverage she had been drinking.
It also noted that many detention officers suspected Wishma was claiming bad health, or exaggerating her condition, in the hope of getting a temporary release.
While showing some understanding of officials being suspicious when the cause of a detainee's poor health remains unclear, the report said, "It is fundamental that officials and staff at facilities that restrict the freedom [of detainees] should be aware of their duty to protect the lives and health of detainees."
Add TheJapanNews to your Google News feed.