CCP at 100: Abrasive superpower / Regime's flip-flopping policy discourages private enterprises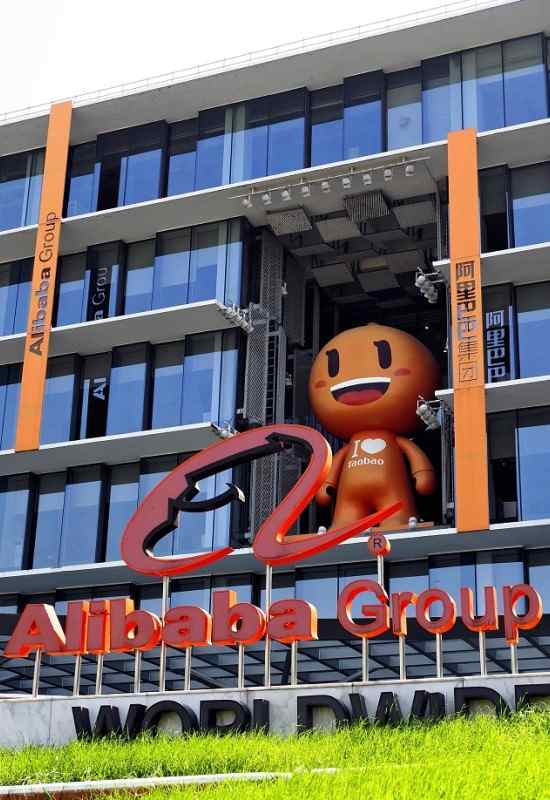 9:44 JST, July 9, 2021
This is the fourth installment of a series looking at the costs of the Chinese Communist Party's struggle for supremacy in China and around the world.
The Chinese Communist Party's political stance that does not tolerate anyone who challenges the party's vested interests has been discouraging China's fast-growing, privately owned information technology firms.
"Serve the people," a slogan that originated from a speech by China's founding leader Mao Zedong, appears on a gold watch. "Remain true to our original aspiration," Chinese President and CCP leader Xi Jinping's slogan, is emblazoned on a large, gold-ornamented, lidded tea mug.
These are commemorative items that CCP organizations ordered for the party's 100th anniversary celebration on July 1.
The luxuriously designed items symbolize the current state of the party, whose membership has swelled from just over 50 to more than 95 million.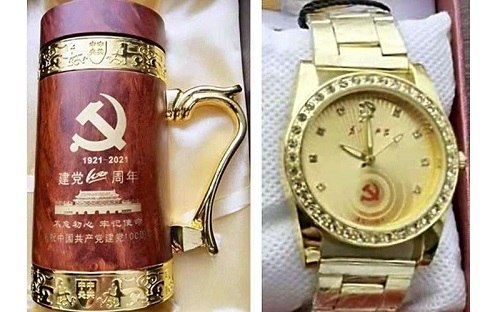 "As a laborer, I want to give back to my country," a 24-year-old welder in his work apparel said at a press conference in Beijing on June 28 for domestic and foreign journalists. He was invited to speak as a party member at the grassroots level.
The CCP emphasizes the starting point of the party, which was originally founded with workers and peasants at its center, because the current situation is rather far removed from its simpler past.
In January this year, the former head of a state-owned enterprise was executed. He was involved in bribery and corruption, with a record amount totaling the equivalent of more than ¥30 billion in identified cases through 2018.
Even with the anti-corruption campaign that the Xi administration has been promoting since its inauguration in 2012, it is difficult for the government to monitor influential party members under one-party rule.
"The party's nature as an interest group has not changed," a party official said.
Privately owned tech giant Alibaba Group Holding Ltd. is said to have crossed the red line by threatening the party's vested interests.
When Jack Ma, the 56-year-old founder of Alibaba, attended a company event in May at headquarters in Hangzhou, Zhejiang Province, he looked older, with gray hair and wrinkles. Ma had largely been absent from the public eye for about six months. There were even rumors that he had been detained.
The Chinese government has been tightening its grip on Alibaba, including imposing huge fines for violating antitrust laws.
Ma, who is also a party member, is a charismatic entrepreneur who built Alibaba into a giant IT company. While Alibaba has supported the state policy of promoting digitization, the Xi administration is now targeting the company.
When a scandal erupted in April 2020, in which an Alibaba executive had an extramarital affair, the company instructed Weibo — the Chinese version of Twitter with 500 million monthly users — to remove related information from trending topics.
The CCP and the government reacted violently to Alibaba's action.
Given Alibaba's growing influence in the financial industry through its subsidiary Ant Group, which operates the Alipay electronic payment service, Kobe University Prof. Fujio Kawashima, who is knowledgeable on China's antimonopoly law, said, "Presumably, the CCP did not allow Alibaba to step into the party's prerogatives such as the monopoly market of state-owned banks and the manipulation of public opinion."
Double standard hits tech firms
Like Alibaba, Meituan, a takeaway food delivery service platform, is also under investigation by antitrust authorities.
In May, the chief executive officer of Meituan posted on social media a Tang poem that criticized the burning of books on Chinese classics and the burying alive of Confucian scholars, which were methods the first emperor of the Qin dynasty employed to silence the people's criticism.
Posting the poem was widely interpreted as a veiled criticism against Xi's administration and shares in Meituan have since plunged.
China's privately owned tech companies have grown rapidly, fueled by the government's seemingly laissez-faire policy of correcting problems as they arise. Now, perhaps because of the government's flip-flopping policy, founders of tech companies are stepping down one after another.
The same month as the Meituan CEO's post, a new global giant was born in China: Sinochem Holdings, formed from a merger of two major state-owned chemical companies.
The Xi administration has set a double standard, condemning private companies for monopolization, while demanding that state-owned companies be stronger, better and bigger.
With the deepening confrontation between the United States and China, it has become more difficult for Beijing to introduce advanced technology from abroad.
In China, there has never been a greater need for innovation than at present. Yet what is accelerating is the phenomenon of "the state advances, the private sector retreats."
This is the opposite of the CCP slogan of "the state retreats, the private sector advances" promoted under the reform and opening-up policies to allow private enterprises to enter the market while having state-owned enterprises with low productivity exit. Currently, though the number of state-owned enterprises is declining, they are given preferential treatment in various aspects, including government subsidies, bank loans and investment. On the other hand, privately owned enterprises are facing financial difficulties and tighter control from the CCP and government.
There is growing concern among businesspeople in Beijing, saying the tech industry will inevitably be restrained despite being a force to vitalize China's economy.
Add TheJapanNews to your Google News feed.