CCP at 100: Beijing reins in Hong Kong with imposing national security office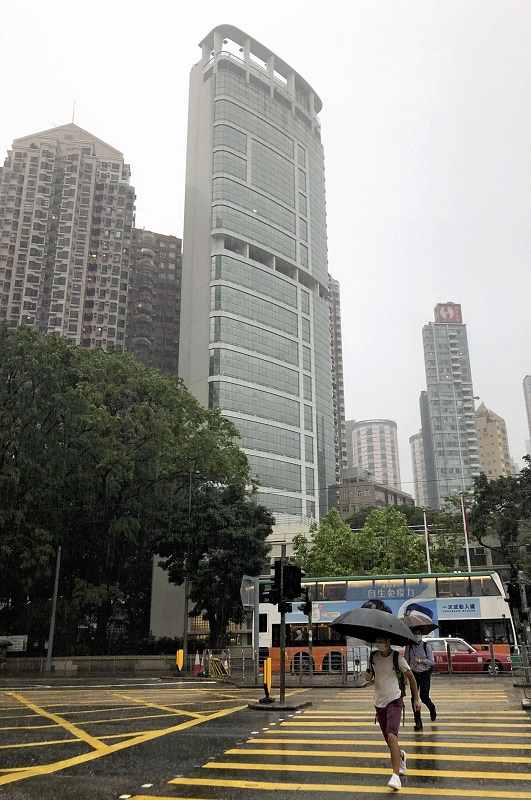 10:57 JST, July 3, 2021
This is the third installment of a series looking at the costs of the Chinese Communist Party's struggle for supremacy in China and around the world.
Hong Kong's Causeway Bay area, a busy shopping district comparable to the Ginza district of Tokyo, is often ranked as a place with one of the world's most expensive land prices. Last year, China's national flag was raised in front of a high-rise building in the area. That was the day the Chinese government's national security office started operating there.
Officially named the Office for Safeguarding National Security of the Central People's Government in the Hong Kong Special Administrative Region, it was established to oversee and instruct the Hong Kong government based on the national security law Beijing instituted in June last year.
One morning late last month, white minibuses carrying more than 10 men and women drove up to the building's carriage porch one after another. Workers dispatched from the Chinese security authorities, said to be about 300 people, were arriving for work.
The building used to house a hotel, but the entire property was rented by the government for use as the national security office. Now the building's windows rarely open and what goes on inside cannot be detected from outside.
"Ever since these people came to run the office, I get this sense of oppression and can't feel comfortable at all," said a 55-year-old male worker at a nearby restaurant.
Beijing also has a liaison office in Hong Kong staffed with China's central and regional government workers. The office is located in the relatively quiet Sai Wan area, about 6 kilometers west of Causeway Bay. It has often been said that "Sai Wan rules Hong Kong," referring to the liaison office pulling the strings of the Hong Kong government behind the scenes.
In contrast, the national security office, although it is temporarily residing in the high-rise, is situated in the heart of downtown Hong Kong despite being a secretive security apparatus. It also overlooks Victoria Park, which has been a base for pro-democracy protests.
"It symbolizes the end of 'one country, two systems' in which Beijing was indirectly involved in Hong Kong," said a person in Hong Kong's media industry.
As of June 30, 117 pro-democracy activists, lawmakers and students have been arrested under the national security law. Recently, pro-democracy newspaper Apple Daily has been forced to cease publication. The national security office is said to be behind all this.
According to another person in Hong Kong media, the national security office informed the Hong Kong government that Chinese President Xi Jinping's administration planned to target Apple Daily soon after the office's establishment in July 2020. Based on the plan, the "mission" was implemented in steps, gradually increasing pressure on Apple Daily after the arrest of its founder Jimmy Lai last August.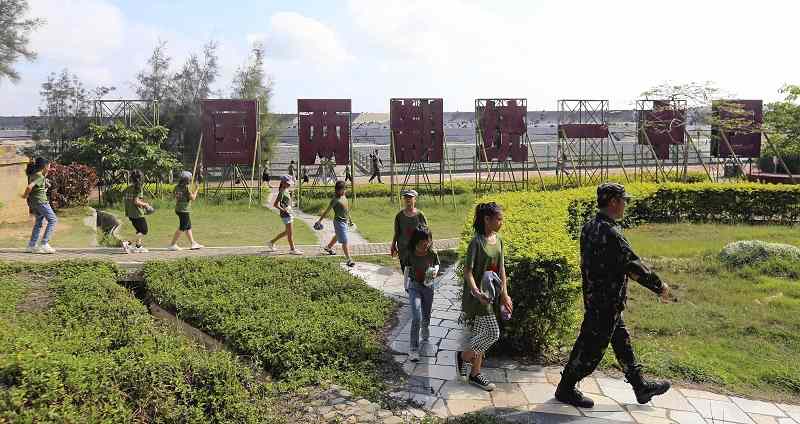 Failed model for Taiwan
The Chinese Communist regime's "one country, two systems" formula adopted for Hong Kong was originally a governance model created for China-Taiwan unification in the future.
The formula allows Hong Kong's capitalist system to remain within communist China. The 1984 Sino-British Joint Declaration, signed in preparation for the 1997 handover of Hong Kong from Britain to China, stipulates that Hong Kong "will enjoy a high degree of autonomy, except in foreign and defense affairs" with "executive, legislative and independent judicial power." Freedom of speech was also ensured. The declaration guaranteed that such conditions "will remain unchanged for 50 years."
On mainland China in late May, over 100 elementary school students from China's inland province of Henan visited a park in Xiamen, a coastal city in Fujian Province, which sits on one side of the Taiwan Strait. Just a stone's throw away from the park is Kinmen, an island effectively ruled by Taiwan.
"Taiwan must be unified! One country, two systems leads to national unification!" the students chanted along with teachers accompanying them in front of large billboards that read, "Unify with China under one country, two systems."
In Taiwan, however, a feeling of distrust prevails after witnessing Hong Kong's one country, two systems exist in name only.
In a public opinion poll conducted by Taiwan authorities in March, nearly 90% of Taiwan residents said they were opposed to the idea of "[China's] governing Taiwan under the one country, two systems formula."
Even former Taiwan President Ma Ying-jeou of the Kuomintang (KMT) party, who has been taking a conciliatory stance toward China, declared that one country, two systems is "dead."
A source affiliated with the Chinese government also said, "The administration no longer expects Taiwan to accept one country, two systems."
Despite criticism from the international community and backlash from Taiwan, the Xi administration has emphasized the "success" of its rule in Hong Kong. Luo Huining, head of Beijing's Hong Kong liaison office, said at a forum on June 12 that the foundation of one country, two systems has become more complete after the enforcement of the national security law and the electoral reform that Beijing forced through in Hong Kong.
The 2019 anti-government protests threw Hong Kong into chaos. By suppressing the pro-democracy camp through the enforcement of the national security law, the Xi administration claims that the superiority of one-party rule has once again been demonstrated.
According to a Chinese Communist Party source, during a CCP meeting in May 2020, Xi noted that Beijing has been adapting the one country, two systems formula because Hong Kong has been contributing to the party's development. He reportedly said that overthrowing the system will not be tolerated, ordering the introduction of the national security law in Hong Kong.
"In the future, one country, two systems will become increasingly like a de facto one country, one system," the source said.
Add TheJapanNews to your Google News feed.