Chinese TV shows, films touting Communist Party criticized for overuse of handsome stars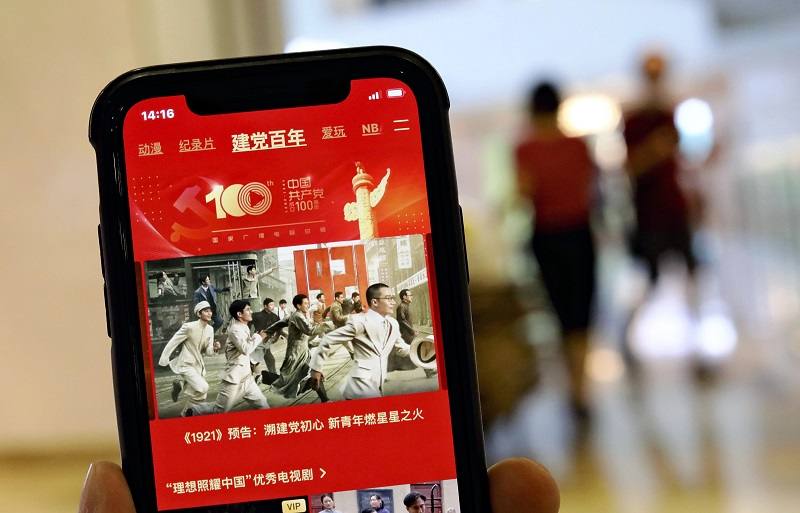 11:06 JST, June 1, 2021
BEIJING — A number of TV shows and films celebrating the ruling Communist Party are being produced in China, drawing criticism on the internet for their heavy use of young stars.
According to Chinese media, nearly 100 such TV shows alone are scheduled to air before the end of the year, as the party will celebrate its 100th anniversary in July. The administration of Chinese President Xi Jinping is seeking to foster affection for the party among younger generations.
Earlier in May, a 40-episode drama titled "Faith Makes Great" began airing on TV and the internet, featuring a variety of people such as medical workers who contributed to the fight against the novel coronavirus and nuclear physicists who were involved in the development of China's atomic bombs.
All of them emphasize the purported achievements of the party. One Chinese media outlet described the show as "the moving journey of the Communist Party uniting the Chinese people since its inception."
The Chinese government has guided the production, using a number of popular actors and singers. They include Wang Junkai, a 21-year-old member of the popular boys band TFBOYS, and singers whose performance videos have been viewed more than 10 million times.
Other TV shows and films this year are also notable for their attempts to attract younger generations, who tend to be indifferent to politics. The authorities hope to bring young people who are focused on daily consumption to the regime's side.
A senior propaganda official in the city of Shanghai has indicated that they intend to use the films to teach young people the party history.
Wang is scheduled to appear in this year's centerpiece film "1921," which will be screened on July 1. The film is fully supported by the Shanghai municipal authorities and depicts 13 founding party members. They are mostly in their 20s and gather in Shanghai to hold the first party congress.
The online edition of the People's Daily, the party's official newspaper, has said the "young actors injected their youthful energy into the story of the revolution."
Despite the authorities' expectations, however, more than a few people on the internet are giving the productions the cold shoulder.
Some have complained about the performers' lack of acting ability, while others have said that using only good-looking people lacks respect for the heroes of the party. Some dramas have received such harsh criticism as "There are too many scenes of [people] shouting [political] slogans."
Add TheJapanNews to your Google News feed.