China naval base in Djibouti set to deploy aircraft carriers in Indian Ocean
10:18 JST, May 4, 2021
BEIJING — China has completed work on a pier for its aircraft carrier at its naval base in Djibouti — a strategic point in East Africa facing the Gulf of Aden, the U.S. Naval Institute has reported on its news site.
China has made strategic preparations for the deploying of a large aircraft carrier in the Indian Ocean by having the pier at its existing naval installation in Djibouti, observers said.
According to the site, U.S. Africa Commander Army Gen. Stephen Townsend on April 20 testified before the House Armed Services Committee that the Chinese military expanded the pier to allow aircraft carriers to make port calls.
The commander also said that "Around the continent, they are looking for other basing opportunities."
The Pentagon said in its annual report last autumn that China is attempting to build its military logistical facilities in Kenya, Tanzania and other African countries.
In 2017, the Chinese military began operating the Djibouti base — its only overseas base — and uses it as a logistical base for destroyers and other ships sent to fight piracy off the coast of Somalia and other purposes.
China, which currently operates two aircraft carriers, also placed an amphibious assault ship, its second-largest vessel, in late April.
It is highly likely that China will deploy its aircraft carrier and an assault ship to the Indian Ocean, and call at Djibouti for reasons such as the defense of sea lanes where merchant ships come and go, the observers said.
China's white paper on national defense published in 2019 clearly stated that the mission of the Chinese military is to "develop overseas logistical facilities … conduct vessel protection operations, maintain the security of strategic SLOCs [sea lanes of communication], and carries out overseas evacuation and maritime rights protection operations."
China is building port facilities in Sri Lanka, Pakistan and other countries, claiming they are a part of its economic cooperation under the "One Belt, One Road" initiative for an expansive economic zone. It is believed that these ports could also possibly be used for military purposes.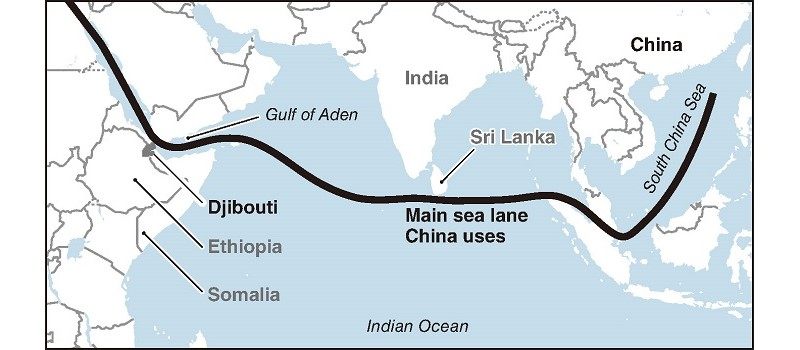 Add TheJapanNews to your Google News feed.