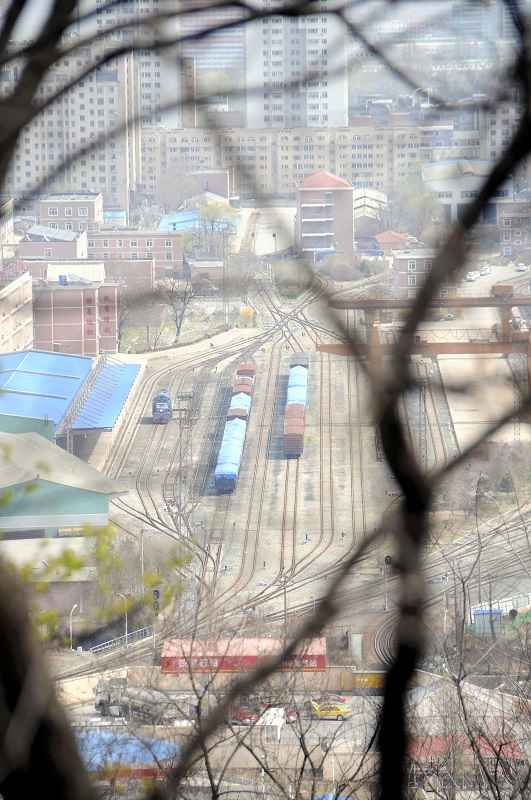 12:01 JST, April 23, 2021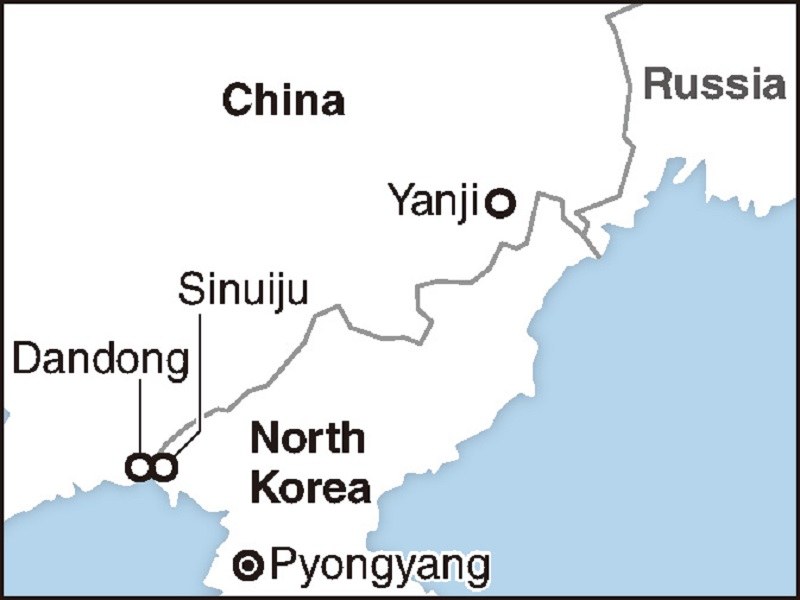 DANDONG, China — China and North Korea are accelerating moves to resume bilateral trade, which has been largely suspended as part of Pyongyang's coronavirus measures.
I visited China's northeastern border city of Dandong in Liaoning Province on April 15, and saw cargo trains at a station. Sources said they were likely bound for North Korea.
I also saw signs of activity on a new bridge that is expected to become a major trade artery between the two countries.
At the Dandong train station located about one kilometer from the border, I found two cargo trains parked on dedicated tracks leading to North Korea. Local residents said that they saw only one train there in late March.
"The cargo will mainly be agricultural chemicals and fertilizers, which are essential for North Korea," said a person involved in bilateral trade. "Food products such as corn will probably be included as well."
Many people believe trade will resume as early as this month. There are also concerns that there will be violations of U.N. Security Council resolutions that restrict or prohibit trade with North Korea.
Building bridges
A 3-kilometer-long bridge that extends to Sinuiju in North Korea was built across the Yalu River, which runs along the border between the two countries. A riverside park in Dandong had newly installed binoculars for tourists.
Built to promote trade between China and North Korea, the bridge was mostly completed by 2014. The development of customs clearance facilities on the North Korean side has been slow, but now the bridge appears to be nearing operability. In March, the Liaoning provincial government issued a tender for safety inspections. The bidding document stated that the bridge would be "operational soon."
According to sources, the number of North Korean workers in Dandong has increased, with workers arriving in the city from factories and North Korean restaurants across China.
The influx is believed to be in anticipation of the resumption of trade between the two countries. It is also possible that Beijing is allowing North Korean workers to flow into Dandong to help North Korea earn foreign currency.
Rail routes
In January 2020, North Korea effectively closed its borders as part of coronavirus measures. Trade with China, on which North Korea relies heavily as a supplier of goods, has plummeted, further impoverishing the people.
Pyongyang may be hoping to avoid further economic exhaustion by cautiously resuming trade.
For the time being, rail transport is expected to be the main mode of transport, as person-to-person contact is minimized. According to diplomatic sources, the vaccination of trade personnel is also underway in Dandong.
Add TheJapanNews to your Google News feed.